Diesel Mechanic School Might Be For You
May 4, 2016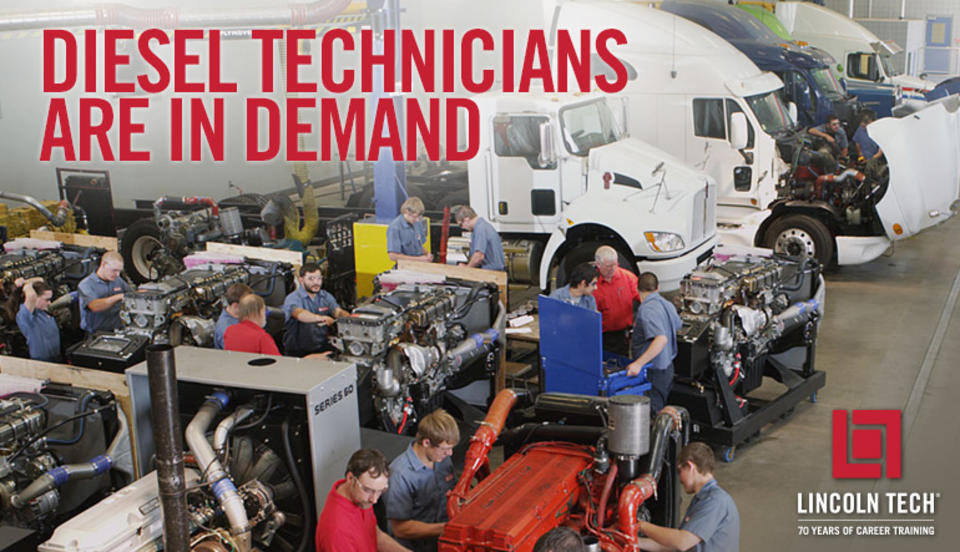 Nationwide shortage of trained technicians means great opportunities for students!
When asked to name industries that offer competitive salaries, you might name medical professions, engineering jobs and top business positions. It's true that these careers often pay well; they're also very competitive and often require more extensive education than other fields. One occupation you might have forgotten to include in your list is diesel technician. Having the skills to repair trucks and other diesel engine-driven machines can help you work your way up in time to a significant salary*. And because there's a projected shortage of diesel techs in the industry today, training at a diesel mechanic school will open up numerous opportunities to start and grow your career.  If you're intrigued and want to learn how to become a diesel technician, this is the right time to start investigating!
Diesel Mechanic Opportunities
"Trucking will need as many as 200,000 technicians over the next 10 years just to keep up with the current demands," according to The Diesel Technician Shortage, a whitepaper by John Tweed, President and CEO of Landair. A combination of retiring baby boomers and lack of awareness regarding diesel mechanic careers from the younger generation are to blame for the shortage, Tweed reports. While baby boomers, who make up 40 to 50 percent of the industry currently, are set to retire in the next 15 years, only 3,500 new technicians graduate from diesel mechanic school each year. These numbers have many working in the trucking industry feeling unsettled, because if the trend continues, the shortage could impact food supplies in local markets as well. 
Whether you're about to graduate high school or you're ready to make a career change, why not consider becoming a diesel technician? The trucking industry needs new diesel technicians like you to meet its current demands, and you can take advantage of this unique opportunity by enrolling in a diesel mechanic school today. Lincoln Tech, for example, offers hands-on diesel career training programs in Indianapolis, Denver, Grand Prairie, East Windsor, Nashville and South Plainfield.
* State-specific salary information, including entry-level wages & employment projections, can be found at careeronestop.org.