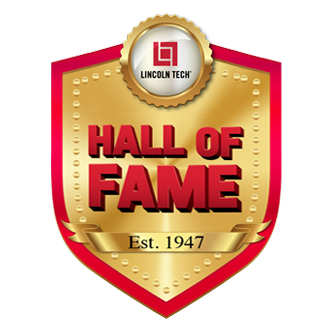 You've heard of the Baseball Hall of Fame in Cooperstown. The Football Hall of Fame in Canton. The Rock and Roll Hall of Fame in Cleveland. Maybe you've been lucky enough to visit one or more of them. These Halls of Fame educate and inspire the next generation by honoring the virtues and praising the accomplishments of individuals in a particular field.
Lincoln Tech is proud to have our own Hall of Fame to celebrate those outstanding alumni who worked hard, led by example, and obtained tremendous success, quite often in more than one industry, all the while giving back to those who came after them.
Click on the campus links below to view some of our most recent Hall of Fame inductions.
Denver Inductee Receives Hall of Fame Plaque from an Old Friend

Director of Education Ivan Smith, Donna Sly-Redd, LaMarcus Taylor

LaMarcus Taylor
When 1994 Lincoln Tech Denver graduate LaMarcus Taylor got the call about being inducted into the Hall of Fame, he never thought the person handing him his plaque would be his original Admissions advisor. Donna Sly-Redd and LaMarcus had remained friends since his graduation and having her at the ceremony only made the day more special.  James has been a Technician at Brakes Plus for over 20 years, and credits his time at Lincoln for his continued success.  

East Windsor Holds 1st Annual Hall of Fame Induction Ceremony

Mary Jo Greco, former Campus President; Michael Phelps; Jennifer Nunes; Director of Career Services; Kevin Clark, Campus President

 

Tyler Stabell

 

Michael Phelps East Windsor's very own Director of Admissions, Michael is a 1979 graduate of two programs (Autobody & Welding). Michael then worked in these fields at a variety of companies including General Dynamics. Mike fondly and proudly remembers his roots of where it all started and has been East Windsor's Admissions Director for the past 28 years! 

James Babineau James graduated from the Welding program in 2013, and works for NG Advantage Gas Company as a High-Pressure Pipe Welder, which is the position he obtained directly after graduating from Lincoln. James continues to improve himself in the field by obtaining 160 certifications with his 6GR scheduled.

Tyler Stabell
Tyler graduated from the Automotive program in 2013. Tyler works at Winslow BMW of Colorado Springs where he recently became a BMW Automotive Master Technician. After graduation, thanks to Lincoln's partnership with BMW, Tyler was able to attend the BMW STEP program and further his career.

Todd Michaud
Todd was hired at Enterprise as a Diesel Tech soon after he graduated in 2013. He worked hard and was promoted to Diesel Manager in 2016. Recently, he was promoted again and has relocated to South Carolina. Todd is very grateful to Lincoln and has given back by attending the campus' Career Fairs, Employer Days, and PAC meetings.

Graduates Covering a 12-Year Span are Honored at Grand Prairie

Jermain Sanford Jermain graduated in 2000 from Lincoln's HVAC program.  The owner of  AC Executives Air Conditioning & Heating in Richland Hills for over 15 years, Jermain has hired multiple Lincoln Tech graduates. 

 

Jesse Cardenas Jesse graduated Lincoln Tech after studying Automotive Technology back in 2005. After working in the dealership industry for years, Jesse decided to pursue his dreams in 2013. He's now the owner of DFW Bimmer in Euless, Texas.

 

Jason Bolton

Jason graduated from Lincoln's Diesel Technology program in 2012, while he was working as a Tractor Technician at Crete Carrier Corporation.  When Crete was awarded a contract to service Walmart, Jason's team was responsible for 155 refrigerated trailers and 135 tractors. After a stint in Ohio, Jason is now back in Texas as Shop Manager for Crete. He's present at Grand Prairie's Career Fairs, Employer Days, and has hired more than 15 Lincoln grads!

 

Lincoln CEO Scott Shaw, Gabriel Nambo, Instructor of the Year Doug Garriott, Michele Winn, Lawrence Cook, John Wearly, Campus President Dan Richins

Gabriel Nambo
Gabriel is a 2010 Graduate of Indy's Electronic Systems Service Management program. Upon graduation, Gabe started at Koorsen as a Fire Alarm Inspection Technician and quickly earned a spot as a Service Technician.  In 2017, Gabriel was promoted to Project Manager in the Fire Alarm Service Department, and has won more Employee of the Month Awards than any other associate at Koorsen over the last 7 years.  Gabriel currently holds a NICET Level II in Fire Alarm Systems. 

Michele Winn
Michele is a 1994 Honors Graduate of the Automotive Technology program. Michele was a General Service Technician with Brownsburg Muffler for 6 years. Her experience led her to Beck Service Center where she is responsible for all electrical and engine drivability diagnostics, module programming and A/C diagnosis. Michele's been featured in the Indianapolis Star, Readers Digest, Indianapolis Woman Magazine, and Good Housekeeping. She was a recipient of the Women's Car Care Council "Distinguished Industry Female Award."

Lawrence Cook
After graduating from Lincoln's Diesel & Truck Technology program, Lawrence started working at Parts & Trucks in Gas City, Indiana.  After earning his B.S. in Business Management, he began a 30-year career with Volvo Trucks.  At Volvo, he held various management positions, obtained his MBA, served on the Board for the Diesel Program at VICA (now SkillsUSA) and was elected to the Indiana Motor Truck Association Board of Directors. After retiring from Volvo, he was recruited by General Truck Sales in Muncie, IN and Toledo, OH to head up their Sales Operation.

John Wearly
John Wearly is a 1976 Graduate of the Automotive and Diesel Technology program. John started his career with Kirk NationaLease as a Diesel Tech, and 42 years later, he is still there. In 2008, John was promoted to Regional Manager.  In 2016, John became a KNL Trainer, and he is Master Truck and Master Bus Certified Technician. John has assisted with writing test questions for the ASE Bus Test.

 

 

 

 

Campus President Brian Capozzi, Lee Williamson, Director of Career Services Diane Walker

Lee Williamson

Lee Williamson is a 2007 EST Graduate.  He has been with his current company for the last 10 years and received promotions several times.  Lee is A+, Net+ and NICET II certified. He still participates in PAC meetings and regularly comes to campus to speak to students. He has hired several Lincoln Tech graduates, and hope to hire more in the future

  

 

 

Melrose Park Grad Joins Hall of Fame as Successful Auto Shop Owner

Richard Brauer

Richard Brauer

Richard graduated in 1982, having completed training in both Auto and Diesel Technology. Until 1995 he worked for auto repair shops, but in 1996 decided it was time to be his own boss.  He launched Elm Auto Repair, a small 5-bay shop in his hometown. In 1988 Rich sold Elm Auto and opened 59 Auto Repair in Plainfield – a AAA-approved 10-bay facility where he manages more than a dozen employees!

  

 

Nashville Honors 4 Alumni from NADC, Nashville Auto-Diesel College

David Burt, Steve Ikerd, Donald Rahn, Chris Alexander

 

Established in 1919 as Nashville Auto-Diesel College (NADC), Lincoln Tech Nashville has been educating students for successful futures in the automotive industry for almost a century.

David Burt
David graduated from NADC in 1987 and went to work for a John Deere Ag Dealer. In 1989, David went to work as a Shop Tech on Caterpillar Equipment.  He wound up as Field Service Technician working on stand-by generators, marine engines, and over-the-road trucks. In 2005, he accepted a position with Stribling Equipment, a John Deere Construction and Forestry Dealer, where he is now a Certified Dealer Instructor.

Steve Ikerd
As a teen, Steve and his father enrolled in a small engine repair class at their local Community College. Steve's passion was ignited and he enrolled at NADC and graduated in 1993. Steve started a career as an entry-level Technician, and worked his way to the machine room. In 1997, Steve began his career at Ryder, where he is now Senior Maintenance Manager for nine branches, supporting eight Service Managers and assisting in managing over 130 employees.

Donald Rahn
Donald is a former Auto Body student who graduated from NADC in 1998. Straight out of school, he went to work for Green Chevrolet as a Detailer and was quickly promoted to Assistant Manager. In 2002, he accepted a position with Osco Tank & Truck Sales as a Painter. Donald is currently working as a Painter for Elliott Aviation, where he has been since 2014.

Chris Alexander
Chris graduated from NADC in 1990, and started working at a Ford dealership in Georgia, where he became their first Ford Master Engine Technician and Hybrid Certified Technician. In 2005, after seeing a need in the community and wanting to help young people become Technicians, Chris became the Automotive Technology instructor at Northwest Georgia College and Career Academy. In 2016, Chris reached the level of ASE World Class Technician. He has passed 24 ASE
certification exams.

Gary Wayne White, Jr.

Gary was posthumously added to the Hall of Fame during the ceremony for his more than 24 years of leadership and service at the campus. Though gone too soon, his lasting impact on campus is still recognized, and his legacy will forever be alive here in Nashville.

  

 

South Plainfield, originally known as Engine City Technical Institute (ECTI), had the largest number of inductees in 2018!

Kevin Calore
Kevin graduated from ECTI in 2006. He started his career as a Diesel Tech at Ransome CAT. After being there for 11 years, he branched out on his own opening Elite Power Systems. Elite provides generator and fire pump systems maintenance and repair.

 

Jason Frommer

Jason is a 1996 graduate from ECTI. Jason spent a total of ten years at Foley CAT developing his skills and continuously moving up. The many roles he filled include­­­—Service Advisor, Shop Manager, Operations Manager and General Manager.  Jason is now a Service Operations Manager for Cooper Electric.

 

 

Marvin E. Harris

Marvin worked as an Engineer for the Dept. of Transportation on a variety of projects prior to attending ECTI. After graduating in 1993, he began his career as a Diesel Tech with New England Motor Freight. Many years later, Marvin came back to ECTI (now Lincoln Tech) as an instructor, playing a key role in many projects such as the implementation of the electronic engine lab. Marvin also designed and developed employer-training courses for companies like Foley Caterpillar, Continental Airlines, Cummins and more.

 

 

Michael Hopkins

After serving in the US Marine Corps for 4 years, Michael graduated from ECTI in 1991. He started his career as a Ground Support Tech at Butler Aviation Signature Flight, responsible for maintaining equipment at Newark and La Guardia airports. In 1994, Michael moved on to FedEx Express, eventually becoming District Fleet Manager for the Greater New York City area. After earning his Bachelor's degree in 2006, Michael is now the Sr. Manager of Fleet operations for Verizon, overseeing 6,500 vehicles and supervising over 100 technicians.

Tysheme Martin

In 199, Tysheme earned his Bachelor's degree from Seton Hall University. Ten years later, he decided to follow his passion by attending ECTI to train in Diesel Technology. Tysheme's hard work earned him a 4.0 GPA and a scholarship from Old Dominion, an LTL freight industry leader, where he stated his career after graduating. In 2017 he was promoted to Maintenance Manager at Old Dominion's Middletown, NY location.

 

 

Jim Painton

Jim graduated from ECTI in 1990 and stated working as a Heavy Equipment Tech for Conti Enterprises. In 2000, Jim moved into management roles, first in the Parts Department, then Service Manager. When Conti relocated in 2014, Jim moved over to Binder Machinery as Service Manager. Jim's son has enrolled in the program, looking to continue the family tradition.

 

 

Richard Paprcka

Richard graduated from ECTI in 1979, and has been in transportation maintenance for more than 35 years. He spent most of this time at NJ Transit, starting as a Mechanic repairing buses, and winding up as Director of Maintenance of the Northern Division, overseeing 400 employees and maintenance on over 1,000 buses. Richard recently made to move to Delaware Transit Corporation, where he serves as Chief Operating Officer, guiding the organization toward an environmentally-friendly fleet.

 

Martin Pytlak

After graduating from ECTI in 1980, Martin spent years as Foreman at both American Freight Systems and Penke Truck Leasing. Martin then earned his certificate in Vocational/Technical Education and became the Service Training Instructor and the Engineering, Development and Test Center Workshop Supervisor for Mack Trucks. In 2009, Martin took his technical expertise to Bendix Commercial Vehicle Systems. As Regional Service Engineer, he develops and conducts training programs.

 

 

Matthew Riello

Matthew worked as an Operations Manager prior to attending ECTI. After graduating in 2001, he became a Technician at Ryder and then Foley Inc. After a year at Foley, he became a Project Engineer. Matthew then switched it up, and came back to ECTI as an Instructor. Presently Matthew oversees the Service Department at Stewart & Stevenson-Atlantic Detroit Diesel Division, as well as serving as their Training Instructor.
---
If these honored alumni have inspired you to follow your dreams, contact a campus near you. When you start your training at Lincoln Tech, you never know where you are going to wind up!
---