Information Technology careers drive our nation's economy. Start your own career with Lincoln Tech training!
---
Information Technology systems drive the nation's economy. Train at Lincoln Tech for a career at the heart of the I.T. field, and connect to a new future!
---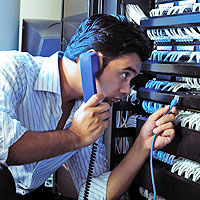 We live in an age where tech is king, which means Information Technology careers are always growing. Build the know-how and management skills needed in today's tech savvy society through Information Technology courses offered at Lincoln Tech schools across the country.
At Lincoln Tech, you'll learn:
Core skills, tools and techniques for working with networks.
Hardware and software used in today's businesses and residential networks.
We also offer certification exams to give your I.T. training an edge!
Lincoln's Information Technology IT Training Program Areas Include:
Need Help?
Lincoln representatives are always ready and happy to assist you. Our advisors are available seven days a week to help you reach your career goals!
Take the Next Step
Complete this simple 3-step form to get started. Click NEXT to go to step 2.