Information Technology careers drive our nation's economy. Start your own career with Lincoln Tech training!
---
Take on the challenges of information security, cloud computing support and more
---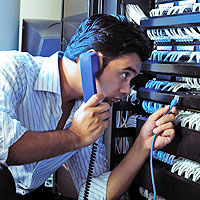 Information Technology systems drive the nation's economy. Train at Lincoln Tech for a career at the heart of the I.T. field, and connect to a brighter new future.
Train at Lincoln Tech's New Jersey campuses that can also help connect you to jobs in New York: these two states offer some of the best potential pay rates in the country for entry-level I.T. professionals*. Or choose career training at Lincoln Tech's Pennsylvania campus in Allentown, where more than 9,000 entry-level I.T. openings are projected to open by 2026*. Either way, you'll be on your way to an exciting, fast-paced career in a field that impacts every aspect of our lives.
Build the know-how and management skills needed in today's tech savvy society through I.T. courses offered at Lincoln Tech schools. Develop core skills for working with networks, and learn the hardware and software used in today's businesses and residential networks.
You'll also prepare to sit for key industry certification exams to give your I.T. training an edge.
Lincoln Tech's Computer and Network Support Technician training program can connect you to career possibilities as a:
Network support technician
Database administrator
Information systems technician
Systems administrator
Help desk support technician
At the beginning of your training, you'll be given a personal laptop for use throughout the program. It's yours to keep when you graduate, as you enter the field as an I.T. professional!
Lincoln's programs are being expanded to place a greater emphasis on security and the intricacies of cloud computing. These are two of the most important aspects of today's I.T. field, as more and more businesses are relying on cloud computing and remote workers to be competitive – and our personal data is more at risk than ever from hackers and other criminals.
Put your potential to work as a computer network support specialist or one of many other rewarding entry-level career paths. Call or visit a Lincoln Tech local campus today.
* Career growth projections can be found at careeronestop.org for the years 2016-2026. Ranks reflect comparisons among 48 continental U.S. states. Salary information is based on median salary information collected for the year 2017. Data is current as of September 30, 2018.
Need Help?
Lincoln representatives are always ready and happy to assist you. Our advisors are available seven days a week to help you reach your career goals!
Take the Next Step
Complete this simple 3-step form to get started. Click NEXT to go to step 2.