More than 600,000 practical nursing jobs
projected
around the country by 2026*
Pursue a healthcare career through Lincoln Tech's Licensed Practical Nurse (LPN) training program. LPNs play vital roles in the medical industry by promoting, maintaining and restoring health. Their compassionate approach when interacting with patients is critical to the hands-on interaction they provide.
At Lincoln Tech, students enrolled in our Practical Nursing program will:
Practice hands-on in simulated medical and nursing labs.
Learn from a staff of experienced instructors and Certified Nursing Educators (CNEs).
Develop the skills they'll use every day as Practical Nurses: taking and reading vital signs, immobilizing injured limbs, practicing infection control, dressing wounds and administering medications.
Practice data collection, drug & IV therapy, and special considerations for working with children, pregnant patients and elderly patients is covered.
Take part in health fairs, blood drives, blood pressure screenings and community health events on campus.
Prepare to sit for the National Council Licensure Examination for Practical Nurses (NCLEX-PN).
---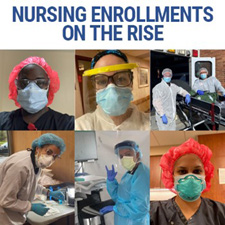 Lincoln Tech Nursing Student Enrollment is Steadily Increasing
COVID-19 certainly has increased the need for professional healthcare workers, and that need is being met by our nursing students. ROI-NJ interviewed Lincoln Tech's CEO Scott Shaw and one of our Paramus campus' nursing students, Amar Woods. When the COVID-19 pandemic reached New Jersey, Woods and other aspiring nursing students realized their future is now.
Lincoln Tech has helped give them the tools they need to succeed in such a rewarding career. Read the full article.
---
What can I expect from LPN Training Programs at Lincoln?
Relevant "real-life" experience will give you the tools and knowledge needed to impress hiring managers when you graduate and enter the workforce. And our Career Services department will help you find your first nursing job, which can include working in a physician's office, clinic, nursing home, rehabilitation center, sub-acute center or hospital.
Rhode Island and Connecticut – two states where Lincoln Tech offers career training for future LPNs – rank first and second in the country for average pay rates in the field. New Jersey ranks fourth, and Pennsylvania is also above the national average.* Enroll in one of Lincoln Tech's Practical Nursing programs throughout our network of schools – and answer the call to a healthcare career that's rewarding in more ways than one.
* Career growth projections can be found at careeronestop.org for the years 2016-2026. Ranks reflect comparisons among 48 continental U.S. states. Salary information is based on median salary information collected for the year 2017. Data is current as of September 30, 2018.
Important information about the educational debt, earnings, and completion rates of students who attended this program can be found at:
www.lincolntech.edu/consumerinfo
Campuses that currently offer training in this program area are listed below, as well as links to exact program informational fact sheets: