Lincoln Tech's Guide to the FAFSA
June 25, 2018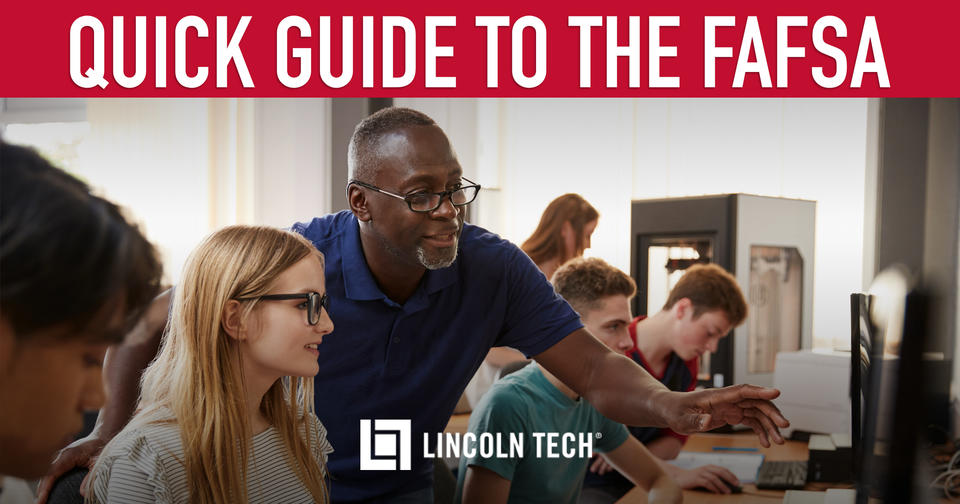 How to Fill Out the FAFSA: Tips From Lincoln Tech
Completing and filing your FAFSA – the Free Application for Federal Student Aid – is the most important step of the financial aid application process. If you're seeking financial assistance and want to learn how to fill out the FAFSA - your key to aid that can help with the costs of higher education - it's not as complicated as you might think!
If you're not familiar with this application, the process can seem frustrating and overwhelming – but it doesn't need to be!  Start with these tips from your Financial Aid team at Lincoln Tech, and then contact your local Lincoln campus to learn more.
FAFSA Table of Contents
Why you should complete and file the FAFSA.
The FAFSA is your link to qualifying for a wide range of financial assistance options when you're ready to move forward with your postsecondary education.  Funding your education can seem like a daunting task, but there's an almost-endless supply of resources where you can find the funds to ease those costs.
An investment in your education is an investment in your future – it's the best kind of investment you can make!  Filing the FAFSA can open the door to financial aid and help you make that valuable investment.  You may qualify for federal loans, which must be paid back, or grants, which are one-time awards that do not need to be repaid.  The FAFSA is also used by some states and scholarship programs in determining your eligibility for state grants and scholarships.
Available scholarships to fund your future.
To assist with the costs of career training that can lead you to a range of incredible, rewarding careers, Lincoln schools offer a variety of scholarship opportunities.  In 2018, Lincoln will award more than $8 million to qualified students around the country – and completing the FAFSA is a required step in the application process.
What you'll need to complete the FAFSA.
According to the U.S. Department of Education, the FAFSA takes on average only 30 minutes to complete – if you're prepared with some basic information ahead of time.  Some of the things you'll need to have handy are:
Your social security number.

Your driver's license number, if you have one.

Your FSA ID.

Your tax records.

A list of the schools you're interested in attending.
For a complete list check out the Federal Student Aid Website.
FAFSA and your 2017 taxes.
#4 on the list above is your tax records – your application for assistance won't be considered without confirmation of your tax status.  But the IRS has a handy tool called the DRT, or Data Retrieval Tool, which does you the favor of importing the data from your federal tax return right into your FAFSA application!
You can learn more about the DRT and how it works here, courtesy of the U.S. Department of Education.
As an additional resource, the IRS also offers no-cost assistance completing your tax return!  Learn more here!
How to Fill Out the FAFSA:  A Video Guide
To see the FAFSA "in action" and get a close-up look at how to complete it, watch this video:
FAFSA myths that can cost you.
Have you heard any of these things said about the FAFSA?
It's too hard, or takes too long, to fill out the FAFSA.

I'm ineligible because of my age or ethnicity.

I support myself, so I don't need to supply information about my parents' income.

I did the FAFSA last year, so I don't need to do it again.

My family makes too much money for me to qualify for financial aid.
These are some of the most common myths and misconceptions about the FAFSA, and they can cost you the chance at the assistance you need to advance your education!  The U.S. Department of Education recently published a list of common myths about financial aid, and they set the record straight so you'll have all the information you need to take this important next step!
Lincoln Tech is proud to be a resource for students and parents around the country when it comes to questions about applying for Financial Aid.  Visit our Financial Aid website today, or reach out to your local Lincoln campus about how a simple form like the FAFSA can be the key to starting on your road to a new career and a brighter future!