Lincoln Tech Pies it Forward For Meals On Wheels
December 4, 2015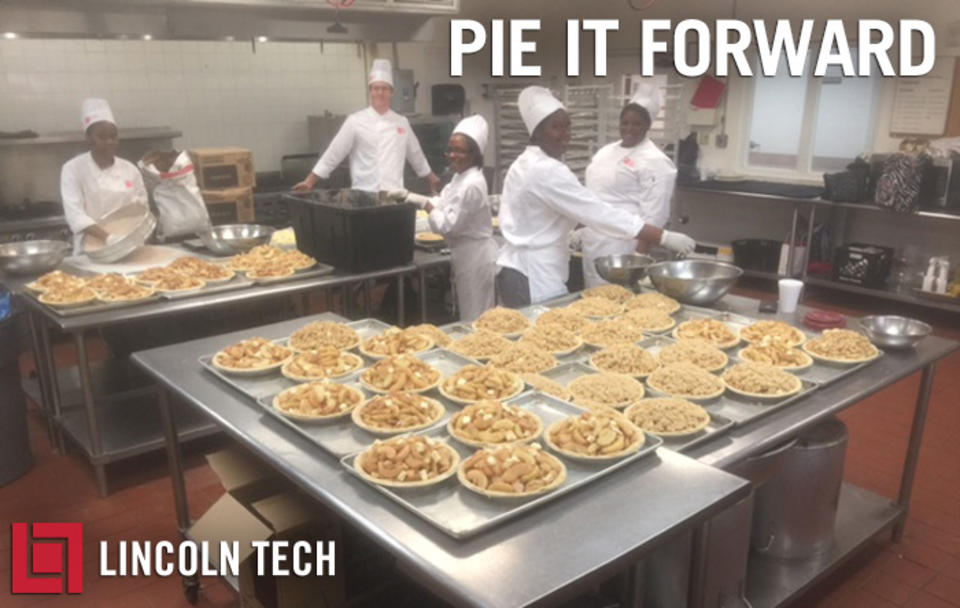 The West Palm Beach Campus of Lincoln Culinary Institute is about more than just culinary career training - it's known for playing an active role in the community too, through charitable activities, getting kids into the kitchen to read and bake, and more. This Fall the campus teamed up with Meals on Wheels to take part in "Pie It Forward," a fundraising extravaganza that benefited the food delivery program in a deliciously unique and exciting way!
Supporting Meals On Wheels
Under the direction of Chefs David Pantone and Manfred Schmidtke, a team of Lincoln student Pie Masters prepared 150 Amazing Crumb Topped Apple Pies to donate to Pie It Forward organizers. The pieces were then sold for $25 each, with all proceeds going to Meals on Wheels of Palm Beach. Each pie raised enough funds to feed a homebound senior for a week, according to Meals on Wheels.
"It just seemed like a match made in pastry heaven," Chef Pantone told the Palm Beach Post. "Our team chose the name, The Pie Masters, since we actually are pie masters, and master bakers, and pastry chefs, and executive chefs."
Culinary Career Training With True Professionals
Pantone and the rest of the Lincoln faculty in West Palm Beach are training and educating southern Florida's next generation of Culinary Arts professionals. Students can train for careers in Culinary Arts, Culinary Management, or International Baking and Pastry, and they put their skills to a real-world test at Café Protégé – the on-campus student-operated restaurant that's open to the public!
Chef Pantone can be seen twice a month hosting a cooking segment West Palm Beach TV5. Chef Manfred recently represented Lincoln Culinary Institute at a Junior Chefs Culinary Competition in the Bahamas, and led a team of gingerbread builders in gearing up for National Gingerbread House Day. It's a great time to train with these seasoned pro's and start on your way to a delicious new career in West Palm Beach!