Philadelphia Job Market Offers Opportunities For Auto Technicians
May 3, 2019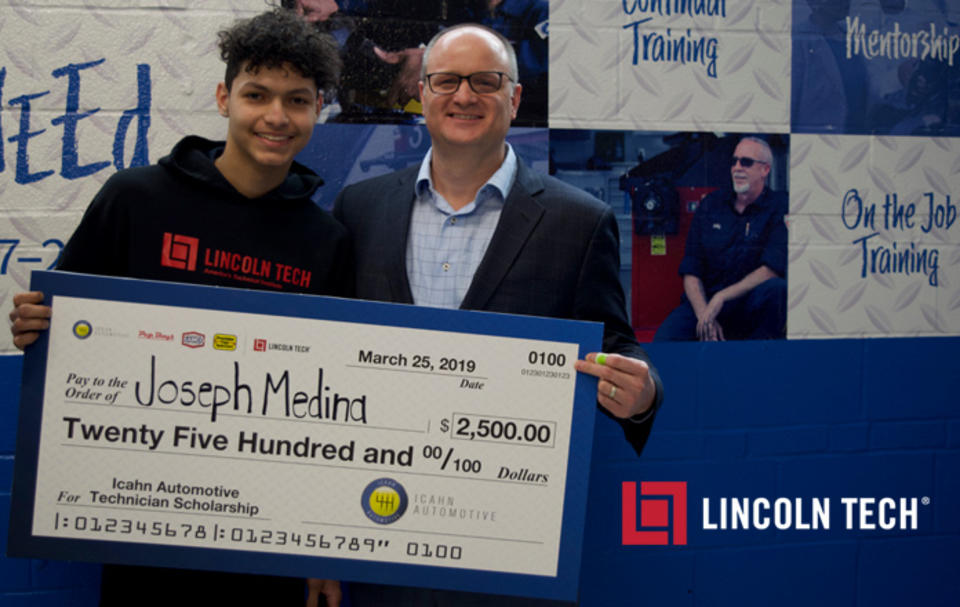 Lincoln Tech has helped auto enthusiasts enter the Philadelphia job market as skilled, trained technicians for more than 50 years. On March 25th, the Philadelphia campus teamed up with Pep Boys and their parent company Icahn Automotive Group to unveil a new sponsored classroom, present an Icahn Automotive Technician scholarship to an exceptional Lincoln student, and shine a spotlight on Lincoln Tech's role in Icahn's "Race to 2026" initiative.
Icahn Automotive – which owns Philadelphia-based Pep Boys, along with AAMCO and Precision Tune Auto Care – is a leader in the global automotive industry, and its service centers regularly turn to Lincoln Tech campuses when they need new talent for their teams. That's true not only in the Philadelphia job market, but across the country – this according to Scott Shaw, Lincoln Tech's President and CEO.
"What Pep Boys is facing is not unique, and what we're seeing more and more of is that there's such a shortage of skilled technicians," Shaw told the Philadelphia Business Journal following the event. "We're able to offer [graduates] at scale to fill those needs: every month there are literally dozens of students graduating across the country from [our automotive schools]."
Icahn Automotive's "Race to 2026" Aims to Strengthen Philadelphia Job Market for Auto Techs
Lincoln Tech is expected to play a key role in the "Race to 2026," an Icahn initiative designed to expand awareness of career opportunities in the Auto Technology field and drive enrollment in career-focused training programs like those offered at the Philadelphia campus. Between Pennsylvania and neighboring New Jersey, more than 50,000 positions are projected to open by 2026.* By partnering with local employers like Pep Boys, Lincoln Tech is helping to fill that skills gap and make it easier for those hiring managers to identify, meet, and hire candidates with the skills needed in today's dealerships, franchises and independent garages. As part of the day's celebration, and in a display of Icahn's commitment to post secondary education for future auto technicians, Lincoln Tech student Joseph Medina was presented with a $2,500 scholarship!
Whether you're looking to enter the Philadelphia job market, or any of the other fast-growing automotive markets around the country, Lincoln Tech schools have the training programs that can get you there. Reach out to your local campus today and find out how hands-on career training can put you on the fast track to "work" you'll look forward to doing every day!
* Career growth projections can be found at careeronestop.org for the years 2016-2026. Ranks reflect comparisons among 48 continental U.S. states. Salary information is based on median salary information collected for the year 2017. Data is current as of September 30, 2018.