Lincoln Tech Expands Partnership with Bridgestone Retail Operations to Provide Nationwide Workforce Development
June 22, 2018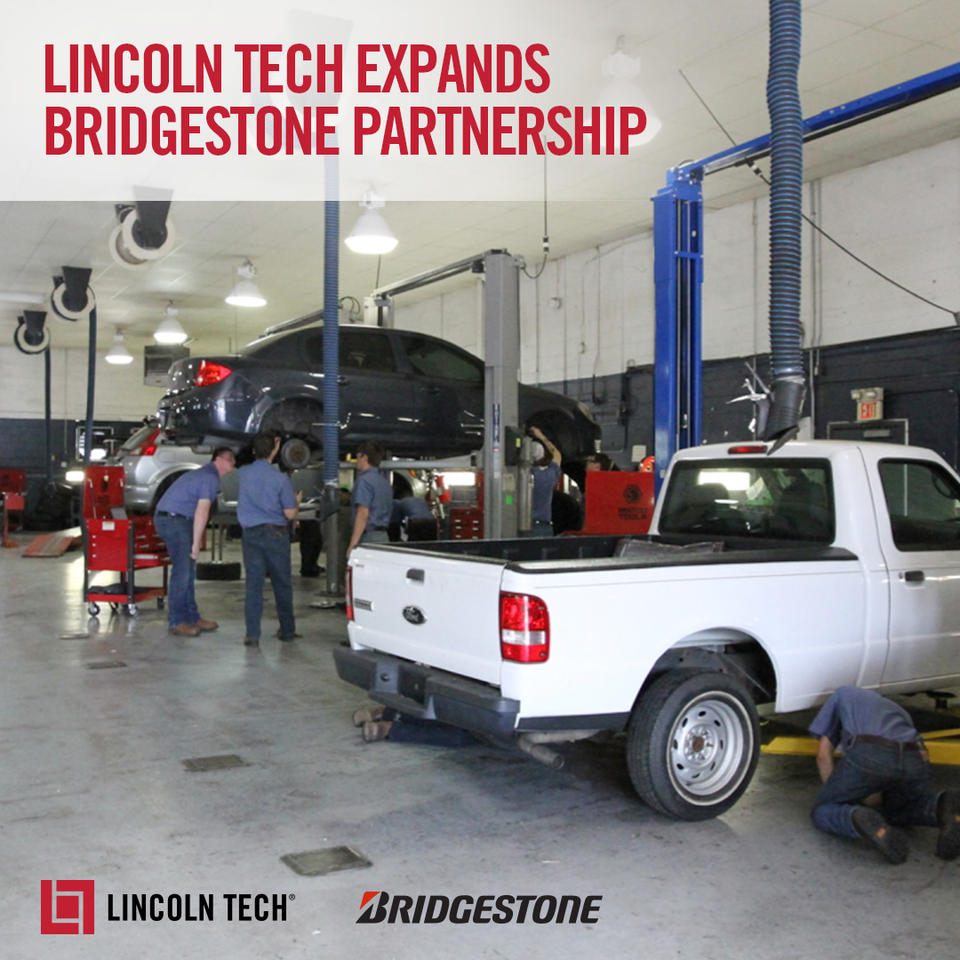 West Orange, NJ – June 10, 2018 – Lincoln Educational Services Corporation (NASDAQ: LINC), a leading provider of specialized technical training, has expanded its partnership with Bridgestone Retail Operations (BSRO), building on its current technician training program and helping to grow the auto service leader's workforce around the country.
Graduates of Lincoln Tech's Automotive Technology programs will have the opportunity to pursue careers with BSRO, and BSRO, in turn, will provide training equipment and sponsor classrooms at Lincoln campuses nationwide.  The goal is to attract more students to Lincoln Tech's programs and develop those students for entry-level technician roles at BSRO. A subsidiary of Bridgestone Americas, Inc., BSRO operates more than 2,200 tire and automotive service centers across the United States, encompassing Firestone Complete Auto Care, Tires Plus, Hibdon Tires Plus and Wheel Works store locations.
"To date, Lincoln Tech has proudly supported BSRO by providing training and professional development for their technicians at our Denver, Colorado campus," says Scott Shaw, President and CEO of Lincoln Tech.  "This relationship formed the basis of the new partnership we're entering into for 2018.  We look forward to continuing to assist Bridgestone Retail Operations – a renowned tire and automotive service provider with a history of more than 94 years – in overcoming the skills gap and the shortage of technician candidates."
Shaw adds that Lincoln Tech is equally excited at the career prospects that will be available to its graduates following the expansion of the partnership.  "Any time you can solidify a relationship with an employer like Bridgestone, you're opening up a new world of opportunities to the students who train at our schools," he says.  "Automotive service careers at BSRO locations will allow our graduates to truly put their potential to work and start on professional paths that will provide stable, rewarding futures for them and their families."
"In any given month, we're looking to hire hundreds of technicians around the country," says Blye Hunsinger, Director of Talent Acquisition, BSRO.  "These are excellent opportunities for skilled technicians to begin careers with BSRO and join Bridgestone, which is a large global corporation.  As the nation's single largest employer of automotive technicians, our employees have the opportunity to work on a wide variety of vehicles."
"At BSRO, our philosophy is, 'the customer is the Boss,'" Hunsinger adds.  "In that regard, we look for candidates with a strong focus on customer service and a winning attitude – people who will provide trusted service to the communities where we live and work – and we believe Lincoln Tech graduates have that service mindset."
Ami Bhandari, President of the Lincoln Foundation for Education, thanked BSRO for its continued support for Lincoln students through generous scholarship grants that will help offset the costs of career training for qualified students nationwide.  "We understand that education costs can be a consideration for someone thinking about returning to school and starting on a career path," Bhandari says.  "We're grateful to BSRO for recognizing those concerns and committing once again to supporting the LiFE Foundation and its mission."
Application for the Bridgestone program will be available to students training at Lincoln Tech schools around the country – including campuses in Connecticut, Colorado, Illinois, Indiana, Maryland, New Jersey, New York, Pennsylvania, Tennessee, and Texas.