Glenn O'Donnell: Lincoln Tech Graduate Turns Fortune 500 Advisor
April 13, 2016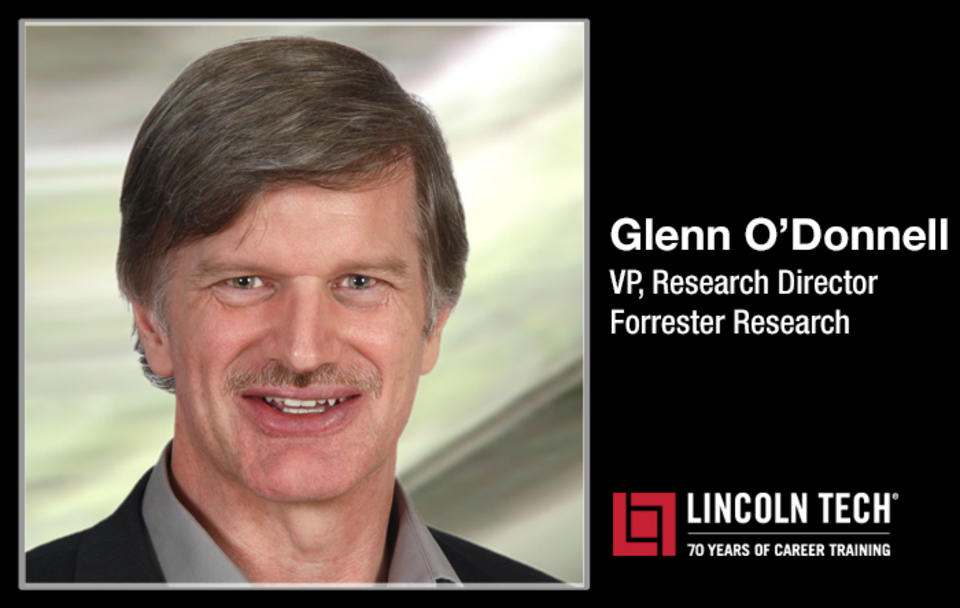 Technology and computers: they've revolutionized our economy and our daily lives.  According to PR Newswire, United States technology industries employed 6.5 million Americans in 2014.  One of the individuals with a finger always on the pulse of those industries is Lincoln Tech graduate Glenn O'Donnell, Vice President and Research Director of Forrester Research, a leading business technology advisory and consulting firm.
"Technology is constantly changing, and will continue to constantly change," Glenn says.  "If you want to have a successful I.T. career, you have to love change, effect the change - or be affected by the change."
Forrester is among the most influential research and advisory groups in the world.  They employ teams of tech analysts who watch the tech industry on behalf of Fortune 500 companies. Glenn O'Donnell leads analyst teams as they guide their client companies to making the best decisions about technology investment and optimization.  In the eyes of Forrester, their research allows their clients to be customer-obsessed - as well as highly profitable!
Glenn wasn't always in charge of teams of industry-savvy analysts.  In early 1980, Glenn graduated from Lincoln Tech's Electronic Engineering program at the Allentown, PA campus after enrolling in the program on a scholarship offer.  Even in the late 1970s, Glenn says, Lincoln Tech provided leading edge technical training.
"Attending Lincoln was a great start for my career," he says.  "The staff and faculty were brilliant.  At the time, computer technology was just getting off the ground.  I knew I wanted to do something with computers.  I knew I wanted a slice of that action.  I was an electronics nut to begin with – as a kid I tinkered a lot."
At Lincoln Tech, Glenn O'Donnell was trained by industry veterans who spoke to the adaptability required for success.  Lincoln schools deliver quality hands-on technical education - and have done so for decades.  Glenn still remembers one of his favorite Lincoln Tech instructors, Mr. Heck, from 1980: "If you had questions, Mr. Heck had stories to illustrate his answers.  You could feel the experience he had."
"The faculty were seasoned, not just fresh out of school," Glenn recalls.  "They had the 'battle scars' that gave them credibility.  The instructors really knew their stuff."
Glenn O'Donnell & The Lincoln Tech Tradition of Excellence
Among Glenn's classmates was Pat Gelsinger, now CEO of software giant VMWare.  Like Pat, Glenn credits Lincoln Tech's Career Services team with helping him find his first job in the profession after graduation.  "After graduation, each of us had a bucketful of job offers," Glenn says.
In the late 1970s, Glenn trained on computers that had been programmed with bugs and other failures.  Students were then tasked with troubleshooting the components, isolating the issue, and correcting it.  While today's technology is light years ahead of where it was almost 40 years ago, those fundamentals – troubleshooting, diagnosis and repair – are still critical to the success of I.T. professionals.
This dynamic approach gives future programmers early access to the "guts" of what it takes to make a computer run properly - from programming languages to semiconductors.  As Glenn emphasizes, "Students need to know the technology cold.  If they want to succeed, they have to have an insatiable curiosity and prepare to deal with a world that's constantly changing."
Preparing for 21st Century I.T. Career Success
Professionals interested in a technology sector career need training today on the systems that will drive the industry tomorrow.  "Students shouldn't train for the jobs that exist today," Glenn says.  "They need to prepare for the jobs that will exist five or 10 years from now."
When you're ready to boot up your own I.T. career, look to hands-on trade schools like Lincoln Tech for industry-current training, student support, and the connections to help you land your first job after you graduate.  Take it from Glenn O'Donnell, who knows firsthand the benefits of a Lincoln Tech education.
"It was a great experience," he says.  "I really enjoyed my time there.  It took a lot of hard work, but Lincoln Tech set me on the right path and gave me the start I needed."