Career Fields Growing in Pennsylvania
January 23, 2018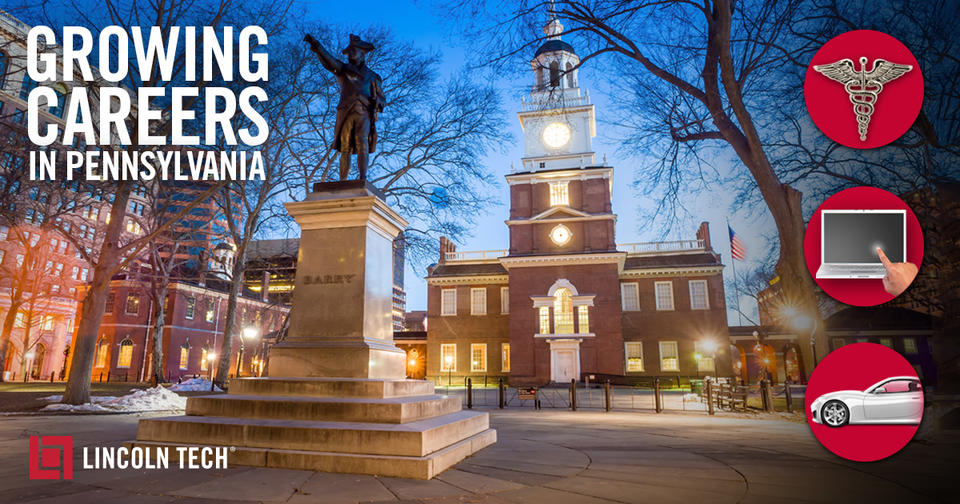 When contemplating a future career, it's important to keep in mind which industries are growing versus what jobs are becoming obsolete. Everyone wants to work in an industry where there's opportunities and room for growth. That's why jobs which can't be taken on by computers or be exported overseas are your ticket to a stable and secure future. This month, Lincoln Tech is going around the country and analyzing which career fields are growing in the states where we offer training. Today, we look at career fields growing in Pennsylvania.
Use the information below to guide you toward a fulfilling and rewarding career. All career growth projections and salary information can be found at careeronestop.org for the years 2014-2024, unless otherwise noted.
Automotive Technician: Work with your hands repairing and diagnosing cars, trucks and SUVs. By 2024, it's predicted there will be more than 8,000 new automotive technician positions in Pennsylvania. Lincoln Tech's Philadelphia campus offers hands-on training to help you get started.
Electronics Engineer: Opportunities for electronics engineering technicians are both growing and rewarding. In Pennsylvania, the average starting salary in this field was $33,790 in 2017, with room to grow; over the next seven years, there will be hundreds of positions available in-state. Obtain your Associate in Specialized Technology Degree at the Lincoln Tech Allentown campus.
Computer and Network Support Technician: From IT Director to Systems Engineer, there are a variety of jobs you can hold in the Computer and Network Support Technician field. Duties might include installing an organization's local area network, monitoring networks, testing website performance and administering network security measures. Hundreds of positions will need to be filled across Pennsylvania by 2024.
Medical Assisting: Work under the direction of a physician to perform administrative and clinical tasks. From taking vital signs to recording medical histories, this job is essential to providing superior patient care in medical settings. Along with a sense of fulfillment, this job ensures plenty of opportunities; nearly 6,000 jobs are expected to be available in Pennsylvania by 2024.
Practical Nursing: Practical Nursing training prepares you to care for ill, injured or disabled individuals in hospitals, nursing homes and clinics. In the next seven years, job growth is predicted to increase in Pennsylvania by 9 percent, opening up almost 10,000 positions.
Find hands-on training programs for Computer and Network Support Technician, Medical Assisting, and Practical Nursing roles at Lincoln Tech's Allentown campus.
You shouldn't have to travel across the country or change industries every five years to secure a better future. Train for jobs that are hot in your state to pursue a career that's both practical and fulfilling!