Campus Spotlight: Union, New Jersey
May 9, 2018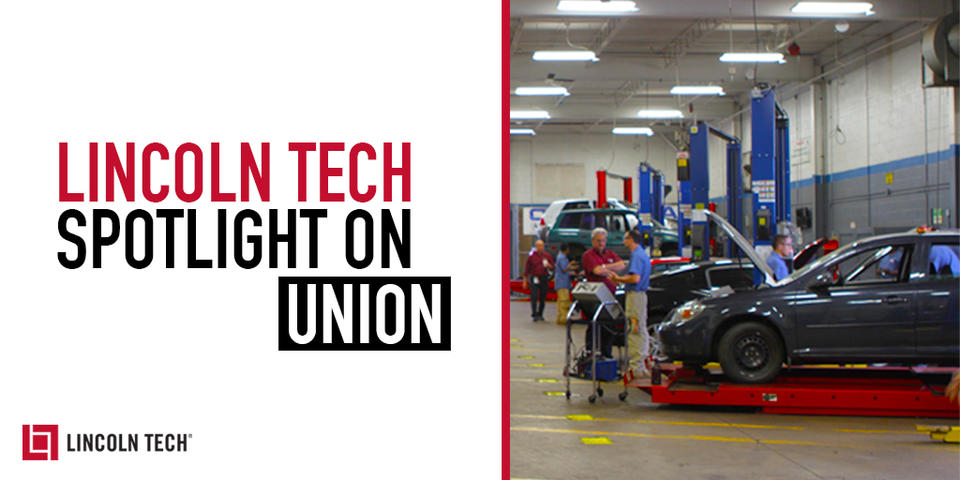 When businessman J. Warren Davies established Lincoln Technical Institute on Newark, NJ's Market Street more than 70 years ago, he wanted to provide support for servicemen returning home from overseas at the end of World War II.  The school he founded taught skills for installing, maintaining and repairing Heating, Ventilation and Air Conditioning systems – the growing industry known as HVAC.  And for three decades, the school helped the country's veterans, and thousands of other students, begin rewarding new careers that helped them better support their families.
When the demand for new programs began to grow, the Market Street location was no longer big enough to accommodate all the facilities that were needed.  The school found a new home in Union, NJ.  Today, the campus on Vauxhall Road trains HVAC specialists, auto technicians, electricians and electronic systems technicians.  With its proud history as the original Lincoln Technical Institute, the Union campus maintains the spirit of Davies' mission in 1946: to help dedicated, talented students graduate with marketable career skills and begin exciting professional journeys that changed the trajectory of their lives.
Things to Know About Lincoln Tech in Union
Community commitment:  By training at Lincoln Tech's Union campus, students have the opportunity to take part in a number of activities throughout the year that benefit the larger community.  The campus also operates an on-site food pantry to assist members of its student family who might be in need of a helping hand.
Nobody does it better:  According to Jeff Gardner, Executive Director of the Electronic Systems Professional Alliance (ESPA), Lincoln Tech's Union campus is "second to none" at training future electronics technicians.  The school is ESPA's #1 Authorized Training Partner, testing and certifying more new technicians than any other school in the country.  Students in the Electrical and Electronic Systems Technology (EEST) training program have a history of achieving amazing pass rates on these certification exams – a nod to the outstanding instructors and support staff on campus.
Real-world facilities:  The Union campus offers an on-site Green House from Hampden Engineering, a global leader for technology training equipment.  The indoor "Smart House" features a fully wired framework for students in the EEST program, with cutaway walls and channels for cabling and electronic setups.  And in the fully-functioning auto bays, students train with the equipment preferred by the pro's: Matco tools.
Future career possibilities:  "Green" technology is at the forefront of today's climate control industry, and today's students are looking for careers that have a positive impact on the environment.  Energy auditing skills are essential if you want to get ahead in your HVAC career, and Lincoln Tech's Union campus is recognized as a School of Distinction by the Green Mechanical Council.  It was one of the first schools in the country to incorporate Green Technology courses into its HVAC curriculum, and the HVAC program is fully programmatically accredited by HVAC Excellence, the nation's largest and oldest accrediting body.  Several instructors are also Certified Master HVAC Educators!  The electrical and electronics career training programs also emphasize technologies that help to conserve electricity and make devices run "smarter" and more efficiently.
Hands-on practice beyond the classroom:  Career training doesn't have to be "all work, no play," especially for future auto techs.  Honor Society students have the opportunity to be a part of the on-campus race team and work on the team's car!
 "Location, location, location":  Hundreds of dealerships in northern and central New Jersey need mechanics and technicians for their teams, and the Union campus' proximity to Route 22 and Route 1 put many of those dealerships in range for graduates.  There are also plenty of HVAC services and electrical shops across the area who partner with the campus to find new techs.  Its easy access from the Garden State Parkway, Route 78, and the Turnpike make it the perfect training location for students coming from Bloomfield, Newark, Elizabeth, Rahway, and just about anywhere else in the northern part of the state.  Transportation is even provided to and from Brooklyn, NY!