Veteran Uses Lincoln Tech Training to Build a New Career
September 9, 2016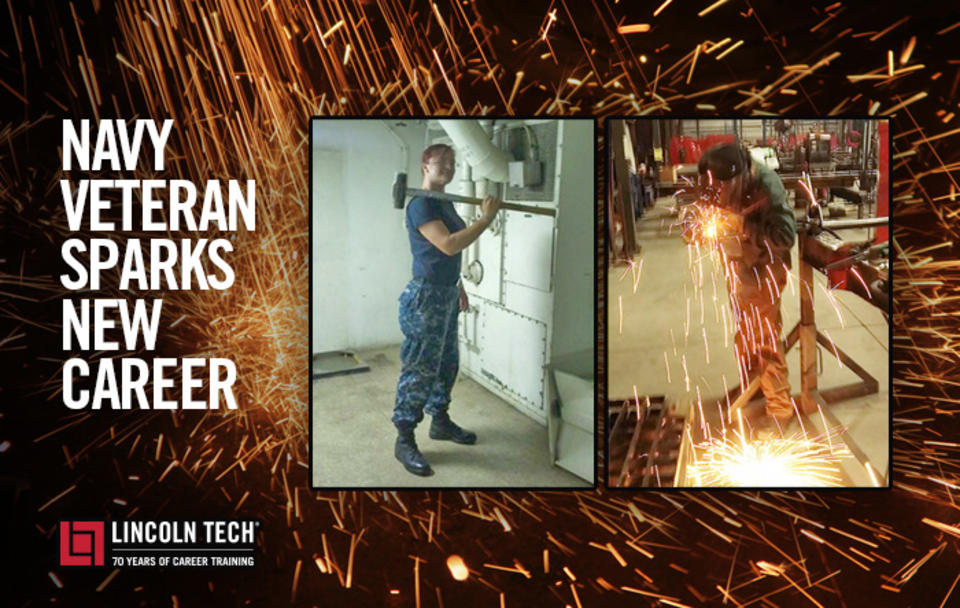 "You don't stop until the job is done," says Aviation Ordnanceman 3rd Class Petty Officer Melissa Koblos.  Koblos, who served in the US Navy and was stationed on the CVN-71 USS Theodore Roosevelt, is no stranger to a strong work ethic – and she brought that sense of commitment with her to Lincoln Tech in Denver, CO.  Since the end of World War II Lincoln Tech schools have made career training for veterans a priority, and have supported veterans in their transition from military to civilian life.
"I've always worked with my hands, from helping with the family farm, to turning a wrench, to building ordnance," she says. "It's immensely satisfying to be able to say, 'I built that.'"
After returning from her station in the Navy, Koblos decided to turn her focus towards career training in welding. After researching her options for trade schools, she says, at Lincoln Tech she found "instructors who were knowledgeable in their chosen craft and never hesitated to answer questions. They made it a point to explain concepts differently when confusion arose."
Career Training For Veterans Helps Build New Careers
As a student, Koblos found that her military experience provided her with a strong foundation for a hands-on career like welding. She benefitted from training with industry-experienced professionals and from building experience with much of the same equipment she uses in the field today.
"My experiences at Lincoln Tech were fantastic," she says. "I got to meet and pick the brains of experts and got real world ideas of what to expect upon entering the professional world of welding."
Koblos parlayed her Lincoln Tech education into a career as a fabricator at Cutting Edge Steel in Dacono, CO, and her military background continues to help her succeed. "I found that the Navy's insistence on 'attention to detail' has served me remarkably well working in a fabrication shop," she says.
When she's not working in the shop, Koblos is putting her artistic skills to use working with mediums like steel, paints and clay. She has also passed along her life lessons to her children, aged 8 and 9. "I tell my children that you get what you give in this world.  If you give it your all, you'll get all that you want and more."
Lincoln Tech is proud of Melissa Koblos' service to our country and her accomplishments both in school and in her new career. We salute her and all of the veterans who have honorably served our country!