Denver Diesel Program Hosts Food Bank Benefit
October 29, 2015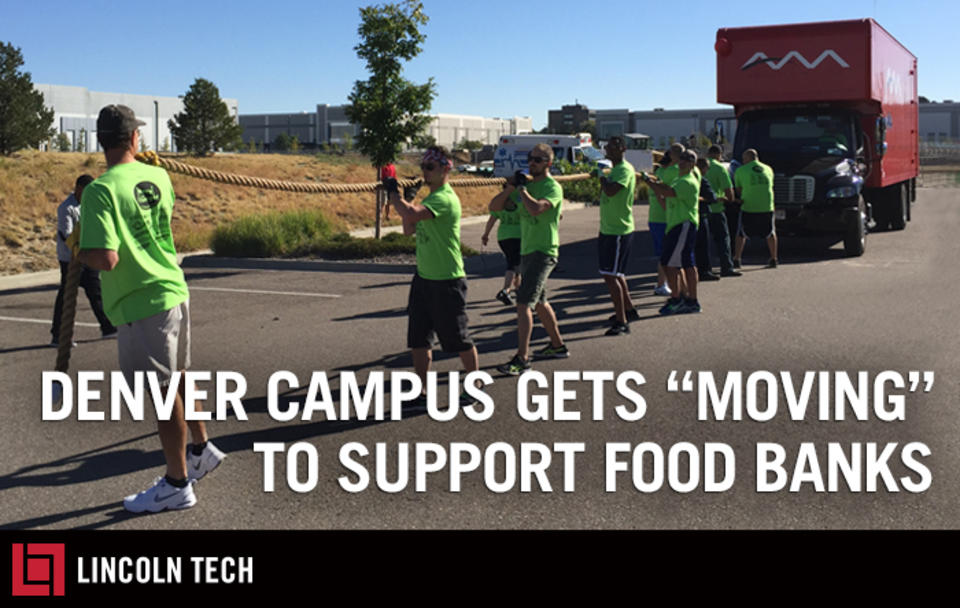 All work and no play is a surefire recipe for burnout. In order to be the best you can be at work and in your personal life, you need to find balance. Lincoln Tech's Denver campus recently gave students a chance to play at its 1st Annual Truck benefit, held in conjunction with Scholarship Day, to celebrate all the hard work put in by students in the school's Diesel & Truck Technology program.
In conjunction with SAGE Trucking School, Colorado Motor Carriers Association and regional moving powerhouses Amazing Moves, Lincoln Tech gathered students, community members and local businesses to have some fun with the big rig engines that they work on. The main event was a truck pull where teams of 10 pulled a cargo truck 100 feet. Eight teams from various moving companies, trucking companies and even the Denver Police Department all competed. During the truck pull, visiting families could get some food from local food trucks, have fun in the kid zone, race remote-controlled cars, and participate in the dunk tank, a silent auction and a raffle.  All proceeds from event went to Move for Hunger, a local organization that collects items for food banks.
For those entertaining the idea of a career in diesel, guests and students had the opportunity to meet local industry vendors and companies looking to hire. The Scholarship Day portion also included campus tours and program demos.
Students training at the Denver campus for diesel careers can choose from programs in diesel technology, diesel mechanics or diesel and truck service management. 18-wheelers and other kinds of diesel engine machines are vital to the growth and function of society.  Employers are projected to add more than 50,000 diesel technician jobs around the country, including more than 1,200 in Colorado, over the next seven years.*
* Source: careeronestop.org for the years 2012-2022