Chef Pantone's Beet Salad with Fennel & Blood Orange
April 22, 2016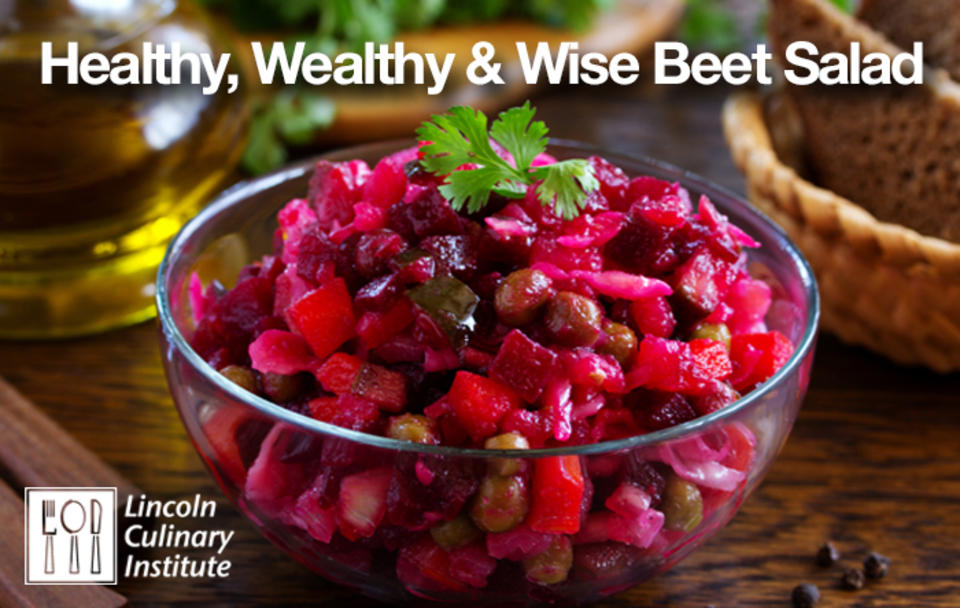 The warmer weather leaves many craving bright, colorful salads. If you've been timid to hop on the beet bandwagon, then have no fear – Chef Pantone of Lincoln Culinary Institute in West Palm Beach, FL has the perfect beginner beet salad recipe!
This Mediterranean-inspired salad features a rainbow of colors from beets, blood oranges and fennel. Beets are great for the liver, serve as a purifier for the blood, help in lowering blood pressure and can also prevent various forms of cancer. What's not to like about that? In addition, they contain betaine which is the same substance commonly used in treatments of depression. A helpful tip: when shopping for beets, choose fresh, bright, firm beets and avoid any that are soft.
To sweeten this beet salad, blood oranges are added. Sweeter than your everyday orange, they are also less bitter and acidic. Blood oranges are high in vitamin C, potassium, dietary fiber, carotenoids along with other nutrients.
To balance out the sweet oranges, fennel is introduced, adding a bitter licorice flavor. This salad is full of superfoods, is super tasty, super healthy and sure to be a hit at your next gathering!
Beet Salad With Fennel & Blood Orange
Serves 4-6 people
2 medium red beets, no tops

2 medium golden beets, no tops

3 blood oranges

1 navel orange

1 tablespoon fresh lemon juice

1 tablespoon fresh lime juice

1/4 red onion, very thinly sliced

Good-quality extra-virgin olive

Coarse sea salt

Freshly ground black pepper

1/4 cup loosely packed fresh cilantro and/or chervil leaves
Directions:
Preheat oven to 400°. Wash beets, roast until tender when pierced with a knife, about 1 hour. Let cool.
Segment two blood oranges and reserve the juice.
Slice the remaining blood orange and navel orange crosswise into thin rounds. Place sliced oranges in bowl with the segments. Add lemon juice and lime juice.
Peel cooled beets. Slice 2 beets crosswise into thin rounds. Cut remaining 2 beets into wedges. Strain citrus juices; reserve. Layer beets and oranges on plates, dividing evenly. Arrange fennel and onion over beets. Spoon reserved citrus juices over, then drizzle salad generously with oil. Season to taste with coarse sea salt and pepper.
Let salad stand for 5 minutes to allow flavors to meld. Garnish salad with cilantro leaves.  Serve and enjoy!