Automotive Training, the Key to a Once-in-a-Lifetime Experience!
December 19, 2018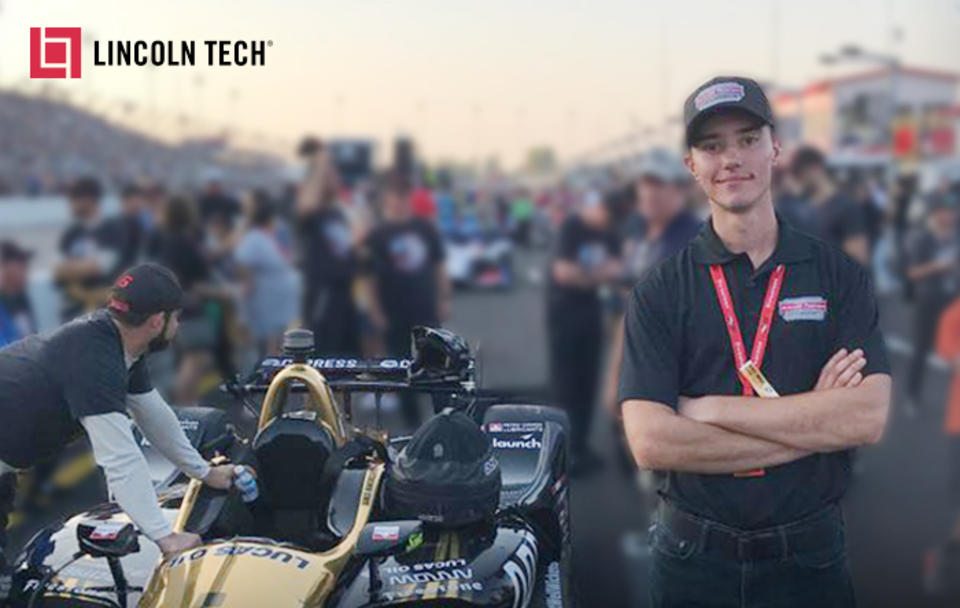 For Lincoln Tech graduate Thomas Harrigan, his Automotive Technology Training program is what gave him the bragging rights to an incredible weekend serving on an IndyCar Pit Crew.  As part of the school's Schmidt Peterson Motorsports (SPM) Mentor program, Thomas attended the Bommarito Automotive Group 500 on August 25, 2018 at Gateway Motorsports Park in Madison, Illinois. Not only did Thomas get to meet Indy Car driver James Hinchcliffe, he worked in the pit on race day. How did he wind up so lucky?
Working on cars was not Thomas's dream growing up.  He wasn't a kid obsessed with Matchbox and Hot Wheels cars.  He never spent time under the hood until after he graduated from high school, when he started hanging with some gear heads.  The rest, as they say, is history.
He wound up at Lincoln Tech after googling automotive training and hasn't looked back since.
From Union, NJ to the Pits at an IndyCar race!
Once he was at Lincoln, he quickly stood out from the crowd. He joined the race team, where honor students worked on "suped" up dragsters that made it to the course at Englishtown. He also made a great impression on his instructors, which made his nomination to participate in the SPM Mentor program a slam dunk!  Dennis Blumetti, one of Thomas' instructors recalls, "Thomas displayed a great attitude and work ethic. He was always eager to learn new material and how it could help him in the automotive field."
Eight Seconds Was all it Took.
 In the time of a typical pit stop, Thomas was hooked.  Thomas spent race day taking used tires to the tent for replacements and helping crew members take measurements to assess wear, and the excitement of being on the track ignited something in him. Right now Thomas works at a private auto shop in Denville, NJ, but one day soon, he hopes to return to the racetrack as an open-wheel mechanic for a pit crew.
Where will Automotive Technology training take you?  Only one way to find out.  Reach out to a Lincoln Tech campus, and put the pedal to the metal on an amazing career!