Grilling For Memorial Day? Try These BBQ Recipes From Lincoln Culinary Institute
May 27, 2016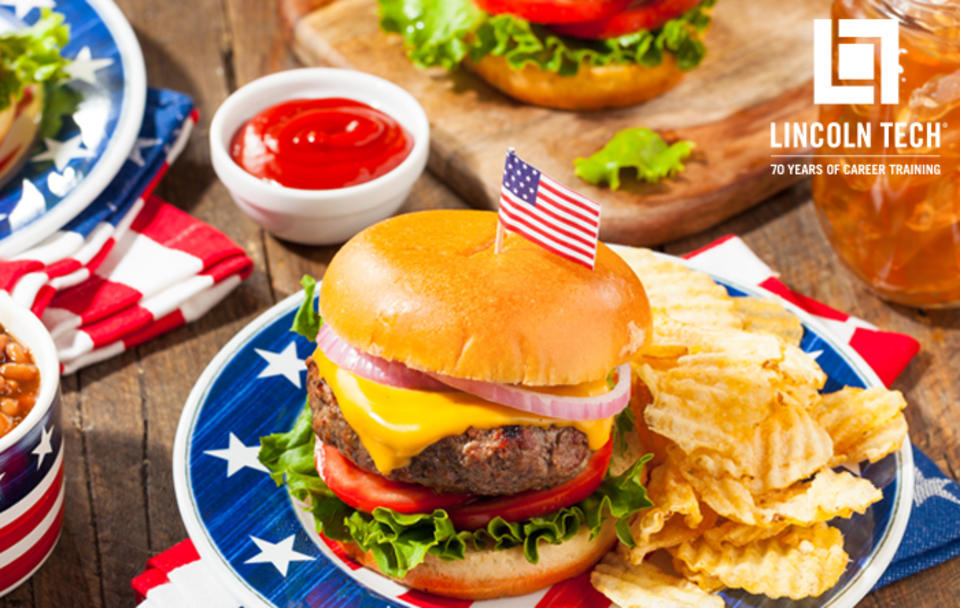 Memorial Day is an important holiday in our country's history –it focuses on remembering those who died while serving and protecting our country. Americans take this day to honor those brave soldiers by flying American flags and visiting cemeteries to plant flowers, and take in local Memorial Day parades around the country, before heading back to try their favorite BBQ recipes.
Memorial Day is also considered the unofficial start to summer. Friends and family gather at picnics and barbeques to kick off the season with cold drinks and great grilled food. As the weather gets warmer, summer vibes begin to seep in.
If you're playing patio host this Memorial Day Weekend, Chef Joseph Mele of Lincoln Culinary Institute in West Palm Beach has a few variations of traditional BBQ recipes that will have your guests praising your skills on the grill!
BBQ Recipes:
Carolina Barbecued Ribs
Ingredients:
pork back ribs (3-4 lb slab), 2 ea

1 tbl red chile flakes

1 pt  vinegar, white

Salt, to taste

Ground black pepper, to taste
For the Sauce:                  
5 oz onion

3 garlic cloves

4 oz pepper, green bell

1 pt tomatoes, plum

8 fl oz hot sauce, Red Devil

10 oz sugar, light brown

2 fl oz lemon juice (fresh)
Directions
Combine the salt, pepper and red pepper flakes. Rub this mixture over both sides of the ribs, coating them well.

Place the ribs in a nonreactive pan and add the vinegar. Cover and refrigerate several hours or overnight.

Uncover the ribs, turn them presentation side down and bake in a 375°F oven for 11⁄2 hours.

Remove the ribs from the liquid and place on a clean sheet pan, turning them so that the presentation side is up. Increase the oven temperature to 400°F and bake for an additional 30 minutes.

Prepare the sauce by puréeing the onion, garlic, bell pepper and tomatoes in a food processor or blender. Pour this mixture into a nonreactive saucepan and add the remaining sauce ingredients.

Simmer the sauce over low heat until it thickens, approximately 15 to 20 minutes.

Brush the ribs with the sauce and serve additional sauce on the side. Serve with Creamy Coleslaw.
Chili Barbecued Chicken
Ingredients:
2 tsp chili powder

4 fl oz vinegar, cider

2 tsp salt

1 tbl chopped garlic

2 tsp tabasco sauce

2 fl oz water

1 whole chicken, 2 ½ - 3 ½ lb (cut into 8 pieces)
Directions
Combine chili powder, vinegar, salt, garlic, hot pepper sauce and water in a stainless steel bowl.

Add the chicken pieces and stir to coat the chicken with the marinade. Cover and marinate under refrigeration for 2 to 24 hours.

Arrange the chicken on a baking rack, skin side up, and bake in a 400°Foven for approximately 30 minutes or until done. Alternatively, grill the chicken pieces on a gas or wood grill until done.
VARIATION:  Baste the chicken 5 minutes before it is fully cooked with 2 teaspoons hot pepper sauce combined with 2 tablespoons melted butter.
Chinese Barbecued Spareribs
Ingredients:
pork sparerib rack (2 ½ lb), 2 ea

2 garlic cloves, crushed

1 fl oz ketchup

1 fl oz soy sauce

1 fl oz hoisin sauce

1 fl oz red wine

1 tbl ginger, fresh (grated)

1 tbl honey
Directions
Cut the sparerib racks into individual ribs and arrange them on a rack in a baking pan. Roast for 45 minutes at 300°F (150°C).

Combine the remaining ingredients into a sauce. Brush the spareribs lightly with the sauce. Grill over hot grill until ribs are caramelized.

Turn the spareribs and brush with more sauce. Grill until the ribs are well browned, approx. 15 minutes.
Try these BBQ Recipes at your next gathering!