Chef Pantone's Cauliflower Pizza Crust
May 13, 2016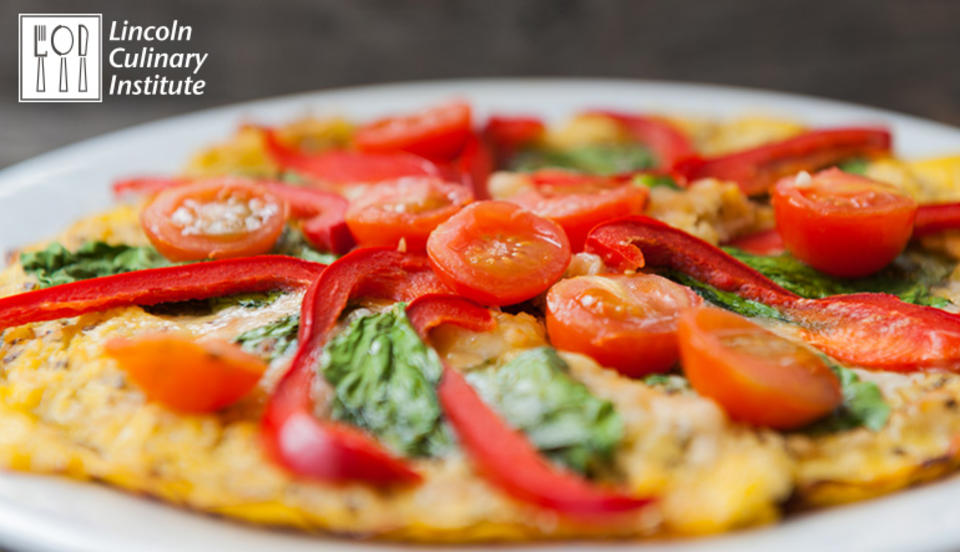 Can't get enough of the cauliflower craze? Well, you're in luck because Chef Pantone of Lincoln Culinary Institute has shared an excellent recipe for cauliflower pizza crust! Cauliflower is, far and away, the ultimate vegetable! Don't let the bland coloring trick you-it's an extremely versatile veggie that is an excellent source of choline, dietary fiber, omega-3 fatty acids, manganese, phosphorus, biotin, vitamin B, and magnesium.
You'll never guess you're eating something healthy when you take a bite out of this delicious low-carb crust. You can make it vegan, vegetarian or go wild and add some pepperoni for the carnivorous pallet. Any way you prepare it, it's sure to be a hit on your next pizza night.
What if you're in the mood for tacos and not pizza? Well, this same recipe can be followed for cauliflower "tortillas" instead of pizza crust. Nothing is sure to spice up Taco Tuesday more than this surprisingly delicious and low-carb wonder!
This recipe is a simple mixture of cooked cauliflower, eggs, cheese (optional) and seasonings. Don't be afraid to add herbs and spices to create a flavor profile that matches your toppings.
Cauliflower Pizza Crust Recipe
1 head fresh cauliflower
2 eggs
1 cup shredded cheese (mozzarella, Cheddar, Gouda….. your choice)
Salt, Black pepper, granulated garlic, any other spice that you like
Your Favorite Pizza Toppings
Directions
Trim the flowerets from the stem. For this recipe we use only the flowerets. Save the stems for something else, like soup. In a food processor, chop the flowerets until they are the size of rice. Place chopped flowerets in a microwave safe bowl, cover and microwave on full power for 7 minutes.
Remove from microwave and let sit for 10 minutes (to cool enough to handle). Spoon cooked cauliflower onto a clean dishtowel and squeeze the heck out of it to remove excess juice. (If desired, save the juice for soup)
Place the dry cauliflower into a dry mixing bowl. Add eggs, cheese, and seasonings. Stir until completely blended.
Place a piece of parchment paper onto a cookie sheet and spray with pan shortening. Deposit the cauliflower mixture onto the paper and press it into a pizza shape about 12 inches in diameter. It should be about ¼ inch thick. (a bit more is OK) Bake in a 400* oven for 30 minutes. Remove from oven.
Cover with your favorite pizza toppings and return to oven until nicely melted.
Chef Pantone's Notes: I like zucchini, tomatoes, bell peppers, spinach and mozzarella as toppings. One the "Surf and Turf" version, I use arugula, lemon zest, finely sliced shallots, sliced grilled steak, and jumbo lump crabmeat. Season with a little salt and pepper, then drizzle a little bit of extra virgin olive oil and parmesan cheese.
Enjoy your Cauliflower Pizza Crust!