Career Fields Growing in Illinois
February 4, 2018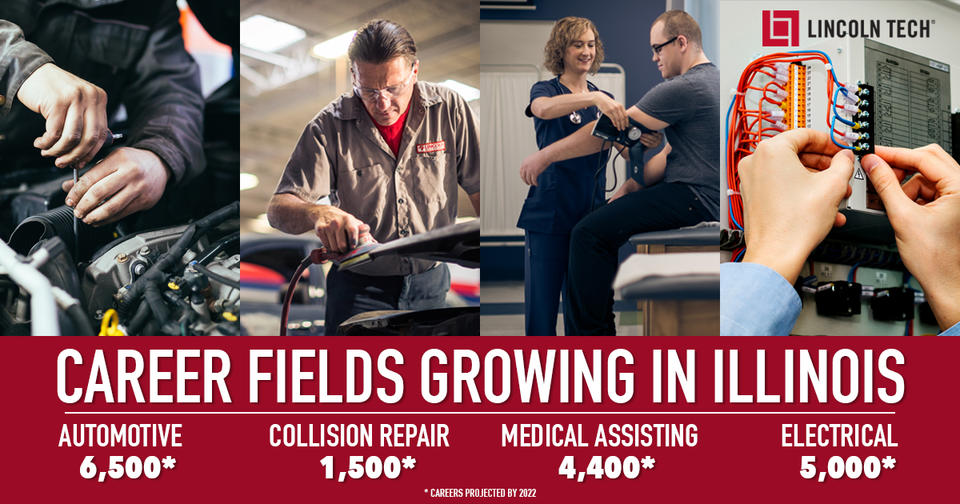 When contemplating a future career, it's important to keep in mind which industries are growing versus what jobs are becoming obsolete. Everyone wants to work in an industry where there are opportunities and room for growth. That's why jobs that can't be taken on by computers or exported overseas are your ticket to a rewarding and promising future. Lincoln Tech is going around the country and analyzing which career fields are growing in the states where we offer training. Today, we look at career fields growing in Illinois.
Pay attention to the data below, and use this information to guide you toward a fulfilling career. All career-growth projections and salary information can be found at careeronestop.org for the years 2014–2024, unless otherwise noted.
Automotive Technician: Turn your passion for cars into a career by becoming an automotive technician. More than 6,500 positions are expected to open across Illinois in the next seven years, which means you could find plenty of job opportunities after you've completed the necessary training.
Electronic Systems Technician: Troubleshoot, repair and install closed circuit TV and monitoring systems, hospital call systems, home theater equipment and a lot more. It's predicted that more than 5,000 positions will be available in Illinois by 2024.
Medical Assisting: Work with a physician to provide quality care to patients. From maintaining medical records to recording vital signs, you'll perform a variety of administrative and clinical tasks as a medical assistant. More than 4,400 positions will need to be filled in the state by 2024, ensuring plenty of opportunities in your future career.
Collision Repair Specialists: In this position, you'll repair and refinish vehicles that have become damaged after a collision, or add artistic flair to street machines with a custom paint job. This program also gives students the opportunity to work on one-of-a-kind project cars – like this "Star Wars Car" created by the team at the Melrose Park campus! Expect around 1,500 positions to be available in Illinois by 2024.
You don't have to leave Illinois to find great opportunities, or to train for those opportunities either. For all of the careers listed above, you can train right here in Illinois at Lincoln Tech in Melrose Park. You'll find a hands-on career preparation experience that will set you on the path toward a stable and successful future.