Pat Gelsinger: From the Farm to the Boardroom
April 25, 2016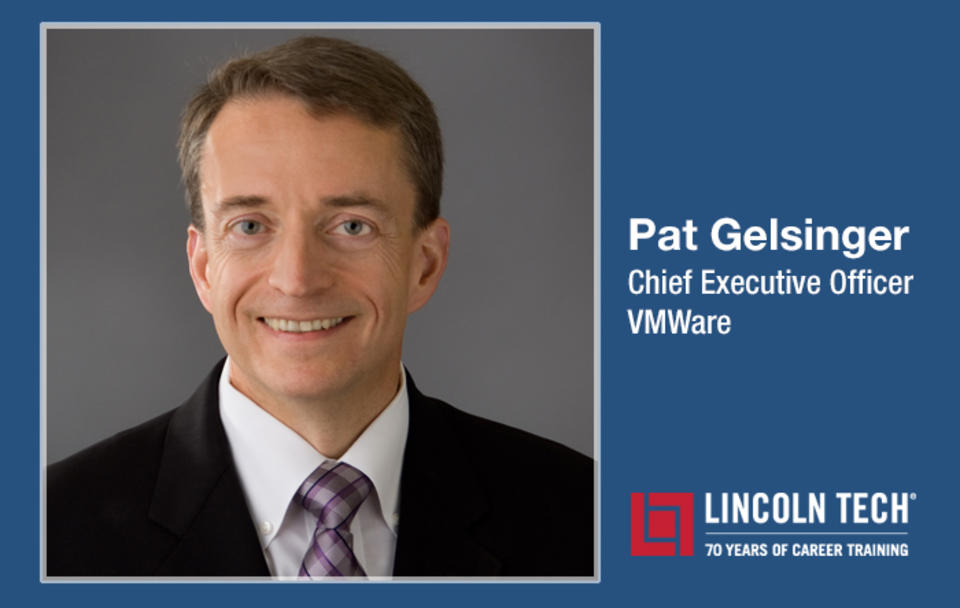 People familiar with virtualization software know Pat Gelsinger's name – as CEO of the world-wide technology company VMware, Gelsinger has built a cloud infrastructure company with offices on five continents. Some know him for his contribution to Intel CPUs and key technologies like USB and Wi-Fi. Others folks might recognize him for his deep commitment to philanthropy (an August, 2015 Business Insider article illustrated how Pat donates 50% of his income to faith-based charities). However, few know of Pat's humble beginnings: "I was a farm kid from Pennsylvania in 1979 when I came to Lincoln Tech," Pat says. "I'd never even used a CPU before!"
Lincoln Grad: Pat Gelsinger
Pat graduated from the Electronics Engineering program at the Allentown, PA campus in 1981. He is now CEO of VMware, and directs the VMware Foundation, whose mission is to amplify the contributions of VMWare people to their causes of choice, and inspire a spirit of Citizen Philanthropy in the VMware community.
"Lincoln Tech gave me a critical first step in an amazing professional journey," he explains. "I was an 11th grade vocational tech student, and won a scholarship to Lincoln Tech. The training unquestionably helped me reach the level I've accomplished today."
Beyond the classroom, Lincoln Tech's Career Services teams help place graduates with industry-leading companies, helping Lincoln Tech students start their careers with their best foot forward. Pat notes that the Career Services specialists at his campus were instrumental in helping him make his first connections in the field.
"Lincoln Tech brought Intel to campus as part of a Career Fair," he recalls. "Big companies like Honeywell, IBM and Sperry were there too. But Intel was this fast-growing West Coast company. At the fair, I met Ron Smith, a representative from Intel. He called me 'smart, aggressive and arrogant' – and said I'd fit right in at the company!"
Pat interviewed with Ron and was invited to Intel's West Coast offices. "I was 18, and it was my first time on an airplane," Pat says. He landed a job at Intel after graduating from Lincoln Tech, and Intel allowed him to continue attending school, at first at Santa Clara and then Stanford, encouraging him to further his education.
Pat became the first Chief Technology Officer at Intel, and was later named Senior Vice President and General Manager of Intel's Digital Enterprise Group. After 30 years at Intel, he joined EMC as President and COO overseeing all products in 2009. He was named CEO of VMware in 2012 and has also written two books.
Glenn O'Donnell, Vice President and Research Director of Forrester Research, was a classmate of Pat's at the Allentown campus, and has followed Pat's career closely since they graduated. "It's unfair to say any single person is responsible for the x86 computer architecture," Glenn says. "But if you had to pick one person as the father of this now-ubiquitous technology, it would be Pat Gelsinger."
Efforts For Building a Better Tomorrow
While substantial profits and job satisfaction certainly are goals that all professionals dream of achieving, Pat Gelsinger has also been able to provide uplift for our global community. Like many successful CEOs – the Bill Gates and Mark Zuckerbergs of the world – Gelsinger donates considerable shares of his personal income to charitable pursuits. In addition to the employee-driven VMware Foundation, Pat's vision has helped found the William Jessup Christian College in Sacramento, California. VMware also provides industry-leading employee donation matching as a company policy.
Lincoln Tech is proud to have Pat Gelsinger as one of its many successful alumni. When asked if he would recommend a Lincoln Tech education to professionals eager to follow in his footsteps, Pat says yes – if, he adds, "they are certain that they want to begin building strong, marketable skills." And in a competitive job market like I.T., those skills are critical.
I.T. Career Training With An Edge
Information technology and computing has evolved rapidly since 1979, and Lincoln Tech has remained a provider of industry-current training in the skills that professionals need to succeed in these changing fields. Relationships with companies like Intel, IBM, and even VMware mean Lincoln's technical instruction is informed by industry leaders in information technology. Moreover, Lincoln Tech's connections introduce graduates to people like Pat Gelsinger, who have taken their foundational training and accomplished professional success.
This is the Lincoln Tech difference, the Lincoln Edge: graduates receive top-notch technical training and our career services department works on connecting them with industry-leading employers. With a Lincoln Tech education and career-mindedness, professionals can reach for the stars – while simultaneously reaching for their keyboards.