HomeServe USA Partners With Lincoln Tech
June 29, 2016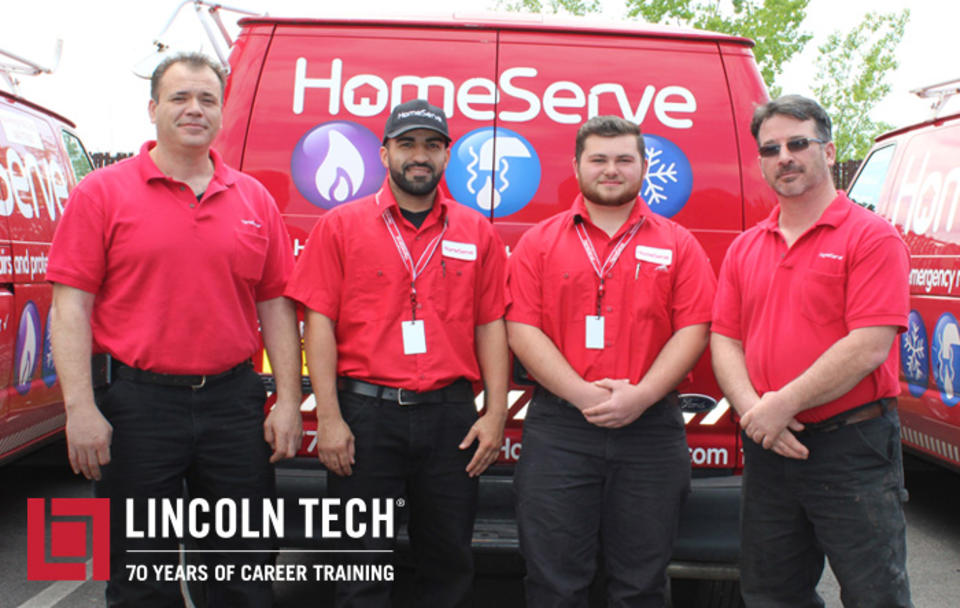 If you're thinking about how to become an HVAC technician, it's important to know the skills you need to break into the field. And what better way to do that than by shadowing a technician in the HomeServe USA pilot program?
Lincoln Tech Union & HomeServe USA
Lincoln Tech in Union, NJ has joined a pilot program with HomeServe USA, a leading provider of home repair service plans. HVAC students can now gain real-world "on the job" experience shadowing HomeServe certified technicians.
"We are proud to partner with Lincoln Tech to offer their HVAC students the opportunity to work alongside our highly skilled technicians and both learn more about the tricks of the trade and grow familiar with other aspects of the job such as communication, customer service and more," says Tom Rusin, CEO of HomeServe USA. "We also greatly value the support we have received from Local Union 3 IBEW to help offer this experience."
The pilot program launched on May 1 and began with Lincoln Tech students Joseph Silva and Daniel Vera, who were paired with senior technicians from the HomeServe USA Staten Island office. Michael Downes and Genti Shatku, HomeServe USA Energy Services Technicians and Lincoln Tech graduates, served as mentors to Silva and Vera. Over the course of the approximately four week-program, the students shadowed the technicians during the day.
"HomeServe's reputation and focus on customer service are exemplary and played a big role in why we chose to partner with them in offering our students this valuable opportunity," says Scott Shaw, Lincoln Tech's President and CEO. "By partnering with HomeServe, we are providing our students with the hands-on experience that shows them the real value of what they are learning in the classroom and motivates them to get the most from their education as they work toward graduating and finding jobs with organizations that offer the promise of a long career."
This program is the first of its kind for Lincoln Tech and, while the program will initially be piloted with two students, the goal is to maintain the relationship with HomeServe and continue to offer this opportunity to students in the future.
Hands-On Career Training Backed by Industry Leaders
HVAC careers start with hands-on skills, and the best training programs often come with the backing of the companies and organizations that define quality standards in the field. Lincoln Tech's Union campus, for example, has the backing of HVAC Excellence – the field's oldest and largest accrediting body – and it's recognized as a Green School of Distinction by the Green Mechanical Council for its commitment to including environmentally-friendly "Green" technology in the training curriculum.
The Union campus is also a partner of Yellow Jacket, a leading worldwide supplier of tools and equipment for the HVAC/R industry. Yellow Jacket also sponsors the "Yellow Jacket Room" on the Union campus.