Women's History Month: 3 women who changed their industry
March 9, 2016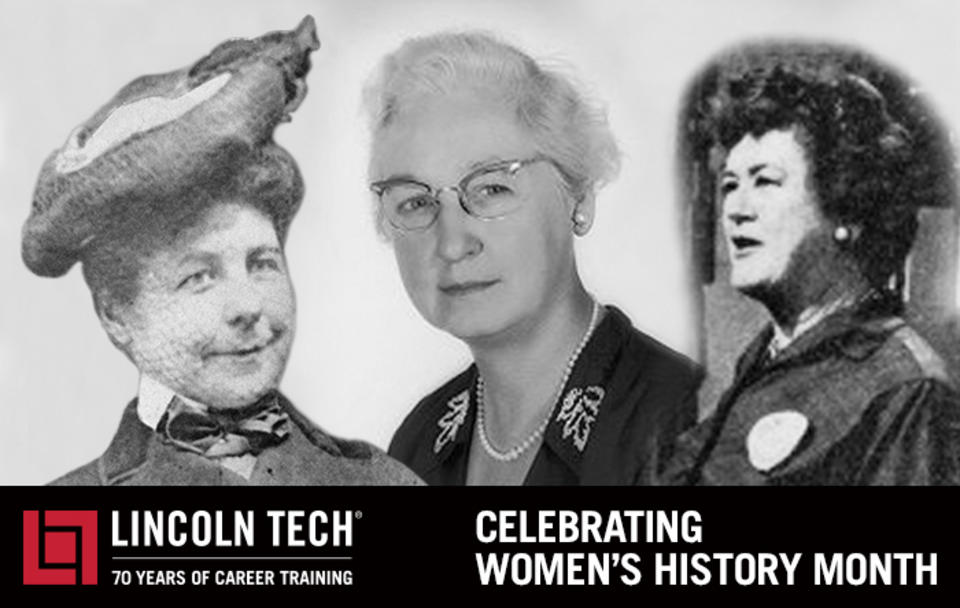 March marks Women's History Month, the perfect time to highlight past achievements made by women determined to succeed. While many female inventors, educators and business leaders haven't been recognized during their time for their contributions, today we give credit where it is due. Here are just a few female innovators who brought new ideas to their industries and redefined their fields.
Meet the Women of Women's History Month
Mary Anderson:
Imagine driving on a rainy day, but without windshield wipers. Sounds dangerous – but until Mary Anderson came along, that's exactly what people had to do. On a wet winter day in 1902, Mary Anderson noticed several drivers sticking their heads out of car windows, trying to get a better view of the road. It was during this New York City moment that Mary came up with the idea for the first wiper blades.
Mary returned to her home in Alabama and hired a designer to help bring the idea to life. The prototype was made of wood and rubber, and the blades were attached to a lever near the steering wheel. Although she received a 17-year patent, Mary's creation was initially ridiculed, and many people said the wiper arms would just be a distraction to drivers. When she tried to sell the rights in 1905, several firms rejected Mary claiming the invention didn't have commercial value.
Mary let her patent expire and, unfortunately, she didn't receive much credit for her invention even after others copied her idea. Today however we recognize that it was Mary who impacted the automotive industry and made it possible for future drivers to travel safely in unfavorable weather conditions.
Julia Child:
Home-cooked meals changed for the better when Julia Child introduced Americans to French Cuisine. Born to wealthy parents in 1912, Julia grew up with many opportunities. She dabbled in a few different industries, but cooking turned out to be Julia's true talent. After meeting her husband, Paul Child, in Washington, D.C., Julia traveled with him to France, where she attended the acclaimed Cordon Bleu school for cooking. Her six-month training included lessons from master chef Max Bugnard, and by the time she completed her schooling Julia was ready to start her career in the culinary industry.
Julia's breakthrough was the creation of a 734-page cookbook titled Mastering the Art of French Cooking, which she worked on with two other Cordon Bleu students. Julia wanted to adapt French cuisine for Americans, and her idea was a success. The three-pound book was rejected by the original publisher due to its length, but when accepted by another publisher, it became a bestselling cook book for five years in a row.
After promoting her book on air, Julia proved she had a talent as a TV personality as well. She went on to star in The French Chef and several other highly rated TV specials. Refusing to retire, Julia kept on working until she passed away two days before her 92nd birthday. Her legend continues to this day, as many contemporary chefs look to Julia's work for inspiration. Julia Child was even recently portrayed by Meryl Streep in the move Julie and Julia!
Virginia Apgar:
At a time when Americans were struggling financially and the Great Depression had taken hold, Virginia Apgar was determined to follow her dreams of entering the healthcare field and enrolled in the College of Physicians and Surgeons at Columbia University. She received a medical degree for her hard work and was ranked fourth in her class, but her achievements came at a cost. Virginia was very much in debt and had to be smart about her career. She decided she would be most successful in the field of anesthesiology, so Virginia enrolled in a two-year anesthesiology program that helped her land a job as director of the anesthesia division at Columbia University in 1938.
During her time as director of the anesthesia division, Virginia focused on the use of anesthesia during childbirth and studied how anesthesia affected newborns. Before Virginia shaped the field of perinatology (the care of infants around the time of birth), babies were not evaluated after birth. It was Virginia who realized that newborns needed to be examined closely, which led her to develop the Apgar Newborn Scoring System. The Apgar Score was a standardized method for evaluating babies minutes after they were born. It consisted of five parts and was used to evaluate a baby's heart rate, respiration, muscle tone and reflexes.
Virginia's contributions to perinatology and research on the effects of anesthesia significantly reduced infant mortality rates. She later went on to earn a Masters Degree in Public Health at Johns Hopkins University, and spent the remainder of her career conducting birth-defect research.