On the Ninth Day of Christmas at Lincoln Tech ...
December 15, 2017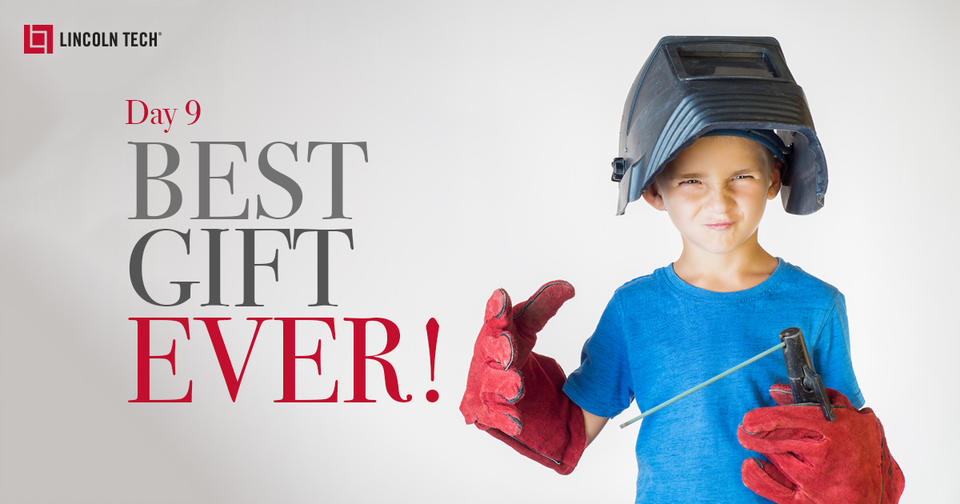 Sometimes the best gift can bring out the kid in all of us. We were hoping for reactions like this when we reached out to Lincoln Tech instructors at all of our campuses to ask them for great holiday gift ideas for their students. The answers we received we interesting and inspiring – a few of us even planned shopping trips. We wanted to share the instructors' ideas with you too, so we created a cumulative blog series, the "Thirteen Days of Christmas at Lincoln Tech."
(We were also a bit surprised to find Four Calling Birds when we came to work this morning in the corporate office. Commonly known as blackbirds, they had us all singing. And singing. We were fortunate that a few Practical Nursing students from New Britain, CT were there to treat our very tired voices.)
No matter what holiday you celebrate this time of year, remember, it's better to give than to receive. So if you run into a Lincoln Tech student, you'll know how to make their holidays happy!
On The Ninth Day of Christmas at Lincoln Tech, instructors asked for a Welding Helmet …
 … an Immersion Circulator and Sous Vide Cooker, a Snap-On Electronic Torque Wrench, an Ohms Law & DC Circuit Trainer, a Dial Bore Gauge, an Air Impact Gun, a DJI Image Professional Inspire Drone, a Suture Removal Simulator, and a 34 Channel USB Logic Analyzer.
For professional welders and pipefitters, there's nothing like a new welding helmet. "While welders like me can get attached to their old one, it's a great idea to make sure a new welder starts out with a brand new welding helmet," explained Michael Whitfield, an instructor at Lincoln Tech's Grand Prairie, TX campus.
Other gift ideas for welding students included trigger torches, a desoldering wick, leather aprons, mini jet pencil flames and soldering iron hot tips. Plenty to choose from to make a welder's holiday dreams come true!
Welding Training Opens up a World of Opportunity.
Welders have the ability to take their skills and cross over into a variety of fields. This skilled trade program, offered at Lincoln Tech campuses in Denver, Nashville, East Windsor (CT), and Grand Prairie (TX), helps students acquire the skills needed for welding in industries like commercial construction, fabrication, mining, agriculture, plant maintenance and more. From the tallest skyscrapers to machines and appliances that help make life easier, welders play a critical role in keeping our economy moving. Welding is also a helpful skill to have when you're looking to break into a career in diesel technology, heavy equipment maintenance, or collision repair!
Some of the types of welding in which Lincoln Tech students become proficient include MIG Welding and TIG Welding.  They'll use both in a career that's hot as a welder's torch right now. The current outlook suggests the U.S. will need more than 100,000* welders around the country by 2024!
Help us celebrate the holiday season by checking back in every weekday to read all about "The Thirteen Days of Christmas at Lincoln Tech."  If building a new career is on your own personal Wish List, reach out to a Lincoln Tech school near you. Working together, you'll be able to get a head start on making your holiday dreams come true.
*Source: careeronestop.org, for the years 2014-2024