Entry Level HVAC Jobs Are on the Rise
September 8, 2016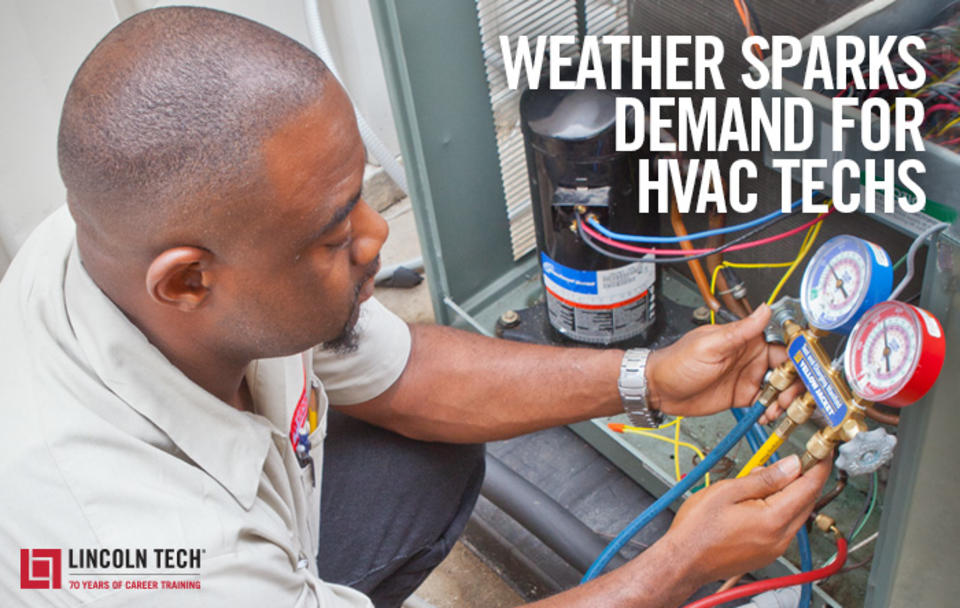 When the temperatures rise in the summer months, so does the demand for HVAC technicians – the professionals responsible for installing, troubleshooting and repairing air conditioning, heating and ventilation systems. And as the seasons change and the temperature drops … demand still rises! Entry level HVAC jobs offer year-round opportunities to start in a growing, in-demand field.
Analysts say that in the coming years, the need for qualified industry professionals will ramp up twice as much as general workforce demand. The number of open HVAC mechanic and installer jobs is expected to increase 14 percent through 2024, according to careeronestop.org, with growth breaking 40 percent in Colorado and projecting 30 percent or higher in states like Florida, Texas, California, Nevada, Utah and others. New York , Georgia, New Jersey, Maryland, Connecticut, and Massachusetts are also among the states projecting growth.
Training Options for Entry Level HVAC Jobs
Many community and technical colleges in the U.S. offer certificate or degree programs for careers in the HVAC field – careers that require a very specific set of skills. A recent report published by the HVACR Workforce Development Foundation (WDF) highlights refrigeration technician, electrical designer, network support specialist, HVAC mechanic and HVAC installer as several of the field's hardest-to-fill occupations – and predicts that almost half of technicians and installers in the U.S. plan to retire by 2025. This could produce an unheard of number of openings for entry level HVAC jobs in the years ahead.
"HVAC programs in the U.S. and Canada are seeking new students, from recent high school graduates to veteran or second-career adults," confirms HVACR WDF Executive Director Kari M. Arfstrom. "New employees can be assured of a job that cannot be off-shored, is high-tech and offers better-than-average pay."
For more than 70 years, Lincoln Tech has been a national leader of career training for the HVAC field – it's what our first campus was founded on! Explore hands-on HVAC training programs near you today, and start building skills for a growing career that can't be outsourced!