Redefining an Electrical Field
November 3, 2017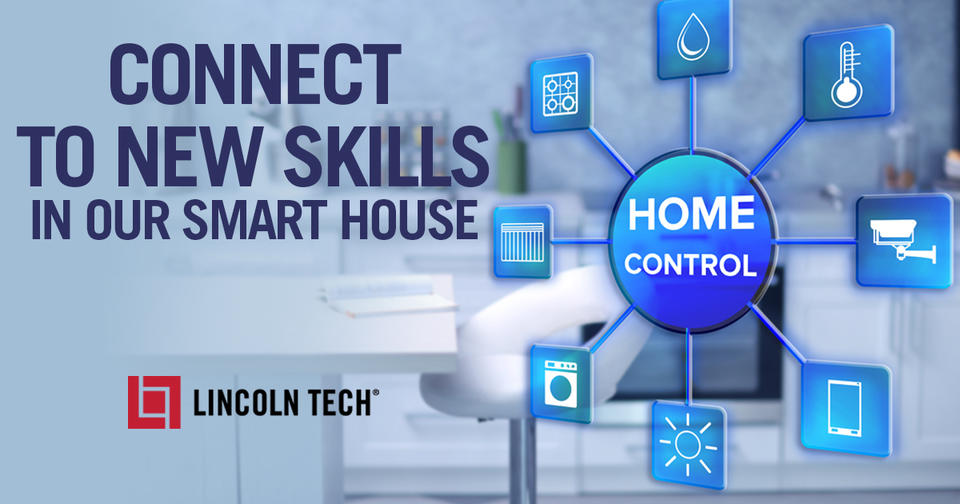 Roughly speaking, an electrical field can be defined as the area around a charged body where that charge can be felt or has an observable effect.  Here at Lincoln Tech, we have a slightly different way of looking at it. We define the electrical field as one of the fastest growing skilled trade industries in the country - one that's generating buzz and sparking interest among people looking for a new career path.
Like an electrical field, our Electrical and Electronic Systems Technology (EEST) programs have a positive 'charge' on those who participate. The training is designed to meet society's continued demands for electricity and electronics support in both business and residential settings. Opportunities for qualified electricians and electronics technicians continue to grow as emerging energy technologies are put to use at construction sites, in homes and in corporate environments.
A "Smart" House Lets Students Train in a Whole New Way.
Lincoln schools in Mahwah, NJ, Indianapolis, IN, Melrose Park, IL, Marietta, GA and Columbia, MD offer training programs to prepare students for careers working with high-voltage electrical equipment, low-voltage electronics, and even Green Technology like renewable energy advancements. Programs vary by campus, but all of the campuses that offer EEST training have a unique way for future electrical and electronics experts to get hands-on experience: a life-size on-site structure with rooms, walls and exteriors that can be wired for a variety of systems. It's called the Smart House, or "Stick house," and students can work on tasks like installing cable support systems, preparing pathways for copper and fiber optic cabling, setting up home entertainment systems with surround sound, installing smoke and fire alarms and even mapping out closed circuit TV systems.
We recently visited our Lincoln Tech campus in Melrose Park, IL to spend some time with the students and instructors to see what they were up to.
Electrical and Electronics Training in Melrose Park, IL
Instructor: My name's Mr. Sowers. I'm one of the EEST/EST instructors at Melrose Park. Currently, you're inside of our stick house in our home theater room. This is our demo room with surround sound – we've got receivers in here. We've got a cabinet built in the corner there, some subs. We've got side speakers, your center speaker, your rears. Everything in here has been set up for a little over two years now that we've had this room completed and running.
This over here is our in-house camera system inside of the stick house, just to show everybody how you keep track of people, you know, what you're aware of … Our fire alarm system, that one's completely conduit installation in here, where all of the conduit, everything's in here. They have to pull all of the cable. They have to do all of the install, the programming.
The new walls were just installed for the new EEST program for the electrical, and we have six electrical stations that are going to be in here where [students will perform] residential electrical work – conduit bending, pulling the cable, connecting the switches, the breaker boxes, everything from A to Z by the time they get done inside of here.
Rack system, this one they use for the outside of the stick house. We've got areas where there's cabling and everything for CCTV. So they have to come in, they have to trace track, they've got to figure out where all the cables are. They've got to trace them back here, figure out what everything is. They've got to do their connections, their troubleshooting. By the time they get done, everything comes up. All four monitors have CCTV cameras on them at basic external points on the stick house to show different views.
Lincoln Tech Student #1: My name is Fabian. I'm a student here at Lincoln Tech, and today I will be showing how to control these lights, and also a camera, from just an app through your phone. What this app is called, it's called Insteon. Basically, you download it for your Android, iPhone, your tablet, any type of interface. With it, you're able to control lights, cameras, whatever you have in your household appliances. How to do it? I will show you right now.
Go to "Rooms." There's already a couple of selections here. Here's where we have the theater room programmed. Click there, it'll take us right straight to the camera, which is over there. What I'm able to do, I'm able to move it to the left, there's us right there, to the right, up, down. Have total control.
Lincoln Tech Student #1: My name Hugo Braulio. I'm a student at Lincoln Tech in Melrose Park, and we have a nurse call system. Basically, what we're going to start doing is connecting this system so we can actually have the nurse call working, upload all the wires. And what are being used are the Cat5s. These are color coded. What this actually does is power up the lights, and this way, the nurse could be notified of who needs assistance.
And this is your pull station in case somebody needs assistance in the bathroom, for example, and there's somebody who'll turn up. And that's how your nurse call system works.
Find Your Path to Career Success in the Electrical and Electronics Fields
Since 1946, Lincoln Tech schools around the country have helped more than a quarter-million graduates turn their hands-on skills into hands-on careers in fields that keep America building, growing, and moving. Careers in the electrical and electronics industries give skilled technicians the chance not only to install, troubleshoot, and update existing systems – they also play important roles across a wide range of new construction projects. Get plugged into new career possibilities and a brighter future as an in-demand professional: put your potential to work at a Lincoln Tech campus near you!