Turkey Chili Recipe with Scallion Corn Cakes
June 9, 2016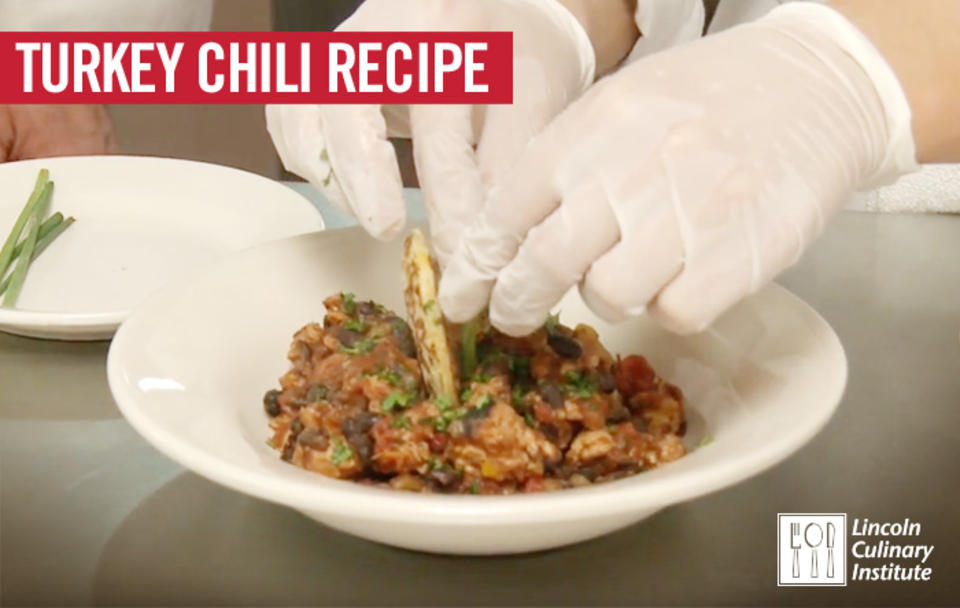 Are you looking for a way to spice up a lackluster chili recipe? Maybe you've entered a chili cook off and you're looking for something with that little extra … something? Chef Ted Redos from the Lincoln Culinary Institute in Shelton, CT has a great turkey chili recipe for the occasion!  It's chock full of flavor and spice and not for the weak of heart!
The scallion corn cakes top off the turkey chili with that added flair of visual presentation and elevate it to appear as a more gourmet dish. If you're vegetarian, you can substitute black beans in place of ground turkey. It's the perfect addition to spice up your summer barbecue menu and great to freeze and reheat throughout the week!
Turkey Chili Recipe
Yields: 10 servings; 1.88 qt; Serving Size: 6 fl oz.
Ingredients:
1 ½ fl oz vegetable oil

1 ¼ oz red bell pepper (chopped)

1 ¼ oz yellow bell pepper (chopped)

1 ¼ oz green bell pepper (chopped)

8 oz chopped onion

1/8 oz garlic (minced)

2 ½ tsp ground cumin
Flavorings:
1/8 oz chipotle flavor concentrate

1/8 oz ancho flavor concentrate

½ tsp vegetable base

12 ¾ fl oz water

1lb ground turkey

1 lb 4 oz canned tomatoes (with juice, chopped)

10 each scallion corn cakes*
Directions:
In a skillet, brown ground turkey, set aside.

Heat oil in a large pot.

Sauté peppers, onions and garlic until golden brown.

Stir in cumin.

Stir in flavorings and water into vegetables.

Add cooked ground turkey and tomatoes. Bring to a boil.

Reduce heat and simmer uncovered for 30-45 minutes.

Portion a 6 oz ladle of chili into soup bowl.

Place 1 corn cake on top of chili.
Source: Food for Fifty 13/e: Chapter 20 (p 747)
To prepare the Scallion Corn Cakes to accompany the turkey chili recipe:
Scallion Corn Cakes Recipe
Yields 1lb; Serving Size: 4 oz; Servings: 4
Ingredients:
2 tbl salt

7 oz frozen sweet corn (or fresh)

2 oz all-purpose flour

1 ½ oz yellow cornmeal

½ tsp baking powder

½ tsp kosher salt

¼ tsp ground black pepper

3 fl oz heavy cream

3 fl oz milk

1 large egg

1 oz butter (melted)

2 tbl fresh chives (minced)
Directions:
Preheat oven to 200 degrees C
Over high heat, bring a 2-quart (2-liter) pot of water to a boil and add salt. Add the corn kernels and cook for 2 minutes.

Drain, cool and set aside.

In a large mixing bowl, combine the flour, cornmeal, baking powder, salt and pepper.

In a medium mixing bowl, whisk together the cream, milk, and egg. Add to the dry ingredients and whisk until smooth.

Stir in the butter.

Add the reserved corn and let rest for 30 minutes.

Stir in the chives.

Preheat an ungreased griddle over medium heat. Spoon the batter into pancakes onto the griddle. Cook on one side for 3 minutes, or until the edges brown.

Turn the corn cakes and cook an additional 1 ½ minutes, or until golden-brown.

Keep the corn cakes warm in the preheated oven until needed.

Use to top off the Turkey Chili!
Source: AI ICS Foundations: Chapter 21 (pp 828)
To make it more your own, add any of your favorite toppings such as sour cream, cheese, or scallions as both garnish and flavor. Enjoy!