Where Diesel Careers Are Growing
August 12, 2016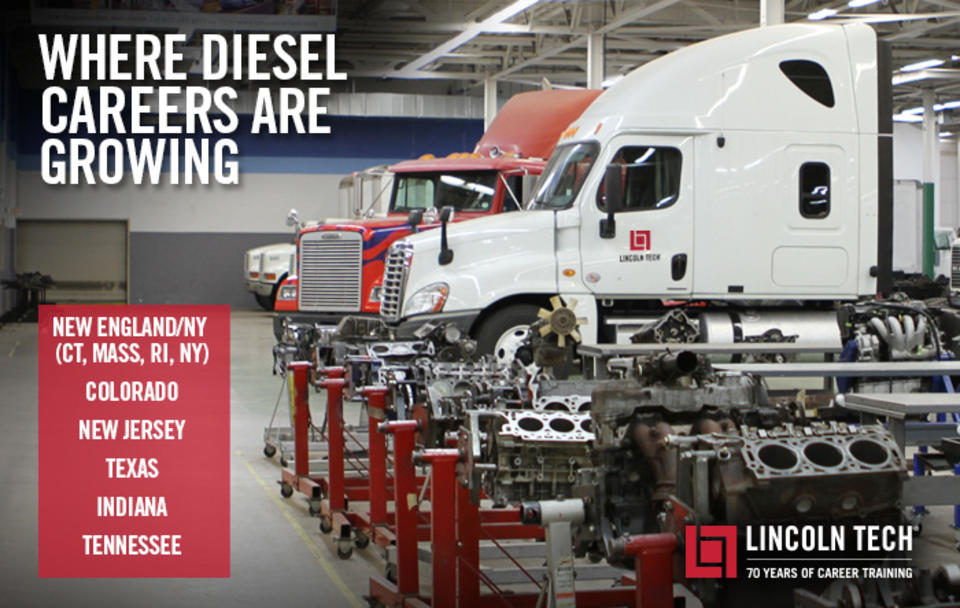 When contemplating a future career, it's important to keep in mind which industries are growing versus what jobs are becoming obsolete. Everyone wants to work in an industry where there are opportunities and room for growth. That's why jobs that can't be taken on by computers or exported overseas are your ticket to a rewarding and promising future. Throughout the month of August, Lincoln Tech is going around the country and analyzing which career fields are growing in the states where we offer training. Today, we look at the field of diesel technology. Pay attention to the data below and use the information on diesel careers to help guide you toward a fulfilling profession.
All career-growth projections and salary information can be found at careeronestop.org for the years 2012–2022, unless otherwise noted.
Diesel-engine vehicles like semi-trucks aren't just for getting from point A to B. Whether it's grocery stores that require fresh food or hospitals that need refrigerated vaccines, trucks make a difference in important industries that affect our livelihoods — and so do the hardworking folks who fix them.
Hiring managers in fleet service and trucking companies are actively looking for technicians with the right skills to join their teams. "Diesel is a field where we've seen exceptionally high success rates for our graduates," says Jim Kuntz, President of Lincoln Tech in South Plainfield, NJ. "Out of 75 graduates we recently reported on from our Diesel and Truck Technology with Transport Refrigeration program – 71 of them are already working in the field. That's a rate of almost 95%*."
"For our standard Diesel and Truck Technology program, we last reported a post-graduation placement rate of just over 85%*," he adds. "This shows us that employers in the field are having a hard time finding candidates for their open positions and that training at Lincoln Tech can give you a real advantage in landing these jobs."
Diesel Careers Are Growing
If you're interested in becoming a diesel technician, here's where to start looking for opportunities:
Colorado: About 1,000 positions are projected to be available by 2022. Begin your training by enrolling in Denver's diesel mechanic program!
New England/New York: More than 3,200 diesel mechanic positions are expected to be available across Connecticut, Massachusetts, and New York. Explore training at Lincoln Tech's East Windsor campus.
Indiana: By 2022, you can expect employers to have about 1,400 positions open in Indiana. Take advantage of this growing field by training at Lincoln Tech's Indianapolis campus.
New Jersey: Nearly 1,200 positions will need to be filled across New Jersey by 2022. Take the first step toward an exciting and fulfilling career by enrolling at the South Plainfield campus. Transport Refrigeration is available as an add-on to standard diesel training here, and a team of South Plainfield students and instructors also race a student-built truck each year at the Englishtown Diesel Nationals!
Tennessee: About 900 positions are expected to open in Tennessee over the next six years. Begin training at Lincoln Tech's Nashville campus.
Texas: In the big state of Texas, you'll find big opportunities – more than 5,500 positions are projected to open for diesel technicians! Lincoln Tech's Grand Prairie campus has a training program to help you get started.
* As reported to the Accrediting Commission for Career Schools and Colleges (ACCSC) on the 2015 Graduate and Employment report.