Alternatives to a 4-Year College
February 4, 2015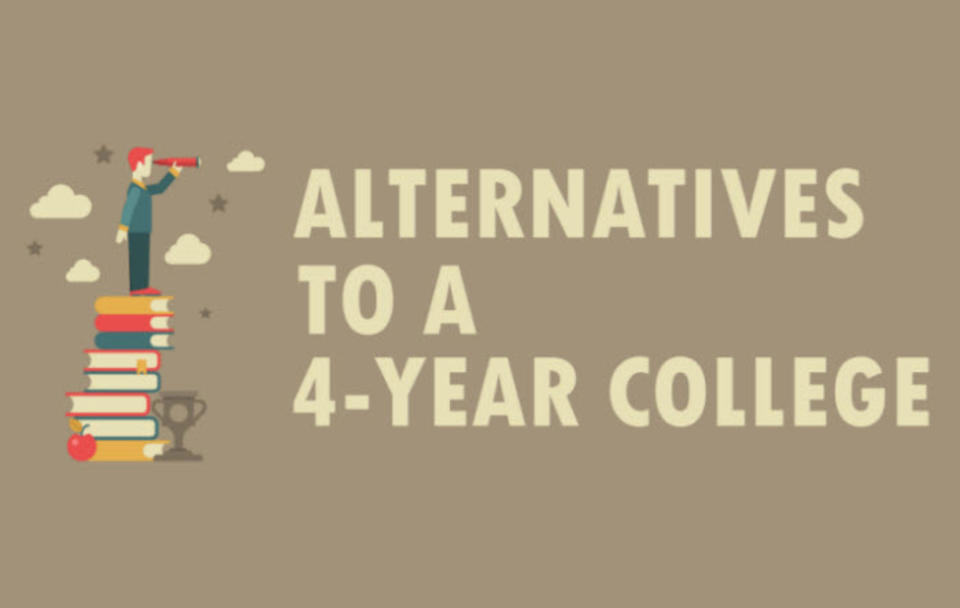 There's little question that a 4-year college degree path is the common route students take after high school.  But is it the right path for everyone?  That's a different question.
The short answer is 'no,' but if you're nearing your graduation in the coming spring it's easy to get swept up along with the waves of people registering for a 4-year college.  Some people, though, will benefit from a more unique experience, like hands-on learning rather than the lecture-hall setting.  If you're unsure about whether the "4-year plan" is right for you, rest assured that there are many different ways to move forward after high school.
Reflect on your strengths:
How do you learn best?
What intrigues you?
What motivates you?
Set aside all of the expectations and really consider what would best serve you. Consider where you see yourself professionally and what you enjoy most.
A 4-year degree will only look good on your résumé if you flourish in that type of environment, and paying over $30,000 for an education should be about something more than simply padding a resume. With rising tuition costs, you should choose a college because it is what you want. Nearly 25 percent of all college graduates in the professional world are earning barely more than those with only a high-school diploma, according to the Wall Street Journal. So is the 4-year path really what you need? Or can you achieve your goals and follow your dreams by following a road less traveled?
Take a Different Path
Consider one of these options as you plan out your path after high school graduation:
Community College
If you want to continue your education in the classroom but have yet to decide on a major, a community college might be a good fit because they typically require students to take general core courses.  You can always transfer to a university to finish your degree without having to pay the high cost for 4 full years.
Read more about the differences between a community college and a technical school.
Trade School
If you like to mix classroom learning with a more hands-on approach, a technical school might be a good option for you. With programs like automotive, health sciences, culinary, beauty and skilled trades, the options are vast. If you know what career path you have your heart set on, you will receive a very in-depth education that will prepare you for the field. Schools like Lincoln Tech have even partnered with BMW of North America to offer a pathway to specialized training like the BMW STEP program for more advanced training.
Apprenticeship
Apprenticeships provide a good way to determine whether the field you're curious about is something you want to dedicate your life to before you've delved into your studies.  The downside is your starting salary might be much lower than that of a graduate.
Take a look at the pros and cons between an apprenticeship and a technical school.
Work
Some graduates feel that going right into the working world is their best option. Whether it is because they already know exactly what they want to do or they want to start saving money for something in particular, there are jobs out there for people without a degree. You can take your high school diploma or GED and run with it. You can work odd jobs and give yourself a few years to create a clear vision and clear path for your future.
Military
If serving your country is something you are drawn to, the military may be another option. Some men and women choose to make it their lifelong career, while others serve their time to earn financial assistance for schooling. While it comes with great responsibility, the rewards are equally great.
See how Lincoln Tech has been supporting military veterans since 1946.
Volunteer
Taking time to focus on personal growth may be beneficial while you're sorting out your future. While some graduates have their hearts set on traveling after school, it requires a lot of spare cash. One way to travel, grow and build your résumé is to take on a volunteer program like the Peace Corps or AmeriCorps. You will have the opportunity to have a little adventure while simultaneously doing some good in the world.
Take your time to set out your path. While you may feel like there is pressure to figure out your career path right away, only 27 percent of college graduates end up working in their field of study, according to the Washington Post. If the other 73 percent had taken time to figure out what it was they wanted to do and what was the most practical way to get there, maybe their educational experience would have led them down a clearer path.