Where Practical Nursing Careers are Growing
August 11, 2016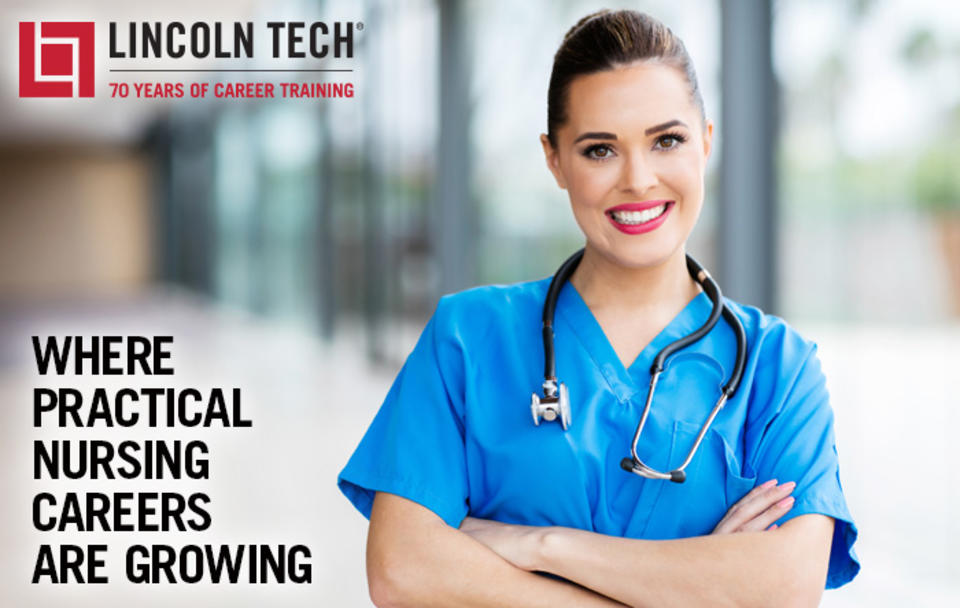 When contemplating a future career, it's important to keep in mind which industries are growing versus which industries are becoming obsolete. No one wants to work in a declining industry, or in a position that can be taken over by computers or exported overseas. With that idea in mind, Lincoln Tech analyzed some important industries and found a significant number of career fields that are growing in the states where we offer training. Practical Nursing is one of the fields analyzed, and this article contains information on the projected growth of this career.
The data compiled below can be your guide toward a fulfilling career opportunity. All career-growth projections and salary information can be found at careeronestop.org for the years 2014–2024, unless otherwise noted.
Practical Nursing Careers Are Growing
To provide patients the best care possible, hospitals and other medical settings need practical nurses. From checking vital signs to ensuring the comfort of patients, licensed practical nurses perform a variety of basic medical tasks and, most importantly, they improve the patient's overall experience. If you wish to turn your passion for helping people into a career, here are some places where practical nursing jobs are growing right now.
Nationwide, more than 250,000 practical nursing positions will need to be filled by 2022. Here's a brief look at the states in which we offer nearby career-training opportunities.
Connecticut: 2,600 positions are projected to open by 2024. Explore a training program at Lincoln Tech's New Britain and Shelton campuses.
New Jersey: More than 5,500 positions are projected to open by 2024. Begin your career by training at Lincoln Tech in Iselin, Moorestown or Paramus.
New York: More than 19,000 positions are projected to open by 2024. Enroll in Lincoln Tech's Paramus practical nursing program to take advantage of the growing opportunities.
Pennsylvania: More than 11,000 positions are projected to be needed by 2024. You can train at Lincoln Tech in Allentown, Center City Philadelphia or Northeast Philadelphia.
Rhode Island: 360 positions are projected to open by 2022. Get hands-on experience by training at Lincoln Tech in Lincoln, Rhode Island.
Through Lincoln Tech's training program, you'll receive hands-on nursing training from experienced instructors and Certified Nursing Educators (CNEs). Ensuring patient comfort, learning about infection control and immobilizing injured limbs are just a few of the tasks you'll perform during the course of your training. After you have graduated from the program, you'll have the skills necessary to succeed in an entry-level practical nursing position and you'll be qualified to sit for the NCLEX-PN exam.