Patient Care Technicians Are A Growing Need in NJ
February 9, 2016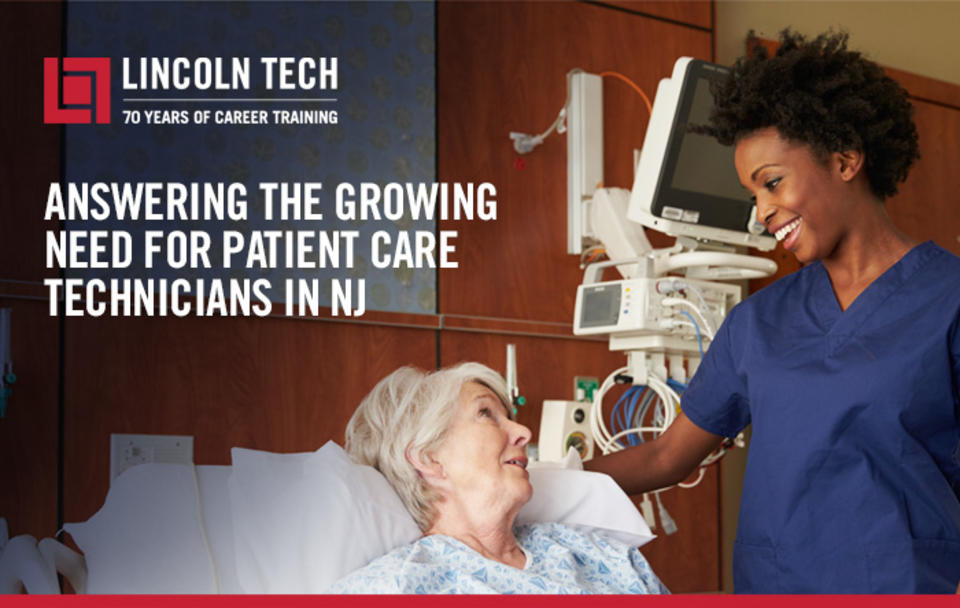 In medical settings, patients often need more attention and care than doctors alone can give. That is where specialists like Patient Care Technicians come in. They are there for everything from performing EKGs and phlebotomy procedures to taking vital signs. Patient Care Technicians are needed in hospitals, surgical centers, rehabilitation facilities and a wide range of other health-care settings around the country, but New Jersey in particular has seen an increased demand.
Opportunities for Patient Care Technicians are Growing
It is expected that more than 12,000 positions will become available for this career in the next seven years in the state of New Jersey*. This is an exciting time for those looking to start a healthcare career, and for those schools like Lincoln Tech where the next wave of professionals is training.
Laurie Pringle, Regional Campus President for Edison and Paramus, was elated to see how well the Edison NJ Patient Care Tech students have progressed. She explained that through the course of the program, the Patient Care Technician students will be eligible to sit for multiple certifications.  Graduates of the PCT program will be eligible to sit for the Certified Patient Care Technician certification exam.
"Our most recent graduating class took the Phlebotomy and EKG exams, and we're proud to say we had a 100% pass rate for both exams!" Pringle said.
Having these additional skills can not only make you more attractive to employers, but help you feel more confident while working with patients. If you're already a Certified Nursing Assistant, training to earn a Patient Care Technician certification is a natural next step. When you are hungry for more but still enjoy your current job, you can always increase your skill set without entirely leaving the field.
"All of our graduates can now add 'CPT' (Certified Phlebotomy Technician) and 'CET' (Certified EKG Technician) to the end of their names," Pringle said. "This helps so much with each student's résumé and placement, giving the students confidence and experience to take their other exams, and giving confidence to other active students.  This pass rate should also be a statement about the quality of Lincoln Tech training to students thinking about enrolling."
The Patient Care Technician Training program is available at Lincoln Tech's New Jersey campuses in Edison, Paramus, and Moorestown.  Patient Care Technicians are needed in hospitals, surgical centers, rehabilitation facilities, and a wide range of other healthcare settings.  Start on the road to a rewarding, in-demand healthcare career today!
* Source: careeronestop.org for the years 2012-2022.