Healthcare Careers For Licensed Practical Nurses
May 12, 2016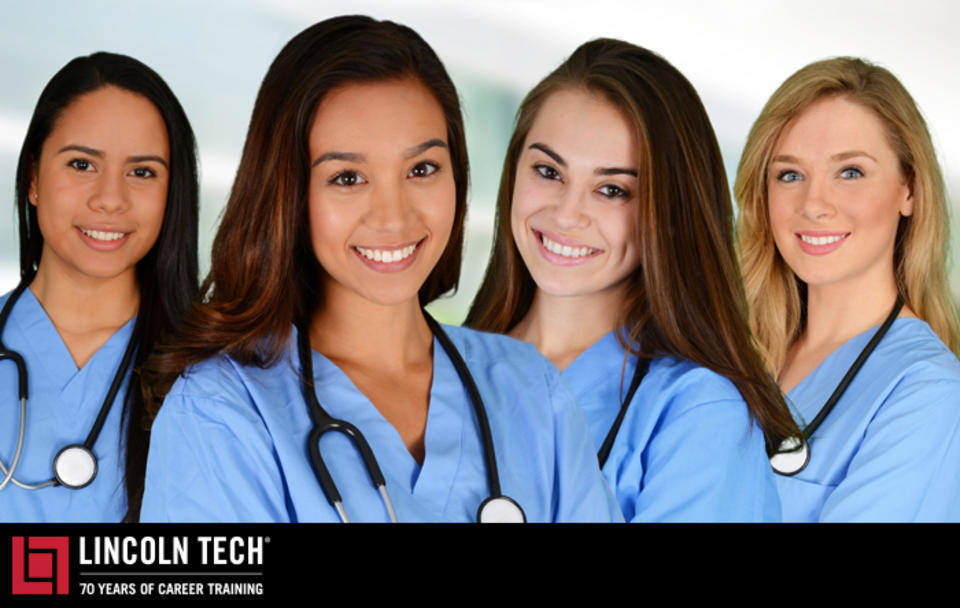 Licensed practical nurse, registered nurse, nurse's aide, nurse practitioner — opportunities are great in healthcare careers for anyone interested in pursuing a nursing as a profession. Learning the difference between each type of field is important when choosing your path, so here we examine what goes into a career as a licensed practical nurse (LPN).
According to careeronestop.org, every year more than 32,000 LPN positions are projected to become available around the country until 2024.  Driving this growth are factors that include an aging population and the changing healthcare landscape that's still being shaped by the Affordable Care Act.
One state where growth for Practical Nursing opportunities stands out is Connecticut, which projects double-digit growth in job opportunities for LPNs from 2012-2022.*  Dr. Rosemarie Baker, Regional Director of Nursing for Lincoln Tech's campuses in New Britain and Shelton, explains why it's an ideal time to think about training for a career as an LPN.
"A professional career in Practical Nursing changes lives," Dr. Baker says.  "The opportunities for licensed practical nurses are as dynamic as the healthcare field itself.  A number of local employers continue to report back to us that they are looking to hire graduates from Lincoln Tech, a testament to the rigors of the program, the excellent instruction provided by our faculty members, and the passion and dedication of our students."
Dr. Baker also points out that passing the National Licensure Exam for Practical Nurses (NLCEX-PN) is a critical step in gaining license to practice in the field, and the campuses in New Britain and Shelton have enjoyed pass rates of at or near 90% among recent graduating classes.
When working toward your practical nursing credential, you'll gain the experience, skills and knowledge required to work in a wide range of places, including the seven mentioned below.
Healthcare Careers:
Nursing homes and Assisted Living facilities
Caring for the elderly is a rewarding experience for many LPNs. If you're passionate about caring for the aging, consider becoming a licensed practical nurse. As an LPN, your common duties will include creating treatment plans, conducting health assessments and supervising nursing aids.
Physician's offices
By working in a physician's office, you'll have the opportunity to build relationships with patients and perform a variety of tasks. Duties might include preparing patients for exams, assisting with minor surgeries and giving injections.
Rehabilitation centers
Improve the lives of individuals suffering from a long-term disability or illness. As an LPN working in a rehabilitation center, you may have the chance to coordinate activities to help patients regain function. Other duties often include administering medication, charting and wound care.
Hospitals 
If you want to work in a hospital environment, you can expect to perform duties such as checking patients' vital signs, administering injections and recording patients' medical history as an LPN. The same is true when working in private clinics.
Hospital clinics
Within hospitals you'll often find specialized clinics for medical fields such as wound care, diabetes, and many others.  These clinics offer valuable services to the local communities and are frequently in need of LPNs to provide much-needed patient care.
Home health-care services
LPNs also have the opportunity to work for home health-care agencies, where they will look after patients who require long-term nursing but wish not to stay in a hospital or nursing home. Duties may include helping patients with hygiene, setting up exercise programs and monitoring patients' overall health each visit.
Prison systems and correctional facilities
Practical Nurses are also finding career opportunities in the nation's prisons, correctional facilities, and juvenile detention centers.  Rehabilitation of offenders includes ensuring they are healthy and receiving medical attention, if needed, while incarcerated.  These fields can be particularly rewarding knowing that as an LPN you've helped individuals get their lives back on track and rejoin society as contributing individuals.
Start your journey toward becoming a licensed practical nurse. The LPN Training Program at Lincoln Tech provides hands-on experience to get you ready for healthcare careers in caretaking. This program also prepares you to sit for the NCLEX-PN, and passing this exam is an important step on your way to earning your license to practice.  Learn more by visiting Lincoln Tech today.
* Source:  careeronestop.org, for the years 2012-2022.