Career Fields Growing in New Jersey and New York
January 21, 2018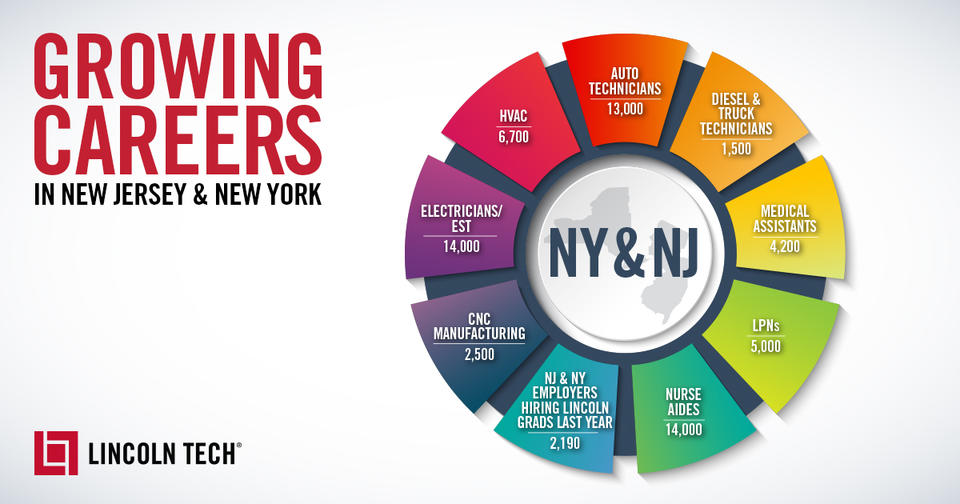 When contemplating a future career, it's important to keep in mind which industries are growing versus what jobs are becoming obsolete. Everyone wants to work in an industry where there are opportunities and room for growth. That's why career fields which can't be taken on by computers or be exported overseas are your ticket to a stable and secure future.
This month, Lincoln Tech is going around the country and analyzing which career fields are growing in the states where we offer training. Today, we look at career fields growing in New Jersey and New York. Pay attention to the data below, and use this information to guide you toward a fulfilling and rewarding career. All career growth projections and salary information can be found at careeronestop.org for the years 2014-2024, unless otherwise noted.
Automotive and Skilled Trades
The auto and skilled trades industries require people who can work with both their hands and their heads, and these are jobs that can't be sent overseas. Consider these four careers for your future.
Automotive Technician: In this job, you'll diagnose, repair and maintain today's technologically sophisticated cars, trucks and SUVs. More than 13,000 positions are estimated to be available across New York and New Jersey by 2024. Train at Lincoln Tech in either Mahwah or Union, NJ, or Queens, NY.
Diesel and Truck Technician: If you prefer working on larger vehicles, consider becoming a diesel and truck technician. From groceries to medical supplies, the trucking industry is responsible for carrying a variety of essential goods across the county. You can become part of it by enrolling in the Lincoln Tech Diesel Mechanic program. In New Jersey and New York, job opportunities for Diesel technicians are expected to grow by more than 1,500 positions. At our South Plainfield campus you can also take advantage of our partnership with Thermo King, a Transport Refrigeration industry leader with close ties to Lincoln Tech!
HVAC Technician: Home and business owners rely on HVAC technicians to keep their heating and cooling units functioning smoothly. Opportunities in the HVAC industry are expected to grow 27 percent in New York and 18 percent in New Jersey; there will likely be more than 6,700 positions added across the two states by 2024. To get started, enroll at Lincoln Tech in Mahwah or Union.
Electrical nd Electronic Systems Technician: From installing wiring to designing electrical components, there are a variety of high and low-voltage roles you can pursue as an electrician. The average starting salary for electricians was over $30,000 in 2017, with plenty of room for growth! More than 14,000 positions are predicted to be available across New York and New Jersey by 2024. Begin training in Mahwah or Union.
CNC Manufacturing: Learn how to operate the computer-controlled equipment driving the modern manufacturing industry at Lincoln Tech's Mahwah campus. Almost 2,500 positions are expected to be available across New Jersey and New York by 2024.
Information Technology and Healthcare
Training for these IT and healthcare positions can be completed in New Jersey at Lincoln Tech's Paramus, Moorestown or Iselin campuses*.
Computer and Network Support Technician: In this role, you'll be taking on a variety of tasks ranging from installing local area networks to monitoring website performance. Hundreds of NJ-NY positions are expected to open in the next seven years.
Medical Assisting: Provide clinical and administrative support for physicians as a medical assistant. This job is expected to grow 17 percent in New Jersey and 24 percent in New York.
Practical Nursing: Pursue your passion of caring for patients and begin a stable career by becoming a practical nurse. Practical nursing jobs are expected to grow 15 percent in New Jersey and 18 percent in New York.
Nurse Aide/Patient Care Technician: Aid nursing staffs in caring for patients at a variety of healthcare facilities. More than 14,000 nurse aide positions will be available by 2024, with 15 percent growth in New Jersey and 16 percent growth in New York.
Medical Coding and Billing Specialist: Compile, process and maintain important medical records to help hospitals deliver the best care possible. Hundreds of positions are predicted to be available in New York and New Jersey by 2024.
* Programs vary by campus.