How to Become a Diesel Mechanic
July 19, 2019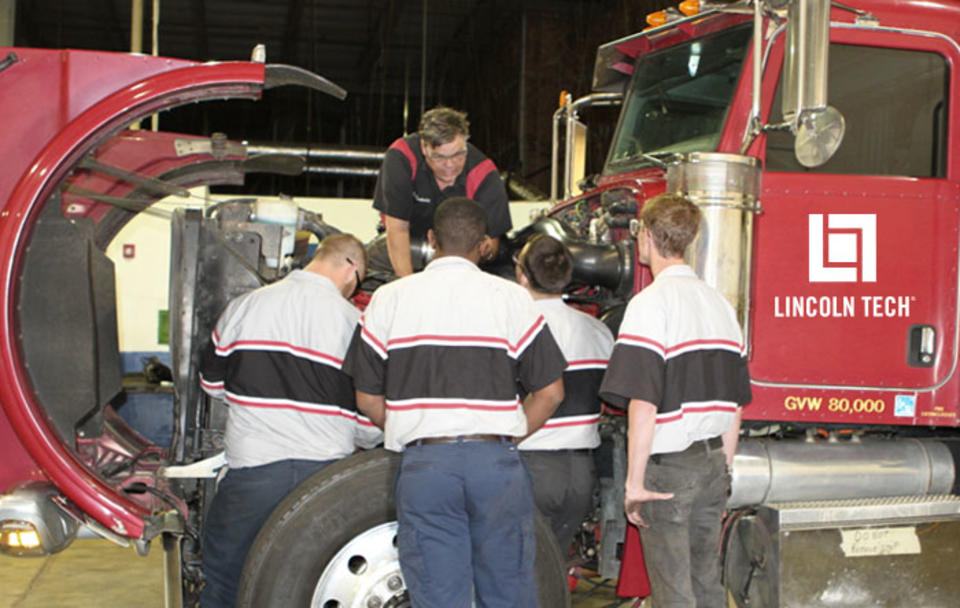 Becoming a diesel mechanic is an excellent career path to follow if you're looking for rewarding, challenging hands-on work.  This career is a great way to enter the transportation industry with bigger earning potential and bigger job opportunities* working with bigger equipment.  If you've been thinking about a career as a diesel technician or diesel mechanic, get ready for a career that can include repairing and maintaining construction vehicles, power generators, hydraulic systems, utility vehicles, transport refrigeration systems, buses… and, of course, trucks.
What skills do you need to become a diesel mechanic?
Diesel mechanics and technicians train not only to take apart and reassemble diesel engines – although that's certainly a part of it.  Hiring managers need people on their teams who are skilled in multiple fields you might not immediately associate with the diesel mechanics profession.
Welding.  Diesel mechanics are often called on to perform basic welding procedures on engine components and parts of a vehicle's frame or body.  Diesel Technology training programs like those offered at Lincoln Tech campuses include hands-on practice in individual welding booths, so you can perfect this part of your craft before entering the job market.
Electronics.  Electrical and electronic systems are at the heart of today's diesel-powered machines.  Computer systems and software programs control modern fuel injection systems, ignition systems, diagnostic checks, and a lot more.  Diesel program graduates will have a solid grasp on the essentials of electronic systems, so they can get right to work on these complex on-board computer networks when they start their careers.
Diagnostics.  When something goes wrong with a vehicle's performance, chances are a computer-generated scan code will need to be read.  These diagnostic codes let a diesel technician know where the problem stems from, and offer clues on how to start the troubleshooting and repair process.  A working knowledge of current diagnostic codes is expected for practically any new diesel mechanic or technician entering the field.
Transport refrigeration.  Transport refrigeration courses like those offered at Lincoln Tech's South Plainfield, NJ campus can help you expand your career possibilities when you graduate.  Industry leaders like Thermo King – located not far from the South Plainfield school – look for graduates whose skills include basic refrigeration system maintenance and repair to complement their diesel mechanic skills.  Transport refrigeration systems also come with their own intricate electrical and electronic systems, all of which are covered during training.
Compressed natural gas (CNG).  With alternative fuel technology like CNG driving the diesel industry towards a more environmentally-friendly future, technicians who enter the workforce having trained on CNG technology may find themselves ahead of the curve.  CNG systems are already in use across the country by leading employers including UPS, Waste Management and more.  Lincoln Tech's Denver, CO campus includes Alternative Fuel Technology classes as an optional component to Diesel Technology career training.
Soft skills grab the attention of hiring managers
Lincoln Tech's Career Services specialists know what employers are seeking, because they're in contact almost daily with hiring managers.  Jennifer Nunes, Director of Career Services at Lincoln Tech's East Windsor campus, points out strong communication skills, an excellent work ethic, and creative problem-solving as qualities hiring managers want to see.  These skills, she adds, can be honed in the field prior to graduation.  Part of Lincoln Tech's Career Services support is helping arrange part-time work for students, with schedules that work around their classes and other commitments.
Getting to experience life as a diesel technician firsthand helps students develop a professional mentality, and employers, in turn, get to see a potential employee's skills up close before making a job offer.  It's the best of both worlds for all sides.
"We also coordinate tours and field trips to local diesel companies, and bring employers on campus for presentations and interview days," Nunes adds.  "Companies such as Ryder, Camerota, and FedEx Freight have been known to work with our students' schedules to help them gain experience in the field – experience they need to be a successful in their careers.  This all contributes to the high placement rates our diesel graduates enjoy after their Lincoln Tech training (94% of Diesel and Truck Technology graduates from the East Windsor campus were hired in the field last year**).
Mackenzie Moran, Director of Career Services at Lincoln Tech's South Plainfield campus, also cites students' field experience as a key to getting hired right out of school.  "Three of our most successful recent graduates – all women – were working in the field prior to graduation," Moran says.  "Two employers – PSE&G and New Jersey Transit – made offers to the students so that positions would be waiting for them as soon as they graduated."
Employers can't find new diesel technicians fast enough
The U.S. Department of Labor's Bureau of Labor Statistics projects that around the country, there will be more than a quarter-million new diesel technicians and mechanics needed by 2026**.  The need is projected to be especially great in states like Texas, Colorado, and New York, where double-digit percentage growth rates are expected.  Industries including construction, transportation, agriculture, mining and more have immediate openings for diesel technicians, and Nunes says that employers aren't shying away from talking about the need for more skilled candidates.  "The need is huge for diesel technicians and mechanics," she says.  "Employers can't find new diesel technicians fast enough".
Hiring partners from coast to coast all say they're on the lookout for talented new diesel technicians, and turn to schools like Lincoln Tech to find the candidates they need.  "No one wants to get their hands dirty these days" says Tom Commorato, General Manager of Thermo King East for more than 40 years - "The industry is hurting for professionals".
Another New Jersey employer, Bill McAnally of Miller Truck Leasing, explains how many in the industry aren't just looking for people with the skills to do the job today – they want leaders who they can develop for future company success.  "We're looking to hire [not only] technicians from Lincoln Tech, we're looking for future managers. We need future leaders in our company, and a good background and good training will enable them to advance their careers relatively quickly."
Further west, Lincoln Tech's Denver campus counts Waste Management – one of the country's largest waste and environmental services companies – among its most engaged partners.  Gabrielle Duran, Waste Management's Talent Acquisition Advisor, explains why the organization turns to Lincoln Tech's Denver campus for technicians to service their fleets.
"I know exactly what I'm getting with a Lincoln Tech grad," Duran says. "We've had great success with our Technician Apprentice Program. Students attend classes at Lincoln Tech and work here 20 hours a week.  Lincoln Tech's Career Fairs are a great place to meet potential employees. We can get a sense of whether a student will be a good fit for us before inviting them to come in for an interview".
Are you ready to become a diesel mechanic or diesel technician?  Reach out to a Lincoln Tech campus near you and put yourself on the path to an incredible new career.
* Source: careeronestop.org for the years 2016-2026.  In most parts of the country, projections for diesel technician job growth and salaries outpace those of automotive technicians.  Refer to careeronestop.org for specific comparison data where you live.
** As reported to the Accrediting Commission of Career Schools and Colleges (ACCSC) in the campus' 2018 G&E Report.