Schmidt Peterson, James Hinchcliffe and Lincoln Tech Students
October 10, 2017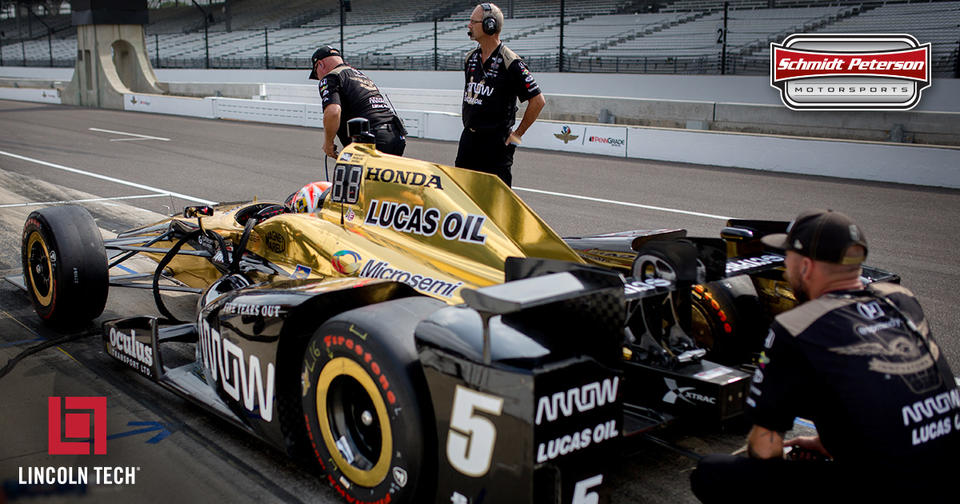 A look back at the 2017 IndyCar season and a unique mentoring partnership.
Now that the 2017 Verizon IndyCar Series season is over, let's take a look back at some of the year's most exciting performers – the Automotive Technology students from Lincoln Tech campuses all around the country. While they might not have received a checkered flag, they each walked away from the race a winner, with memories that will last a lifetime, thanks to the Schmidt Peterson Motorsports (SPM) team and driver James Hinchcliffe.
Earlier this year, Lincoln Tech and SPM teamed up to create a mentor program that gave six Automotive or Diesel Technology students the chance to be members of the No. 5 car's pit crew. At six of the team's races between April and June, a Lincoln Tech student and instructor were selected to join Hinchcliffe and the SPM team for a firsthand look at life on a real IndyCar crew. Each student was provided with full pit and garage access, and attended team meetings during the entire race weekend. Lincoln Tech's Auto Technology campuses nominated these deserving students based on their GPA, attendance, conduct and overall commitment to becoming outstanding automotive technicians.
Tyler Crist
Tyler Crist, an Honors student training in Denver's Automotive Technology program, was selected as the first student to take part in the SPM Mentor Program. He and Collision Repair & Refinishing instructor Tim Smith, flew from Denver to California for the Toyota Indy Grand Prix of Long Beach. Tyler spent the weekend serving as a member of the SPM crew, which provide a firsthand look at life on an IndyCar squad. He was excited to meet Cole Jagger, a Lincoln graduate and now one of the team's Aero Techs, on his first day. "I spent the weekend working by Cole's side learning how the angles of the car's wing and widgets, which create downforce, are crucial to the car's ability to grip the track," recalls Tyler.
Tyler was lucky enough to be right there in the pits to see Hinchcliffe, coming out of a yellow flag stoppage, hang in a three-lap shootout to the finish before claiming victory – his first win since 2015.  It was an unforgettable experience for everyone involved, from the SPM team on down to the fans – including Tyler! "This was the best weekend of my life, and an experience you don't usually get with your first race," he says.  "It reminded me of why I joined this field in the first place and to never give up on my dreams."
William Jorgensen
Lincoln Tech's Columbia, Maryland campus sent the next Automotive Technology student to be a part of the SPM Mentor Program – William Jorgensen. William and Feyisola Ayodele, an Auto technology instructor, made the trip to Birmingham for the Honda Indy Grand Prix of Alabama. At the start of the weekend, they spent time at the track watching the team do test laps before the race. According to Ayodele, "William got a chance to be involved during these test runs. The engineers had made previous runs here and were looking to adjust aerodynamics, suspension, weight distribution, even tire size.  William was kept very busy the whole time, doing whatever it took the get the job done."
After the race was over and he was heading home, William offered "I absolutely enjoyed the opportunity to work with the team. Every person was outstanding and very helpful.  Working in the motorsports industry is the dream of any gearhead." He raved about the experience and added, "I would absolutely rate the mentor program a 10. I would definitely recommend it to other Lincoln Tech students. In fact, I already have."
Rob Kessling
"My Lincoln Tech experience has been great", says Rob Kessling.  "All my instructors were very helpful. Everything I went to school for and wanted to achieve, I achieved. Especially now that I've gone to the race." The race he's referring to is the Desert Diamond West Valley Indy Grand Prix in Phoenix, Arizona. Rob was the third Lincoln Tech Automotive student to be selected for the SPM Mentor Program, and was nominated by his instructors at the Lincoln Tech Philadelphia campus for his outstanding grades and work ethic.  "I enjoyed being part of the mentorship program, it was an awesome experience.  The most enjoyable part was being trackside at the race and experiencing the fast-paced lifestyle of the pit crew. I would definitely recommend the mentorship program to other students."
Christian Current
"As soon as I saw Christian take a seat in the front row of my Electrical and Electronics Systems class, I knew he was very serious about what he was doing," recalls Lincoln Tech instructor Steve Fraser. Christian really stood out at Lincoln Tech's Indianapolis campus. "He excelled in electricity, one of the hardest subjects to master in our program. He also won the skills contest. I don't just recommend people to recommend them. Christian was a no-brainer. He's the guy!"
That "guy" made it to the Indy 500, a once-in-a-lifetime opportunity, as one of the Automotive Technology students to be a part of the SPM Mentor Program. The greatest spectacle in racing, the Indy 500 draws hundreds of thousands of fans every Memorial Day weekend. "I think this would be one of the best experiences that anyone could come to," explained Christian. "Being in the pit, I learned a lot about the car. More than I've ever known about any car. Anyone who knows me, and knows that I love working on cars..." he hesitates almost at a loss for words.  "The adrenaline, the exhilaration, it's just the biggest thing I've ever been a part of."
Kyle Tamburro
Lincoln Tech student Kyle Tamburro had the experience of a lifetime when he was selected for the SPM Mentor program. Jay Ballard, Kyle's instructor at Lincoln Tech's Mahwah campus sponsored Kyle and was on hand during the Chevrolet Indy Grand Prix in Detroit, Michigan. Kyle was tasked with various jobs, like running tires from the garage to the pit lane, and transporting wheels for the next race.  As he says, "I was there to help with anything they needed. There was a lot of behind-the-scenes stuff I didn't know happened. In the garage, everyone had their own very specialized job."
For Kyle, the experience was eye-opening: "During the race, everyone was very serious. But once the race is over and you're moving around outside the pit lane, there are smiles all around."
As a kid who grew up working on cars, his passion led him to the Automotive Technology program at Lincoln Tech. His hard work helped him stand out as a top student, which led to him being selected. "It was a really cool, unforgettable experience," he says. "Especially when Hinchcliffe took 3rd on the podium." Kyle is using this insight as he applies for auto technician positions, as he graduated from Lincoln Tech in September.
Kristin Suchman
When Kristin Suchman, a model student from Lincoln Tech's South Plainfield, NJ campus was chosen to participate in the SPM Mentor program, she was the first non-Automotive student selected.  A Diesel Technology student training in the Transport Refrigeration program, Kristin had the chance to experience life on an IndyCar pit crew and show the SPM team how diesel does it!
"When they told me I'd been chosen, I knew it was a once-in-a-lifetime chance," she says. "I was going to get to work with a professional team of IndyCar mechanics.  It really was a thrilling experience and something I'll remember for a long time." Kristin was in the pits for the Rainguard Water Sealers 600 Indy race in Dallas, Texas, after being nominated by her Lincoln Tech instructor Dan Hagaman.
In the SPM pit, she was tasked with responsibilities like running tires and cleaning rims and wings. "I was surprised at how few tools they work with in the pit," she says.  "And it was definitely cool getting to see the difference in how those tools compare to what we use in the diesel field." Kristin says the entire experience surpassed even the expectations she had.  "The SPM team was incredible," she says.  "Amazing teamwork and morale.  I've never seen anything like it."
Winners come in all shapes and sizes on an IndyCar track. The Lincoln Tech students learned you don't have to be behind the wheel to chalk up a win!  Take a look back at an incredible IndyCar season. A unique partnership that was beneficial to all who were involved.  Memories were made. Skills honed. Experiences shared. And, dreams came true.