Icahn Automotive Scholarships Awarded to Lincoln Students
November 18, 2019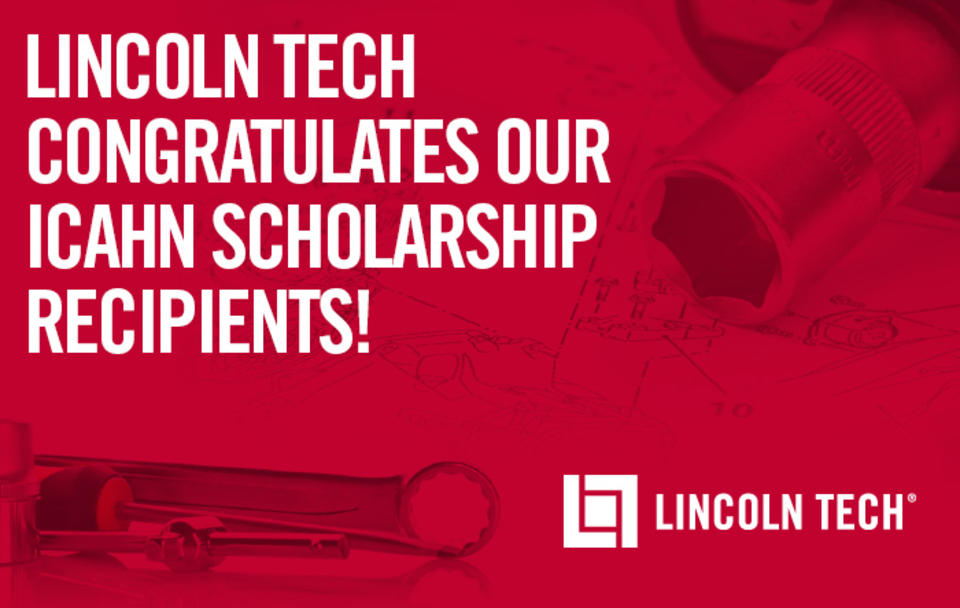 When Icahn Automotive – parent company of Pep Boys, AAMCO, and Precision Tune Auto Care – helped unveil their sponsored classroom at Lincoln Tech's Philadelphia campus in May 2019, it marked the latest step in a collaborative effort to help build the region's workforce of trained, skilled Automotive Technicians. The following month, Pep Boys helped launch training rooms at the Mahwah, NJ and Union, NJ campuses as well. Now Lincoln Tech is proud to announce that this fall eight students have been awarded Icahn Automotive Scholarships to help offset the tuition costs of their career training programs.

The scholarship awards were presented as part of the auto industry leader's "Race to 2026" initiative, designed by Icahn Automotive to support future auto technicians and drive enrollment in auto technology programs like those offered by Lincoln Tech.
The students, selected from Lincoln Tech's Philadelphia, PA, Mahwah, NJ and Union, NJ campuses, each received $2500 scholarship awards towards their tuition.
"The Icahn Automotive Scholarship program is certainly an investment in the future, especially as we face such a large talent deficit in the skilled trades," Icahn Automotive Service CEO Brian Kaner said in a statement. "It's our vision for young people to see the truly amazing potential of automotive service careers and we're eager to support these students as they progress from the classroom to the service bay.
"We're grateful to Icahn Automotive for their support of our programs and students, and for the part they're playing in helping overcome the skills gap that exists in today's automotive industry," says Scott Shaw, Lincoln Tech's President and CEO. "The U.S. Department of Labor's Bureau of Labor Statistics projects that more than 750,000 entry-level Auto Technicians will need to be hired around the country by 2026. Hiring managers tell us they have an exceptionally difficult task in identifying candidates with the skills they need to fill those roles. By providing scholarships and encouraging students to pursue career training, Icahn Automotive is helping to ensure that these critical roles will not go unfilled."
Training at 3 campuses supported by Icahn Automotive Scholarships
Icahn Automotive awarded scholarships to Joseph Chin and Frank Van Althius of Lincoln Tech's Mahwah campus; Jeremy Pederson and Sebastien Tassy of the Union campus; and Taylor Chandler, Joseph Medina, Timothy Moment, and Robert Scott of the Philadelphia campus. Criteria including academic performance, attendance, character and commitment to the automotive industry were all considered in the selection process. Students were also required to submit an essay or video testimonial along with letters of recommendation from instructors and other individuals.
As part of "Race to 2026" Icahn Automotive has closely partnered with Lincoln Tech and other career training schools across the country, offering apprentice and internship programs, job placement and continuing education opportunities.