How to winterize your car: 6 tips from Lincoln Tech
December 19, 2016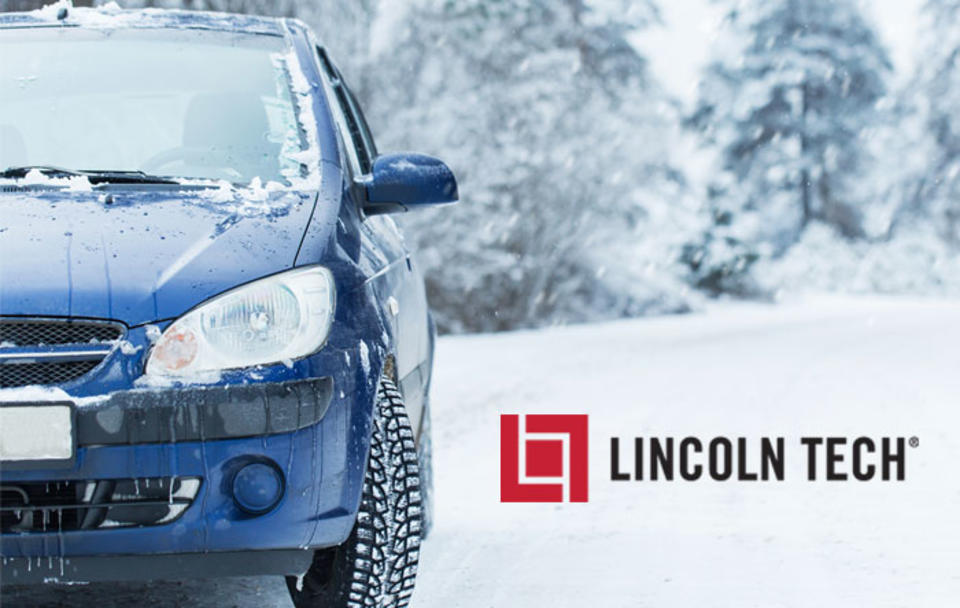 If you're in the Northeast, Midwest, or even parts of the Southeast, knowing how to winterize your car and get it ready for winter driving is important. John Funk, Director of Education at Lincoln Tech in Indianapolis, has some tips on how to stay safe on the roads this winter when the weather gets messy:
Like it or not, winter is upon us – meaning the roads can get downright ugly at times! But these days winter travel really isn't as daunting as it used be. Today's vehicles have so many systems to help us deal with it: anti-lock braking (ABS), traction control and all season radial tires are just a few things that most newer cars have that make winter travel safer. But as drivers we can still take a few precautions to make it a safer winter travel season.
How to winterize your car in 6 steps
One: Tires. Let's check tread depth and tire pressures. Your tires need good tread depth for them to perform adequately in ice, rain or snow. Most newer cars have TPMS (tire pressure monitor sensors) to make sure tires remain safely inflated.
Every 10-degree change in temperature equals approximately 1 PSI (pounds per square inch), so that TPMS warning light may be popping on one cold morning soon. Modern all-season tires have a rubber compound that helps the tire stay soft and pliable to promote traction when temperatures drop and these offer acceptable performance in most cases.
If you live in a region that gets plenty of snow or your car has low profile/ high performance rated tires you may consider a set of "winter" tires. Yes, a set of four – it is no longer recommended to have just two "snow" tires as in days gone by, as this can upset the handling of most modern vehicles and cause very unpredictable driving characteristics.
Two: Wipers. Now we're on to other easy do-it-yourself checks you can do at home. First, check and fill your washer solvent; keeping extra or leftover solvent in your trunk is never a bad idea. Next let's check the wiper blades. You may choose to install the "winter" style blades but at least replace the regular wiper inserts. They are inexpensive and typically should be replaced at least once a year in most cases.
Three: Fluids. Next check your fluid levels - engine oil, brake fluid and engine coolant (antifreeze should be checked for proper concentration by someone with a hydrometer to insure proper protection). Today's new vehicles have long-life coolant which can last up to 10 years, and modern closed cooling systems require very little attention other than this simple check.
If you have not serviced your vehicle lately (oil and filter change), now would be a good time. While at the shop ask them to test your battery and check your antifreeze concentration. Many shops include these checks free of charge with the normal routine service.
Four: Lights. Turn your lights on and do a walk around inspection of all lights to insure they are functioning properly; at this time of year a great deal of our driving is done in the dark.
Five: Fuel. Try to keep a full tank of gas. This is better for the trouble-free operation of the fuel system of your car – and gas weighs about seven pounds per gallon, so you're adding around 100 pounds which can aid your vehicle's traction.
Six: A safety checklist. Another good tip on how to winterize your car is to put a few safety items in your trunk. The list should include an ice scraper, flashlight, blanket and perhaps a bag of sand or small shovel. Some would say jumper cables and a small tool kit would also be handy, but in today's world probably the most important item of all has become the cell phone!
Most times the smartest thing to do is call for professional help like AAA or a roadside assistance service available through your manufacturer (often included in your warranty). Make sure to have those phone numbers handy just in case of trouble.
###
The winter driving season is upon us! Follow these helpful tips on how to winterize your car, and then sit back and enjoy your vehicle's many technological advances that make winter driving safe and pleasurable, from heated seats and steering wheels to electronic stability control systems.