Types of CNC Machines used in Advanced Manufacturing - Lincoln Tech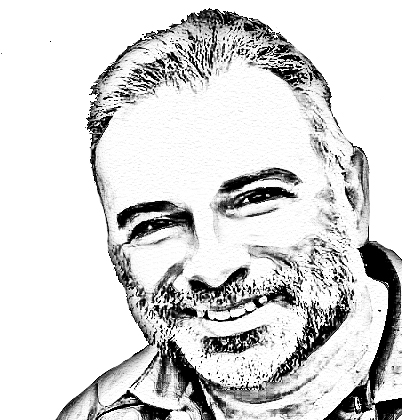 By:
Published:
The United States has produced complex and high quality machinery since the beginning of the industrial age. From ocean-going vessels and intricate medical devices, to spacecraft that travel the solar system and beyond, American manufacturing has always been at the forefront of technological development. Since the 1980s, however, the conventional wisdom is that the US is no longer a manufacturing powerhouse. This is based on the biased observation that common and easy-to-build throw-away items like clothing, toaster ovens and screwdrivers are cheaper to make overseas with inexpensive labor.
While the resulting product might cost less, the consumer often finds that the quality of imported goods is mediocre, which is the opposite of its American-made counterpart. Shorter lifespans of cheaper goods lead to premature replacement and excessive landfill waste. This can also add up to an accumulated cost that exceeds the original cost of the longer-lasting and more expensive domestic-made product. The reality is that any product with exceptional quality requires both highly-skilled labor and excellent raw materials. America is known for both its skilled labor force and material wealth, so these products can be made here in the US.
High Quality Standards in Safe Manufacturing Facilities
American-made durable goods like aircraft, artificial joints, and cars all have parts that are made using high-tolerance Computer Numerically Controlled (CNC) Machines. These machines are programmed and operated by skilled manufacturing technicians, and the US manufacturing industry relies on these machinists as core members of our industrial strength.
Quality starts with the work environment. US-based manufacturing facilities must follow strict safety guidelines as mandated by the Occupation Safety and Health Administration (OSHA). Machines must be inspected and maintained so they can safely produce the highest quality product. Quality control standards work best when performed in-house by a skilled team of professionals with strict oversight.
When safety and quality assurance is optimized, the people working in the manufacturing industry can then focus on their goal – creating durable goods of the highest quality. In manufacturing, quality always beats quantity. Quality is not guaranteed when production is sent out of the US where standards for labor, the environment and quality control are not as stringent.
Quality Machinery Builds High Quality Products
CNC machines are the workhorse of high-tech manufacturing. Firms such as Haas Automation Inc. design, build and maintain a vast line of CNC machines, which are used by the most demanding manufacturers. It is with these machines that intricate designs can be machined out of raw material. This is accomplished by instructions written by the technician for the CNC machine to follow. All Haas machines follow instructions written in languages called G-Code and M-Code.
G-Code and M-Code Languages for CNC
Geometry Code, commonly called G-Code, was designed in the 1950s by the Massachusetts Institute of Technology (MIT) as a way to control automated machine tools. Over the last half of the 20th century, manufacturers used and improved this coding language to keep up with advancements in manufacturing technology. Haas Automation designed additional commands to augment the original G-Code language, making their version of the code dialect popular and widely-used by machinists across the nation.
When coded efficiently into a logical set of instructions, this code is then uploaded into the computer control unit of the CNC machine. The machine's operating system then reads the code, and executes each command as instructed. This is what drives every movement the machine makes in a precise order. The code can be written to change a cutting tool or move it in specific direction, at a specific time and at a certain speed. G-Code can be written to produce some of the most complex and detailed shapes in steel and aluminum, as well as the more expensive and strategic metals like titanium and magnesium.
Miscellaneous Function Code, also known as M-Code, works side-by-side with G-Code. M-Codes are pre-built scripted routines much like macros. These are used to activate or deactivate complex processes. These are conceptually similar to the sub-routines that run during the start-up of a personal computer. Together, G-Codes and M-Codes allow any CNC Machine to create an object of great sophistication to precise standards.
Types of CNC Machines
There are many kinds of CNC Machines. They range anywhere from small mills and lathes used by independent machine shops and trade schools, to large high-powered units that have numerous devices each working across 3, 4 and 5-axis ranges. Some also have automated tool changers, quality assurance sensors and in some cases, robotic help with repeated tasks.
VF-2TR Vertical Milling Center
This is an amazing machine that is considered the workhorse of the industry. This machine is capable of full simultaneous 5-axis motion, and it can position an item into almost any angle needed to accomplish difficult machining tasks. It can be converted to a 3-axis machine simply by removing the trunnion from the machine's T-slot table. This Vertical Milling Center (VMC) has a 20 tool changer and high-speed machining software.
ST-10Y Lathe for Turning and Milling
A 3-axis lathe with superb power and live tooling that is capable of turning and milling. This model can be fitted with a 12-tool changer. It is a machine built for Y-axis milling, drilling, and tapping at high speeds. This high-performance model is known for resiliency and reliability in situations that require high thermal stability.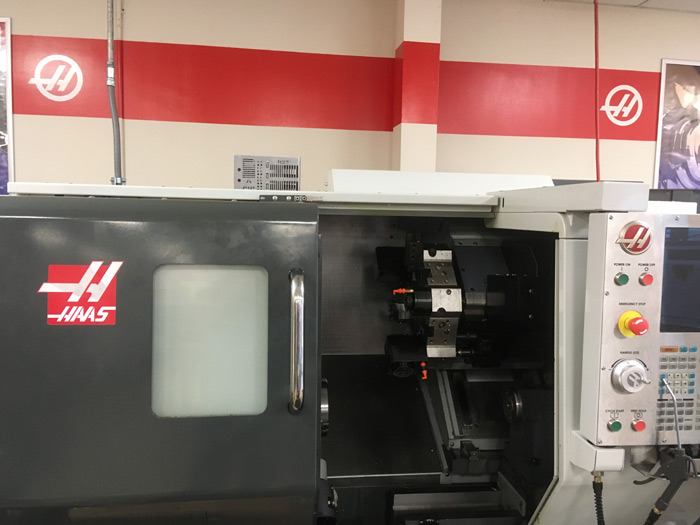 TM-1P CNC Machine
The TM-1P is a 3-axis VMC. It comes standard with a 10-tool changer. This model can be fitted with a rotational 4th axis or 5th axis functionality. Interestingly, this model is equipped with the conversational programming system, so a new machinist can start using the machine before obtaining G-Code knowledge.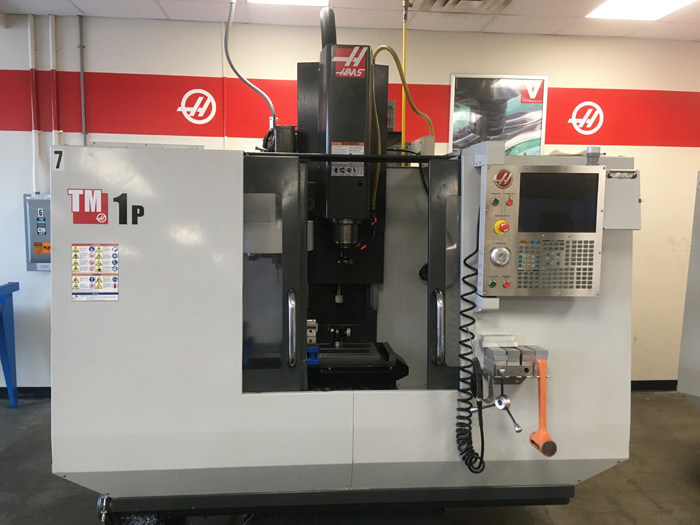 TM-1/TL1 - Toolroom Mill & Lathe
M is for Mill, and the L is for Lathe. The Haas TM-1 CNC machine is known as a Toolroom Mill. These are favorites among independent machine shops and schools because they are affordable and yet full of features found in the larger industrial machines. The TL-1 is the lathe counterpart to the TM-1 mill. Well-optioned and affordable, these machines are also excellent for start-ups, small businesses and educational departments. These models are ideal for entering the CNC industry. The TL-1 pictured here is equipped with the conversational programming system, so a new machinist can start using the machine before obtaining G-Code knowledge, which is one of the many reasons why Lincoln Tech uses these models in their training programs.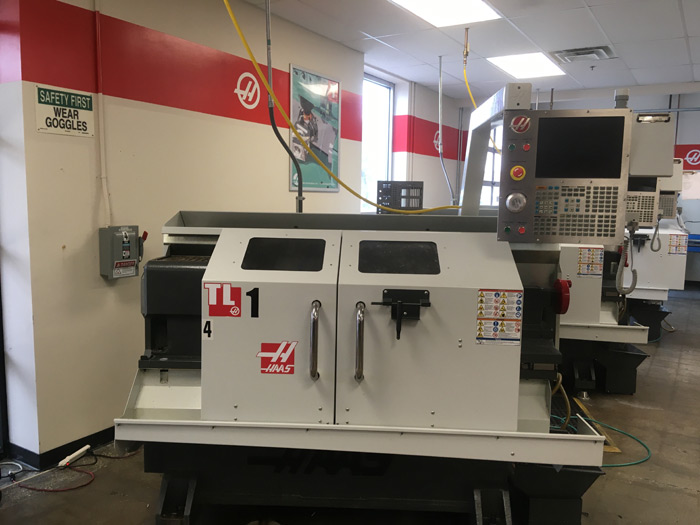 Advanced Robotics in CNC Manufacturing
Some CNC machines are compatible with robotic arms designed and manufactured by Universal Robots, in particular the UR3e and UR10e models. These robotic arms can be programmed to move work-pieces into and out of the machining area, saving labor and time for the CNC machinist.
Lincoln Tech's Advanced Manufacturing with Robotics program in Mahwah, NJ will introduce the student to the integration of robotic technology and CNC machinery. Students will learn the fundamental skills needed to safely set-up and operate robots for automation, and will apply their skills in equipment operation, programming, troubleshooting and diagnosing, as well as machine setup through the use of automation.
The Haas machines shown above are all designed and built here in the US. They are also examples of what American manufacturing does so well. Our manufacturing industry is built on quality and durability, and learning how to use these amazing machines is both art and science. Individuals who choose to enter the advanced manufacturing field can expect that their skills will be useful and in-demand by domestic high tech companies.