Graduate Profile: Tommy Curtis
September 22, 2014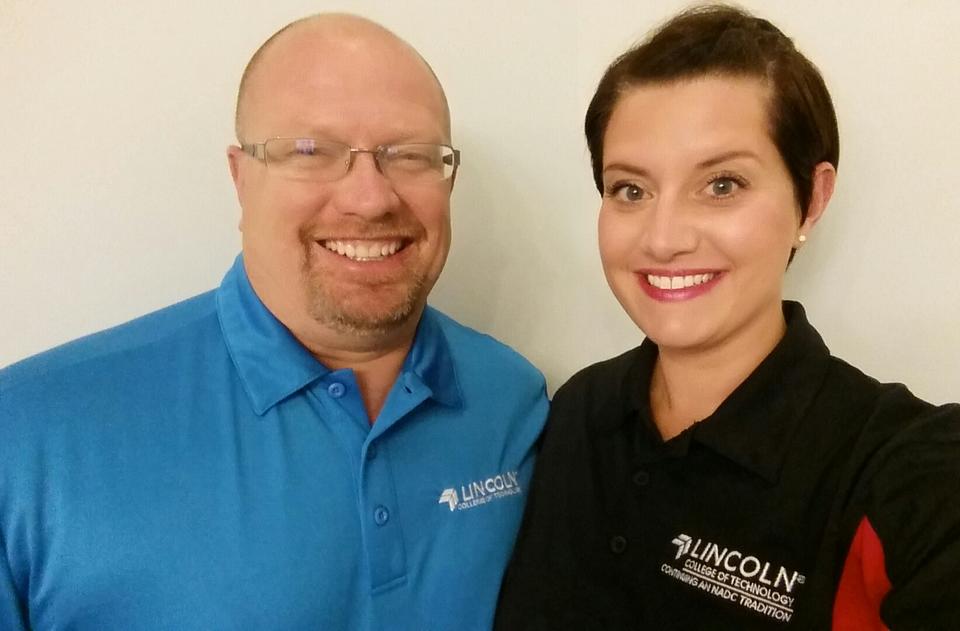 Most students enroll for career training knowing it can lead to better job prospects upon graduation – they plan to develop skills, build connections, and learn what it really means to be a professional in their chosen field. When Tommy Curtis, C '85, came to Nashville Auto-Diesel College (NADC) to begin his collision repair and refinishing program, he ended up leaving with quite a bit more. He graduated with a new career, of course, but he'd later return for a new stint as a gifted instructor – and in the process, met the woman who would soon become his wife!
"My life has been better, and happier, in every way," Mr. Curtis says. "Some of the best friends I have in this world, I have met on this campus."
Today Mr. Curtis teaches Collision Repair and Refinishing Technology to students looking to launch careers on the body work side of the automotive industry. When he first began teaching at the campus, the program was a far cry from what it is today. ("It took a while to get custom paints into the curriculum," he recalls. "We used to sneak the cars into the booths to do flame jobs on them!")
The collision repair industry has seen sweeping changes of its own – dealerships and manufacturers, he explains, are now the controlling players in the repair industry, and are buying out many independent and smaller shops, or driving them out of business entirely. This translates into a shifting field for graduates looking to start careers, as they now must be prepared to go to work for a specific manufacturer and often must be able to demonstrate specialized knowledge of a brand's makes and models. That's the kind of experience they can build through collision repair training in a program such as Lincoln's.
In 2008 Mr. Curtis was inducted into the campus' Educators Hall of Fame, adding another amazing chapter to a story about a man's dedication to the auto industry, his drive to launch a career he knew he would love, and the instructors that guided him and helped him hone his skills along the way. For more than 20 years, Tommy Curtis has been a fixture on the Nashville campus – a student from 1984-85, and an instructor since 1990. "I want to say thank you to all the students I have had the privilege of working with during these 20-plus years," he says.
The Nashville campus is celebrating 95 years of career training excellence in October. Now continuing the NADC tradition as Lincoln College of Technology, it's success stories like Mr. Curtis's that make the school great:
How did the training you received at Nashville campus help you establish your first career, at Garland and Sons Auto Body Shop?
Stan Garland, the owner, was impressed with my transcript and the fact that I was a graduate of the program at NADC, but he was quick to point out that "A piece of paper didn't make me a body man!" He pointed to a car that he had just taken in that morning and told me that the parts were there and the car needed to go Friday by 5:00 p.m. – this was going to be a hands-on job interview!
This was Thursday around 9:00 a.m. He told me that if I could deliver the car and meet his expectations, I would get the job. I lived close to 35-40 minutes away and had shown up for the interview in a pair of dress pants and collared dress shirt. I knew that driving home and losing 1.5 hours of work time was not an option. Long story short – I ruined a pair of pants, impressed Mr. Garland, delivered the car and worked there for five years until coming back to teach at NADC. When I left Garland's to return to NADC, Mr. Garland told me, "It's my job as your supervisor to be proud of you as you move on and advance your career."
As a student, which faculty or staff member had the biggest impact on you?
Without a doubt, Ron Story. Ron was the main reason I returned to teach here. He told me he thought I would be a good instructor and introduced me to John Crafton, Director of the Collision Repair and Refinishing program. Two days later I was sitting in front of Mr. Thomas Balls, President of NADC, in what I can only describe as one of the most intense interviews ever.
He offered and I accepted the job on the spot during the interview. I left, VERY excited, without even knowing what my starting pay or benefits would be. My first week here, I was run out of the employee restroom by one of the Auto-Diesel instructors saying that students were not allowed in there and he would suspend me if he caught me in here again!
How has the Nashville campus and its facilities evolved over the years?
My graduating class in 1985 was three people. We simply walked into the business office, shook hands with Mr. Bob Dickson and Mr. Steve Lovvorn, and they told us congratulations, good luck, and hurry up and move out of your mom's house!
Commencement ceremonies today are very formal and something that students, parents and staff are all very proud of. They are held at Cornerstone church with thousands in attendance and with the graduates in caps and gowns. The campus has definitely grown and we've lost a few of the huge oak trees off the front lawn, but the tradition of NADC and Lincoln is and always will be here.
Why are graduates of the Nashville campus well-prepared for careers in the automotive, diesel and collision repair industries?
I believe our instructors are the main reason for the success of our students. This team of instructors cares! They go the extra mile to see that our students are successful.