Lincoln Student Shows IndyCar "How Diesel Does It"
August 10, 2017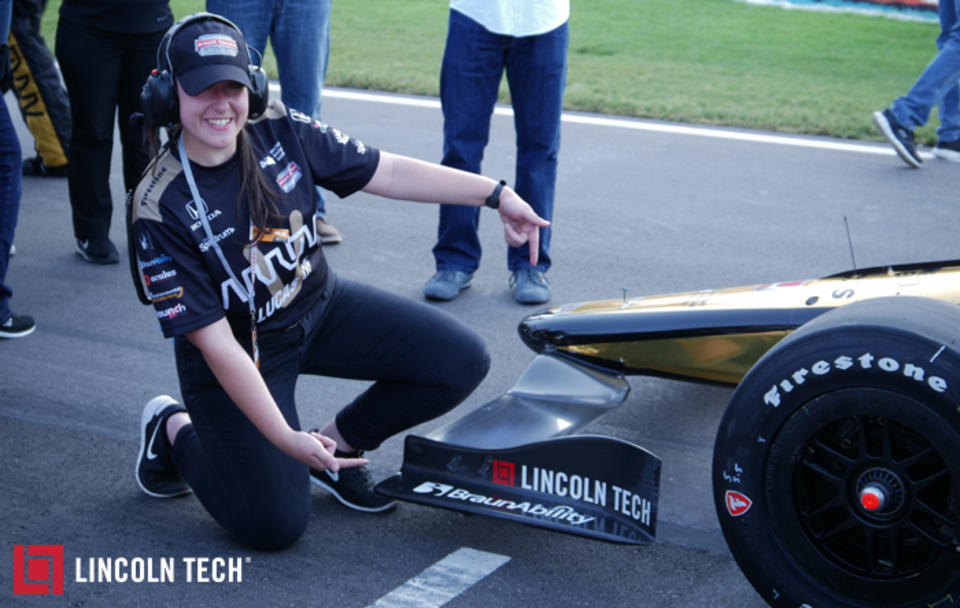 When Kristin Suchman from Lincoln Tech's South Plainfield, NJ campus was chosen to participate in the Schmidt-Peterson Motorsports (SPM) Mentor program, she was the first non-Automotive student selected.  A Diesel Technology student training in the Transport Refrigeration program, Kristin had the chance to experience life on an IndyCar pit crew and show the SPM team how diesel does it!
"When they told me I'd been chosen, I knew it was a once-in-a-lifetime chance," she says.  "I was going to get to see another Lincoln Tech campus and work with a professional team of IndyCar mechanics.  It really was a thrilling experience and something I'll remember for a long time."
Kristin was selected for the Verizon IndyCar Series' Rainguard Water Sealers 600 race at the Texas Motor Speedway in Dallas on June 10th.  In the SPM pit, she was tasked with responsibilities like running tires and cleaning rims and wings.  And she had the chance to work with automotive tools that were just a little smaller than the diesel equipment she's used to!
"I was surprised at how few tools they work with in the pit," she says.  "And it was definitely cool getting to see the difference in how those tools compare to what we use in the diesel field."
SPM driver James Hinchliffe cracked the top 15 finishers, and Kristin says the entire experience surpassed even the expectations she had.  "The SPM team was incredible," she says.  "Amazing teamwork and morale.  I've never seen anything like it."
Pursuing Careers in the Diesel Field
Kristin says her father was a watchmaker and a backyard mechanic – so she had plenty of opportunities growing up to tinker under the hoods of muscle cars and other classics.  When a friend who attended Lincoln Tech suggested she join him for the school's "Bring a Friend" event, she discovered that the diesel industry encompasses a lot more than just working on trucks.
"I came on my friend's recommendation, but it was getting to hear from Mr. Hagaman [the instructor who would later accompany her to Dallas for the race] that really opened my eyes," she says.  "He talked about the salary potential and job opportunities in the diesel industry, and it sounded like a perfect fit for me."
As she progressed in the program, she discovered a real talent for welding – and now counts artistic welding among her hobbies outside of school.  Campus President Jim Kuntz says Kristin Suchman is a model student who tutors classmates when they need help, displays an incredible work ethic and has a bright future ahead of her in the diesel industry.
"Kristin Suchman is one of our best students here at South Plainfield," he says.  "Her attendance and grades are stellar.  She sets the bar for all of our other students and is constantly leading by example.  We were proud to have her and Mr. Hagaman represent Lincoln Educational Services and the South Plainfield campus at the Texas Motor Speedway."