Where Collision Repair Careers are Growing
January 21, 2018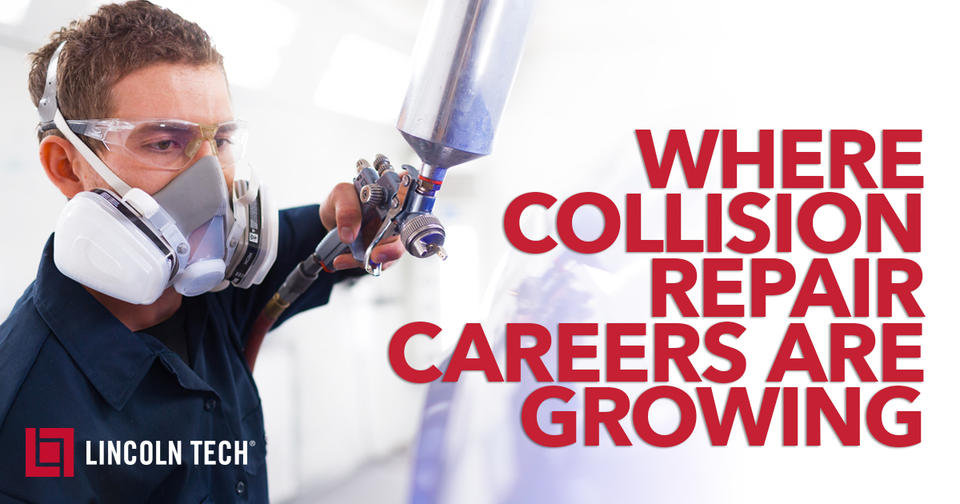 When contemplating a future career, it's important to keep in mind which industries are growing versus what jobs are becoming obsolete. Everyone wants to work in an industry where there are opportunities and room for growth. That's why jobs which can't be taken on by computers or be exported overseas are your ticket to a stable and secure future. This month, Lincoln Tech is going around the country and analyzing which career fields are growing in the states where we offer training.
Today, we look at the field of collision repair careers. Pay attention to the data below, and use this information to guide you toward a fulfilling and rewarding career. All career growth projections and salary information can be found at careeronestop.org for the years 2014-2024.
Collision Repair Careers
Career opportunities can be found in many technical careers that can't be outsourced: for example, plumbers, HVAC technicians, electricians, and because there's millions of cars on crowded roads all across the country, collision repair specialists.
Even if a few eccentrics want to ship high-end cars overseas to smooth out the occasional fender bender, they'll be in a definite minority – outsourcing collision repair jobs is almost unheard of. And because collision repair requires a degree of craft and artistry, it's not a job that can be simply programmed into a computer and automated.
Wherever there are cars or trucks, there will be a need for skilled workers who are able to repair them. Careers in the collision repair field come with a variety of names, but one thing is for certain: career opportunities are growing.
Where the Jobs Are
How much is the industry growing? Nationwide, it's expected that employers will need to fill more than 33,000 positions around the country by 2024. For opportunities where you live, here's a snapshot of where these careers are growing and where you can train to start your career:
Colorado: 20% growth. Explore a training program at Lincoln Tech in Denver.
Indiana: 14% growth. Training is available at Lincoln Tech in Indianapolis.
Illinois: 9% growth. Train at our Chicago-area campus in Merose Park.
Tennessee: 9% growth. We offer career training in Nashville, where you can get connected to employers throughout the southeastern United States.
Connecticut: 7% growth. Train at our East Windsor campus for positions across New England.
While you will learn to smooth out dents, estimate repair costs and seamlessly airbrush paint jobs, you might also get to put your skills to work on some unique projects. For example, students put a custom Star Wars paint job on a refurbished Pontiac in Melrose Park. And in East Windsor, students built Batman and Superman tributes with the skills they learned.
The Collision Repair and Refinishing Technology program at Lincoln Tech is designed to give you the skills that help you get noticed by hiring managers. It's all part of the training that can lead you to rewarding collision repair careers where there's growth and opportunity, and the chance to put your creative skills to use doing something you'll love!