On The Seventh Day of Christmas at Lincoln Tech ...
December 13, 2017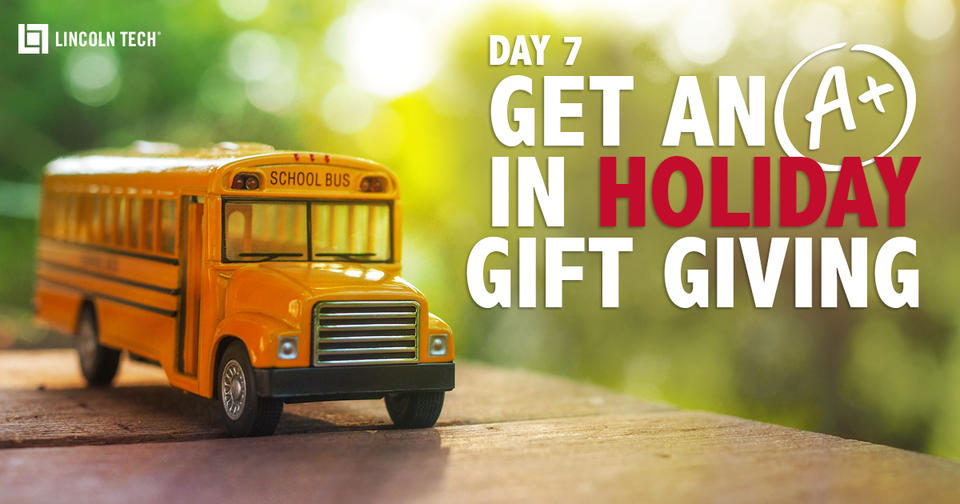 If you have a Lincoln Tech student on your gift list this year, let us help you find the perfect present. We asked Lincoln Tech instructors from around the country to give us great gift ideas for their students. Their answers were so helpful and interesting we decided to put together a cumulative blog series, "Thirteen Days of Christmas at Lincoln Tech."
As we were preparing the very blog you are now reading, Eleven Pipers Piping came strolling through the corporate office. In the middle the performance, one of the pipers broke his pipe. Lucky for us a few HVAC Techs from nearby Mahwah NJ were here and helped put together a replacement. It truly is the season of giving (and pipefitting)!
No matter what holiday you celebrate this time of year, remember, it's better to give than to receive. So if you run into a Lincoln Tech student, you'll know how to make their holidays happy!
On The Seventh Day of Christmas at Lincoln Tech, instructors asked for a Snap-On Electronic Torque Wrench …
… an Ohms Law & DC Circuit Trainer, a Dial Bore Gauge, an Air Impact Gun, a DJI Image Professional Inspire Drone, a Suture Removal Simulator, and a 34 Channel USB Logic Analyzer.
Scott Jones, from Lincoln Tech, Nashville, suggested an Electronic Torque Wrench. "They hold their accuracy and can switch between inch-pounds and foot-pounds very quickly and easily," explained Jones. "The wrenches indicate when you're approaching desired torque to help prevent overtightening."
In fact, quite a few Lincoln Tech instructors had some sort of torque wrench on their list (that should make holiday shopping a lot easier)!
Seven Days, Seven Diesel-Powered Machines
For the Seventh Day of Christmas at Lincoln Tech here are seven types of diesel equipment that are driving the economy.  Students considering careers in Diesel Mechanics should  be familiar with the various types of equipment that use diesel engines - construction equipment, farm equipment, big-rig trucks, train and marine engines, buses, mining equipment, and power generators.
Students getting hands-on training in Diesel Technology at Lincoln Tech learn from ASE (Automotive Service Excellence) certified instructors about many of these types of equipment. They also get the opportunity to train and apply for positions directly with companies and manufacturers that specialize in diesel- powered machines. From fleet maintenance departments, private repair enterprises, and franchised truck repair organizations, to truck leasing and rental operations, Lincoln's diesel mechanic training can lead to job opportunities nationwide. Our Career Services department knows this firsthand, and will work hard to help students connect with these opportunities.
Help us celebrate the holiday season by checking back in every weekday to read all about "The Thirteen Days of Christmas at Lincoln Tech."  If building a new career is on your own personal Wish List, reach out to a Lincoln Tech school near you. Working together, you'll be able to get a head start on making your holiday dreams come true.