The Thirteen Days of Christmas at Lincoln Tech: Day Six
December 12, 2017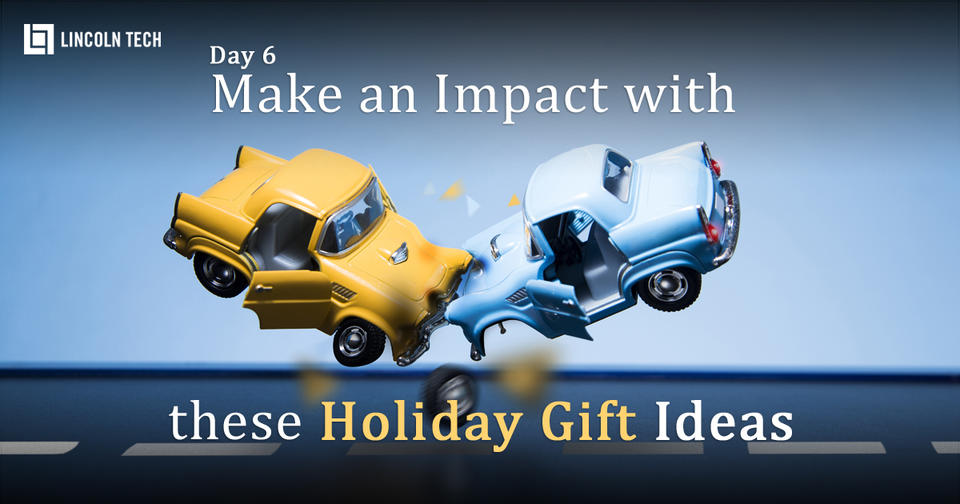 We're making our lists, and checking them twice … going through all the items Lincoln Tech instructors have suggested as perfect gifts for their students this holiday season. It's all part of our cumulative blog series, "Thirteen Days of Christmas at Lincoln Tech."
To keep us going this week we celebrated National Cookie Day by fortifying ourselves with quite a variety of chocolate chip cookies. We were pleasantly surprised when Eight Maids a Milking stopped by – but it was perfect timing! Thank goodness we were able to reach out to our Diesel & Truck Technology with Transport Refrigeration team at South Plainfield, NJ. They helped us make sure the big rigs distributing all the extra milk were in tip-top shape.
No matter what holiday you celebrate this time of year, remember, it's better to give than to receive. So if you run into a Lincoln Tech student, you'll know how to make their holidays happy!
On The Sixth Day of Christmas at Lincoln Tech, instructors asked for an Ohms Law & DC Circuit Trainer …
 … a Dial Bore Gauge, an Air Impact Gun, a DJI Image Professional Inspire Drone, a Suture Removal Simulator, and a 34 Channel USB Logic Analyzer.
The auto repair world boasts a plethora of gadgets and tools that are essential for various jobs. While you don't need to be an expert with each one, it does help to know the basics like the back of your hand. Lincoln Tech Collision Repair & Refinishing instructors from around the country felt the following items would be not only helpful, but downright necessary for their students: Dual Action Air Sander, Grinder, Air Paint Spray Gun, Putty Knives and everyone's favorite - the Suction Cup Dent Puller. And yes, it is as fun to use as it looks!
Collision Repair is more than fixing up the outside of a vehicle, though: often during an accident, damage is also done to a car's electrical system. That's why Lincoln Tech instructor Brian Allen, from the Nashville, TN campus, felt a Consulab Ohms Law & DC Circuit Trainer would be a great holiday gift. "Beneficial for every technician, these trainers are all-inclusive and have a meter built in the board," explained Allen. "For extra convenience, they have a self-contained power supply, a project manual and locking lids."
The Perfect Finishing Touch.
What do a bowling pin and a car hood have in common? They're both airbrush canvases for Lincoln Tech students. Perhaps the most fun , and certainly the most artistic, part of the program, airbrushing allows students like Jessica Klein to create truly head-turning looks. Jessica began painting at a young age, following in her father's and grandmother's footsteps. She enrolled at Lincoln Tech in Melrose Park, IL for Collision Repair and Refinishing Technology training, where custom airbrushing classes would help her turn her natural talent into a rewarding, exciting career. Discover how she turned an ordinary bowling pin into a work of art!
High-precision airbrushing tools have transformed the Collision Repair & Refinishing industry into a field where you need specific hands-on skills to get ahead. And these days, adding a unique artistic touch through the creation of car hood art is a big plus! Take a look at some of the eye-catching artwork on display at Lincoln Tech campuses across the country.
Help us celebrate the holiday season by checking back in every weekday to read all about "The Thirteen Days of Christmas at Lincoln Tech."  If building a new career is on your own personal Wish List, reach out to a Lincoln Tech school near you. Working together, you'll be able to get a head start on making your holiday dreams come true.