Q & A With Lincoln Tech Graduate Daniel Sanchez (VIDEO)
October 29, 2014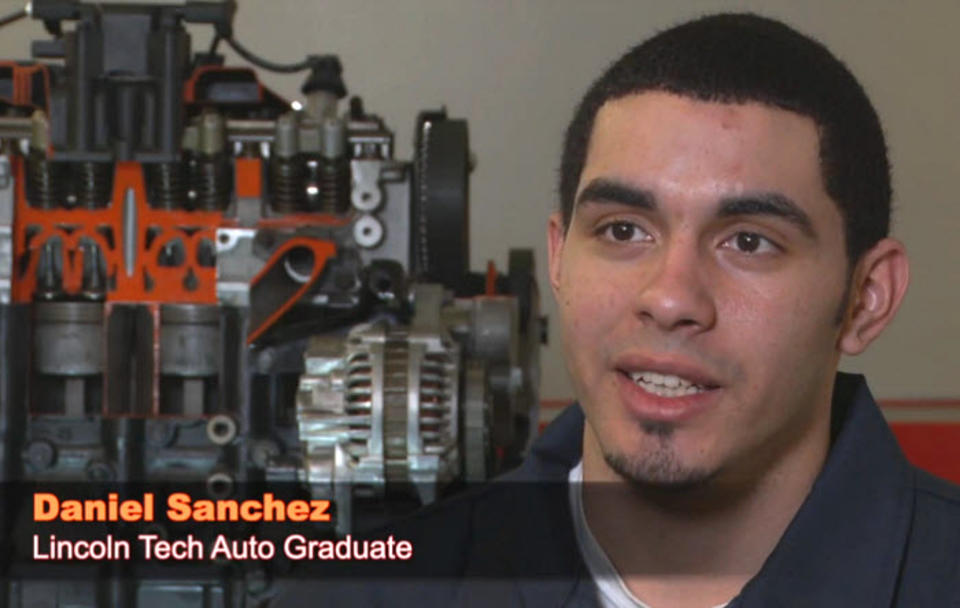 Pursuing any career takes a lot of hard work, but if you are armed with the right tools and skills, you will be able to take the fast track to success.
Lincoln Technical Institute sat down with Daniel Sanchez, a graduate of the Automotive Technology program at the Queens, NY campus of Lincoln Technical Institute. After taking the fast track through all of the training, Sanchez quickly grasped what it meant to become a quality technician. His determination to learn all the required knowledge and the necessary skills helped land him a great opportunity with Toyota. With an amazing career services department, Lincoln Tech will work with each student to help them excel in their job search.
Take a firsthand look as Lincoln Tech checks back in with Sanchez:
Lincoln Tech: It's good to see you again, Daniel. We love seeing our students take what they learn in the classroom and continue to apply those skills to their job. How would you sum up your journey to where you are today?
Daniel Sanchez: I came from not knowing anything to – less than a year – later becoming a technician at Toyota.
Lincoln: How did you end up in your current position?
Sanchez: I'm basically just working my way up the ranks.
Lincoln: Putting in your dues is a surefire way to reach your goals. You certainly are a hard worker, though. Where do you see your career going?
Sanchez: By the time I'm 25, I'll definitely be a master technician.
Lincoln: I like the confidence! That is a key to success. You seem like a self-made man. Did you have any help along the way to get you where you are?
Sanchez: Definitely. The school helped me out with anything I needed. Even outside of study help and tutors.
Lincoln: We like to see our students succeed, just like you have. After graduating from Lincoln, did you notice any changes?
Sanchez: Yes, Lincoln Tech has definitely made a difference in my life.
Lincoln: How so?
Sanchez: Well, it helped me grow up. I grew from a boy into a man with a great job in under a year.
Lincoln: And what a smart young man you are. You certainly have a long, promising career ahead of you. We wish you the best of luck, Daniel!
There are Lincoln Automotive Technology programs offered at the Queens, New York; Columbia, Maryland; Denver, Colorado; East Windsor, Connecticut; Grand Prairie, Texas; Indianapolis, Indiana; Mahwah and Union, New Jersey; Melrose Park, Illinois; Nashville, Tennessee; Philadelphia, Pennsylvania; and West Palm Beach, Florida campuses. With so many options, there are plenty of opportunities to pursue your dream career.