Holiday Hair Nails and Makeup Trends - Euphoria
December 18, 2019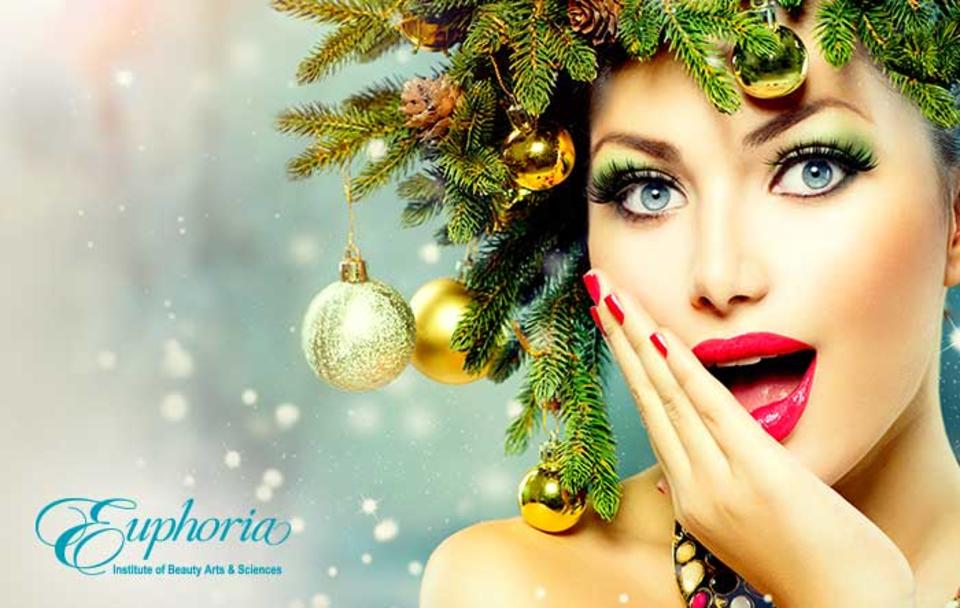 It's that time of year. Everyone is trying to create unique looks for the family get-together, weekend getaway, company holiday party or big New Year's Eve bash. You want to make quite the impression, turn heads, take tons of selfies, even have people ask if they can take a selfie with you…. all the while asking "how did you do that?" The students at Euphoria Institute of Beauty Arts and Sciences consider this THE best time of the year. It's when they get to show off what they've been experimenting with, share and compare, and just have tons of fun. "It's really a great time to be on campus," explains Campus President Lu Suarez. "Everything goes. From new takes on old classics to reinventing the wow factor."
Turning Holiday Favorites into "Gotta Have Its"
Who hasn't watched this green grump year after year? Trending right now is nail art taken to the ultimate degree. One passionate Euphoria Nail Technology student decided to celebrate the holidays like never before. Using nails tips, acrylics and a steady hand, she created this dynamic ode to a fun childhood memory.  At Euphoria, students learn the techniques their clients will demand - everything from paper, silk and fiberglass wraps to sculptured nails and tips. What will inspire you?
New and Totally Cool Looks for New Year's Eve

December 31st is the night to break out the show-stopping looks. Take a closer look at how a Euphoria Aesthetics student is going to shine on the big night.  Metallic eye shadow is all the rage right now, and she applied several colors in a drop dead gorgeous fashion. A cat eye stroke with black eyeliner and strip lashes finish the look, all framed by a perfectly penciled brow.
Nails that sparkle and shine are topping the "must try" lists for New Year's Eve. This extremely talented Euphoria Nail Technology student went to great lengths to create this stunning look - tips, acrylics and rhinestones that will surely enhance her outfit.
The night is long – and these lashes are even longer!  This Euphoria student recently completed her individual eyelash extension certification program and the results are obvious. Dynamic, but natural, this will be the look to beat at any party!
Hair That Dares to be Different

No one will even notice when the ball drops – all eyes on you with bold and beautiful hair. Vibrant colors have been appearing at events all across the country, and New Year's Eve will be no exception. "It's one of the first things our Cosmetology students ask about," offers Suarez. "They can't wait to express their personal style with a color that's unique." This holiday season is a great opportunity to break away from your everyday "go to" look. Try a small change, or transform your ordinary into extraordinary! What have you got to lose?