Welding Skills on Display as Lincoln Tech Team Wins Big!
October 28, 2016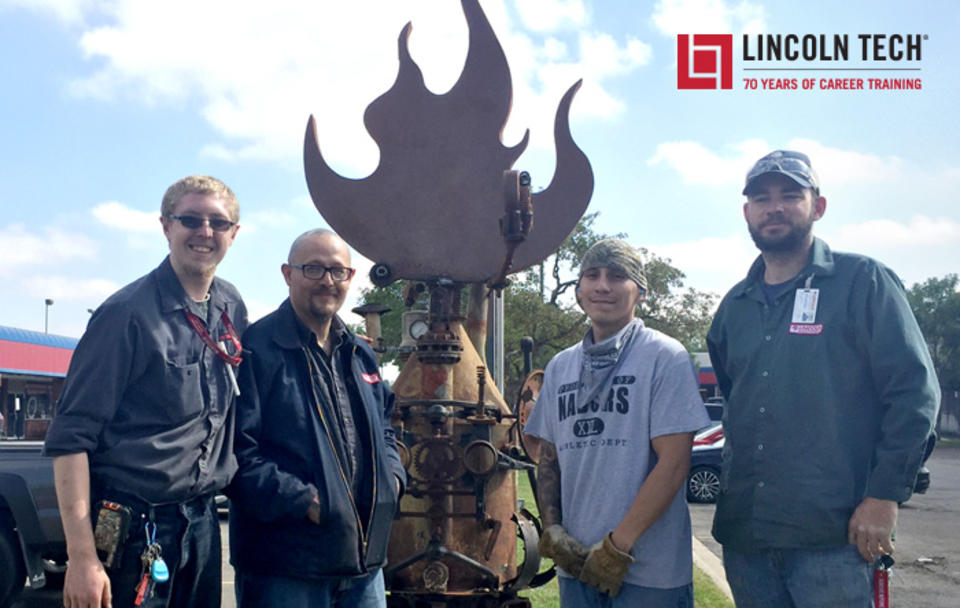 When it comes to building welding skills, nothing beats hands-on training. Gaining experience working with the "tools of the trade" can help you become the kind of candidate hiring managers are looking for. And if you're able to do something fun with your new skills while you train, that's a terrific bonus!
At Lincoln Tech's Denver campus, students training for welding careers recently took part in a citywide competition that challenged teams to create artwork for the streets of Aurora, Colorado. Not only did Lincoln Tech's students do an outstanding job – they were awarded First Prize for their creation "Old Flame!"
"This project represents a lot and it was great to give the [community] the opportunity to view and appreciate it," says Lincoln Tech Welding instructor Cesar Moreno. "It also shows a love of art by our team."
See the story and check out the Lincoln Tech team's winning sculpture!
The competition was sponsored by Aurora's Art 2C on Havana Exhibition and resulted in a series of amazing works of art displayed in public places throughout the city.
Havana Machine Shop of Aurora donated materials for the project, and students used MIG, TIG, and stick welding equipment to forge "Old Flame" out of used engine blocks, gears, sheet metal, connecting rods, generators, headers, cams, and other scrap metal items. It was a great opportunity for students to put their welding skills to the test while also learning new techniques for fabrication and welding dissimilar metals like cast and carbon steel.
"Old Flame" took approximately three months to complete, and bringing home First Prize capped off an amazing experience for Lincoln Tech's team.
Welding skills can lead to rewarding careers
Careers in welding give you the chance to look at a finished structure and say, "I built that."  Employers are projected to add more than 100,000 skilled, trained welders around the country over the next eight years* - it's a field with serious growth potential!
Ready to start building your own welding skills and build new career opportunities in the process? Check Lincoln Tech's welding training programs around the country!
* Source: careeronestop.org, for the years 2014-2024.