Celebrating Careers in Construction Month. Week Two – The Connections.
October 11, 2017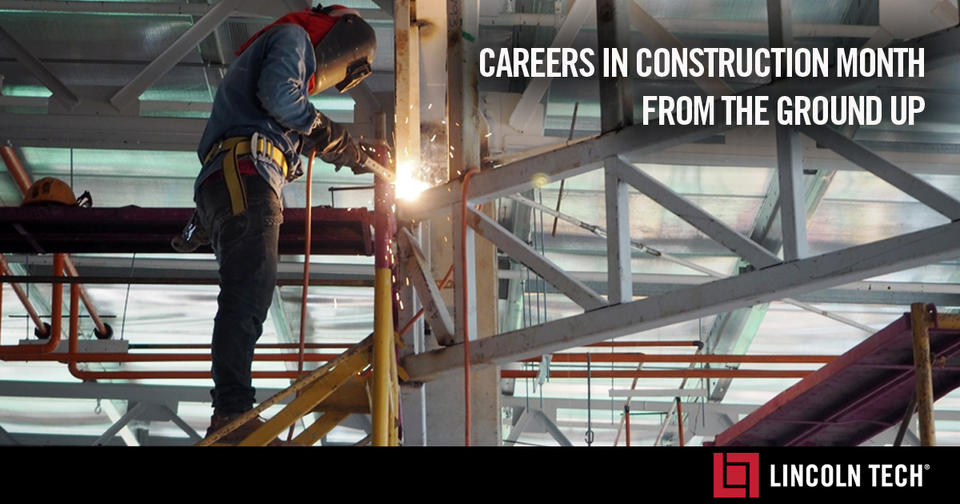 Residential and commercial construction projects may be different in size and scope – but they both go through the same stages. To honor Careers in Construction Month, Lincoln Tech has crafted a series of blogs that focus on a few key things for each phase – what happens, what equipment is used, and what kinds of skills are needed to ensure a positive outcome.
Making Sure the Whole is Stronger than the Sum of its Parts.
Welding is often the "glue" of any construction project, and welders help to ensure that buildings are constructed with integrity. They use welding techniques to fill holes and indentations and to attach pieces together along seams. Some jobs require welding pipes or roof trusses together. Welders are also called in to make on-the-spot repairs to the heavy equipment used on construction sites. Not just anyone can just pick up a torch and have at it; welders are skilled operators that perform tasks according to pre-defined mandates and a set of compliance rules.  Many construction projects call for AWS (American Welding Society) certified welders. AWS sets standards for welders entering the workforce, certifying test welds and ensuring each new welder has the skills they need to perform welding work on the job. Since 2015, Lincoln Tech has been an Educational Institution Member of the AWS. AWS recognizes Lincoln Tech's welding program for its commitment to excellence in training new welding professionals, giving students peace of mind knowing they've partnered with a school that meets the high standards of the AWS.
There are four major types of welding procedures that students at Lincoln must learn in order to become successful welders working in the field: Shielded Metal Arc Welding (SMAW), Gas Metal Arc Welding (GMAW/MIG), Flux Cored Arc Welding (FCAW), and Gas Tungsten Arc Gas Welding (GTAW/TIG). Lincoln students have the unique opportunity to get comprehensive hands-on training from field-experienced instructors.
Metal Fabrication – What it Can Mean for Your Welding Career Prospects.
Metal fabrication is the art and science of building metal structures through welding. It's an important element of industries like manufacturing – in fact, the U.S. Department of Commerce recently called it the field's third-largest segment in terms of available jobs.
Welding with Metal Fabrication Technology is now available at Lincoln Tech's Nashville campus, one of the best known, most established career training schools in the Southeast. Welding Technology training is also available at the Lincoln Tech campuses in Denver, CO, East Windsor, CT, and Grand Prairie, TX.
As part of Lincoln Tech's program, students are eligible to receive Level One and Two credentials from the National Center for Construction Education and Research (NCCER). NCCER's goal is to promote safe and productive working environments for construction professionals.
Hear from employers that partner with Lincoln Tech's Nashville campus about why they look to the school for the candidates they need for welding jobs. And during this year's Careers in Construction Month, explore hands-on training at Lincoln Tech and make the connections you need for a brighter future!
Keep an eye out for the next blog in our series:
Celebrating Careers in Construction Month. Week Three – Electrical and Electronics