Training on Professional-grade Quality Tools
May 9, 2016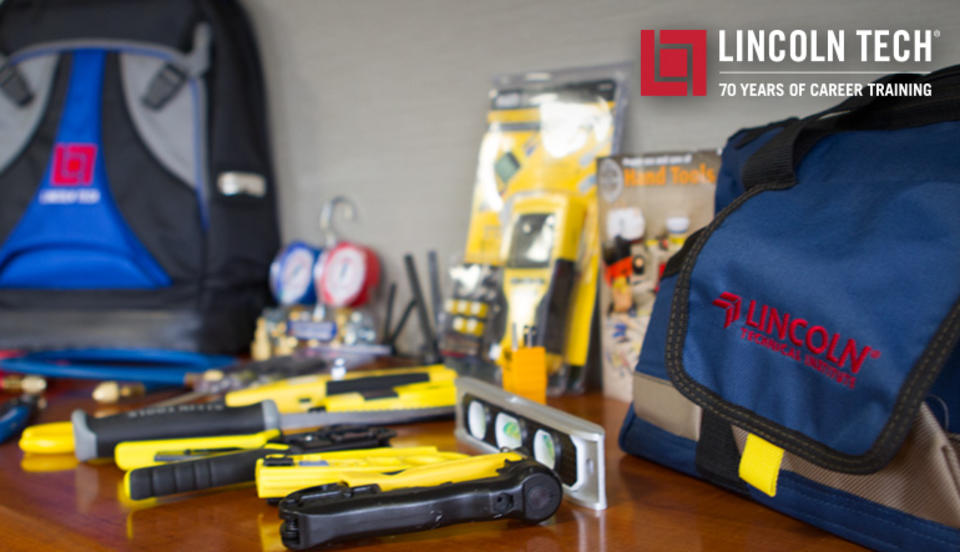 From auto mechanics to electronics technicians, many important professions require proper training to teach the skills, knowledge and techniques necessary for success. That's why at Lincoln Tech, we work hard to ensure students who enter our training courses leave ready to enter the field. Our trade programs use hands-on experiences and industry-standard practices to give participants an accurate sense of what to expect as a new hire. And it starts with training on a lot of the same quality tools and equipment you'll find in America's industries today.
"Quality tools can affect the outcome of most any project," says Joe Bellucci, Director of Education at Lincoln Tech in Mahwah, NJ. "Imagine a carpenter who uses a chipped blade to plane or shape an expensive piece of wood. Or a plumber who uses a wrench with no teeth to grip a pipe that needs replacement. In both examples the outcomes would certainly be less than acceptable. It is for this exact reason that Lincoln Tech uses brand name and quality tools in training America's future technicians."
"We take pride in training tomorrow's technicians," he adds. "This is exactly why Lincoln places such a high emphasis on making sure our students have the quality tools preferred by industry professionals."
Professional-Grade Quality Tools:
Here are four career paths you can pursue at Lincoln Tech, and the professional-grade quality tools students train with to excel in their field:
Automotive technician: Matco tools
Matco manufactures and distributes more than 13,000 professional automotive repair products, including tools, diagnostic equipment and toolboxes. Along with an extensive line, Matco offers quality tools. Many auto shops recognize the brand as the best in the business. At Lincoln Tech, you'll be working with Matco tools when training to be an automotive technician, parts specialist or diesl engine technician.
HVACR specialist: Yellow Jacket
Ritchie Engineering Company, Inc., creator of Yellow Jacket brand, has been in the HVACR industry for more than 60 years. Today, Yellow Jacket is considered the standard in HVACR products, producing top-of-the-line hoses, tools, refrigeration gauges and more. Yellow Jacket even sponsors a training room at our Union, NJ campus! Anyone working in the HVACR industry is certain to work on Yellow Jacket products at one point or another. That's why we use the brand's extensive line to train our students in the business.
Electrician or Electronics Systems Technician: Klein Tools
Klein Tools is dedicated to producing tools that meet the demands of professionals. The company's experience, commitment to U.S. manufacturing and dedication to quality has made its brand well-respected among many industries. At Lincoln, we prefer our students enrolled in the Electrician and Electronics training programs to prepare for their futures by working with Klein Tools.
Welder: Tillman protection
Those in the welding industry understand the importance of wearing protective clothing. Many employers keep their workers safe by investing in protective gear from the John Tillman Company. We at Lincoln Tech protect our Welding Technology students by using Tillman products, too. The brand's extensive line includes clothing, gloves, knee pads and blankets made from top-of-the-line materials.
At Lincoln Tech, it's our job to prepare you with the tools, skills and knowledge needed to succeed. That's why we use only industry-standard products in our programs and courses. Learn more about what to expect during training by visiting Lincoln Tech today.