Have the Most Energy Efficient Lights On Your Block This Season!
December 7, 2016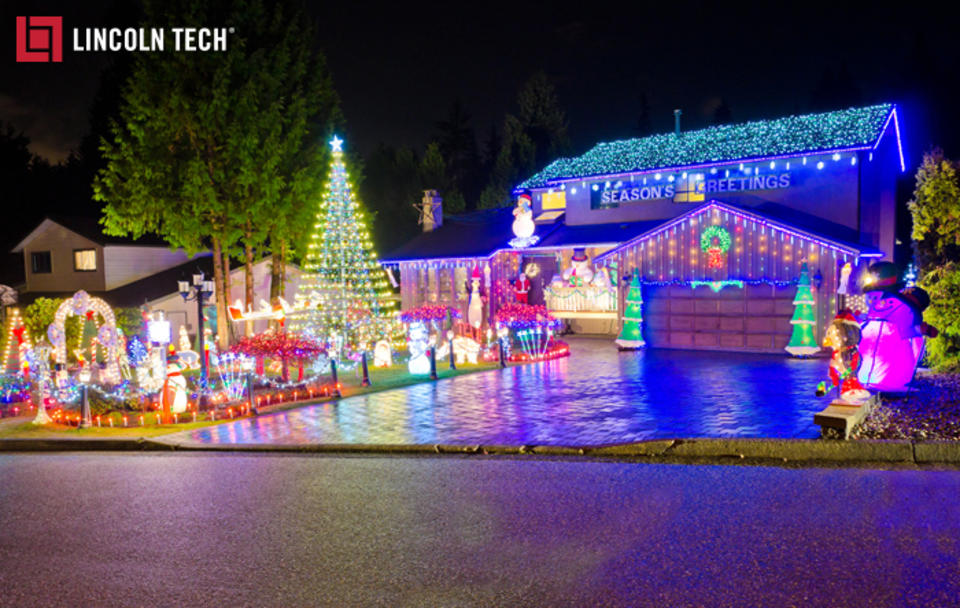 Everyone who puts up lights for the holidays wants their home to look great – and for some neighbors, lighting displays can even become a kind of friendly competition!  If you love decking your house in holiday lights, though, it can mean steep electric bills.  Here's a few tips from Mike Chaplin, Electrical and Electronic Systems Technology instructor at Lincoln Tech in Indianapolis, on how to choose energy efficient lights this season that aren't just money-saving but also environmentally friendly, safe, and of course, beautiful!
As the holidays arrive, many outdoor lighting displays have already been put up and turned on.  For anyone who has done one of these displays, it becomes quickly apparent that the increased amount on the electric bill may not be entirely offset by the beauty of the display.
Many, if not most, of the lighting displays you'll see are created with incandescent lights.  These are problematic for a few reasons:
Incandescent lighting displays are the most inefficient. 95% of the electricity used is dissipated in heat.  Only 5% creates the light.

Incandescent displays use 120 Volts AC which can be dangerous and deadly in outdoor conditions.

Incandescent displays also present the potential for fire in the case of a shorted circuit or a ground fault.

Incandescent displays can be controlled for added effects but the controlling is done at a high voltage level.
Good news:  there are alternatives for energy efficient lights around the holidays!
In today's environment, many other possibilities are available to provide not only beautiful displays but also safe and energy efficient ones.
Light Emitting Diode (LED) displays are at the forefront of the new technology display.

LED displays use low voltage thus making them much safer. Low power consumption also means you lighten the load on your electric bill!

LED displays work extremely well with solid state controllers to present a very sophisticated, choreographed display.

LED displays can be relatively inexpensive and also have a long life expectancy due to their efficiency and low power consumption.

The display can be integrated into a home automation network and can be controlled remotely.
Selecting energy efficient lights for the holidays is just one of the many ways you can save energy, lower your utility bills, and help the environment all at the same time!  There are also plenty of career opportunities out there for people trained in the technology behind modern electrical and electronic systems equipment.  Explore hands-on training that can help lead to jobs in these growing fields!