Where Electrical and Electronics Careers are Growing
August 23, 2016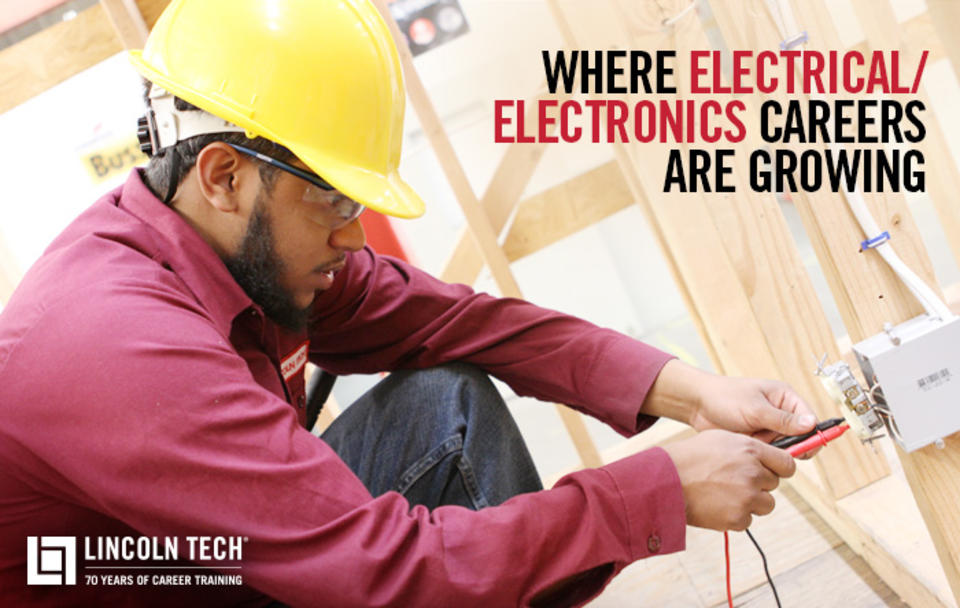 When considering what career path to follow, most people try to find one that can support their passions as well as offer opportunities and room for advancement. It's important to look to industries where jobs are growing and are not in danger of being phased out or exported. Your goal should be to find a job that can't be taken over by computers or sent overseas. This can be your ticket to a rewarding and promising future.
Throughout the month of August, Lincoln Tech is going around the country and researching the careers that are growing in the states where we offer training. Today, we look at career fields growing in the high- and low-voltage electrical industries. Use the data below to guide you as you make decisions about your career. All career-growth projections and salary information can be found at careeronestop.org for the years 2014–2024, unless otherwise noted.
As more homes are wired with sophisticated security systems, we enjoy access to cutting-edge technology that can do anything from water the lawn to open the garage door simply through accessing an app on our smartphones. At the same time, high-voltage specialists are needed to wire new constructions both in residential and industrial settings - without them, there would be no outlets to plus electronic devices into! As a result, there is a growing demand for electricians and electronics technicians who have the skills to keep up with our high-tech lifestyle.
The current need for individuals who can install, repair and maintain these high and low-voltage electronic systems cannot be understated. In fact, by 2024, it's expected that more than 145,000 additional personnel with electrical or electronic systems training will be needed around the nation. Here's what the employment projections look like where you live:
Connecticut: 1,800 positions. Explore training options at our East Windsor, New Britain, and Shelton campuses - where special emphasis is placed on "Green" Renewable Energy systems!
Illinois: 5,900 positions. Explore training options at our Melrose Park location.
Indiana: 4,000 positions. Training is available at our Indianapolis campus.
New Jersey: 3,600 positions. Train at our Mahwah or Union campuses.
New York: 12,480 positions. Your training can begin in Mahwah, New Jersey; Union, New Jersey; or East Windsor, CT. (Transportation to our Union campus is provided from our Brooklyn location.)
At Lincoln Tech, we've honed our Electrical and Electronic Systems Technology training programs to prepare students to become competitive candidates in the field. Guided by instructors who have years of experience, students learn the basics of high and low-voltage electrical installation and troubleshooting in a number of commercial, industrial and residential settings. So if you're looking to begin an exciting career with an industry where opportunities are growing, this path might be what just you've been searching for!