Buffalo Wire Works Receives Pride in Partnership Award
September 14, 2016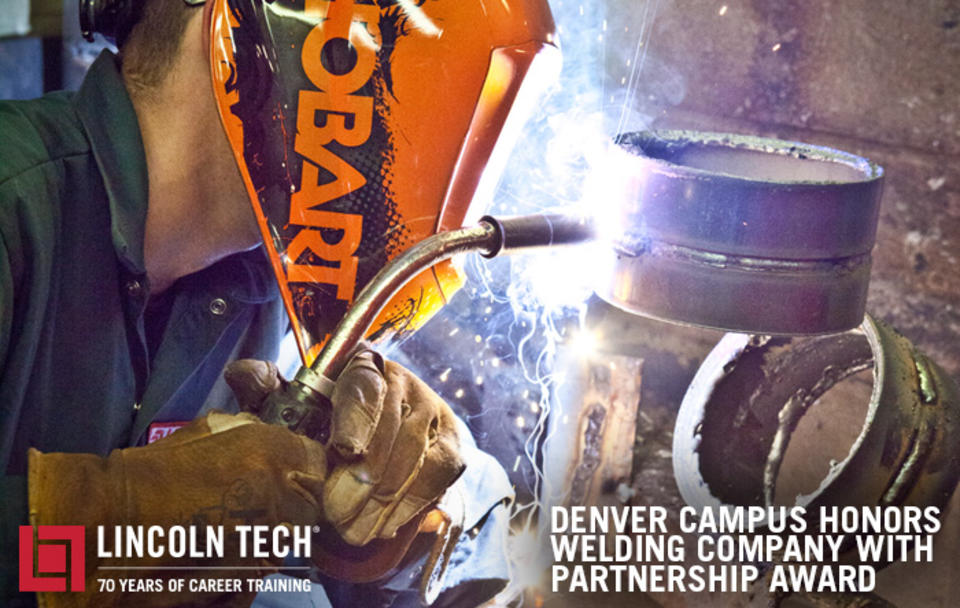 Partnering with New York-based company Buffalo Wire Works has helped Lincoln Tech in Denver, CO place graduates of its Welding Technology program in positions that mark the start of rewarding, fulfilling hands-on careers. In fact, nearly four out of five graduates from Denver's Welding program are employed in the field as reported to ACCSC on their 2015 G&E report.  That kind of success wouldn't be possible without key employer partnerships, and this summer the Denver campus honored Buffalo Wire Works with the Lincoln Tech Pride in Partnership Award to show its appreciation.
"Since [Buffalo Wire Works CEO] Joe Ablamo returned my initial call – which I think says volumes about him since he took the time to call me back personally – we've been grateful to Buffalo Wire Works for their support of our Welding program and the success of our graduates," says Career Services Advisor Ryan Goetzl. "They received the Pride in Partnership Award nomination because we genuinely feel that they are working to further this partnership and provide career opportunities to our students."
The Lincoln Tech Pride in Partnership award is presented to companies that not only hire Lincoln graduates, but also give them the opportunity to grow while supporting their career development. In less than a year, Buffalo Wire Works has hired a half-dozen Lincoln Tech graduates, and plans on hiring more in the fall.
"We've gotten off to a great start," says Max Davis, VP of Architectural Sales at Buffalo Wire Works. "We held a meet and greet at a Lincoln Tech job fair in February and I hired three graduates. All three have since been promoted to shift leaders.  I flew back in April and hired three more. I hope to bring on three to four more during the next job fair in October."
Lincoln Tech Grads Hired by Buffalo Wire Works
The partnership began in November 2015, when Buffalo Wire Works began transitioning a local company they had acquired, Rock Polymers Inc. in Rollinsville, CO. They made a conscious decision to immerse themselves in the Denver community as part of this transition.  "We wanted to get more involved with the community and seek out local talent," Davis explains.
Goetzl soon contacted the company about a recent Lincoln graduate available for hire. Davis flew to Colorado to meet with Goetzl and the graduate, and began providing more insight into Buffalo Wire Works and how they operated.  Davis also started to gain a first-hand perspective of the community and Lincoln Tech. The wheels were in motion.
Davis and Goetzl became the key players in the success of the partnership. Buffalo Wire Works now attends Lincoln Tech job fairs and Goetzl touches base monthly to discuss upcoming graduates and assess Buffalo Wire Works' needs.
"Ryan has been more than helpful," Max says. "He's really spread the word within the Lincoln Tech community regarding Buffalo Wire Works. He understands how our company works and he is able to answer many questions from students instead of having to defer to me."
Lincoln Tech graduates stand out for many reasons, Davis says. "What intrigued us with Lincoln Tech grads is that they have [hands-on experience]. There are cross-training possibilities [where] we can teach them other skills such as casting," he says.  "We love the graduates' work ethic. Lincoln Tech has a reputation for having a strict attendance policy – it's been ingrained in them. Graduates have a technical mindset, and they can learn quickly. We like to hire young professionals and [as they grow] we like to promote from within."
With more than 100,000 welders needed around the country in the next eight years*, partnerships like the one Lincoln Tech enjoys with Buffalo Wire Works will be critical to keeping companies' workforces strong. To light a spark on your own path to an exciting hands-on career, start building the skills you need – turn to a Lincoln Tech campus near you!
* Source: careeronestop.org, for the years 2014-2024