System Administrator Appreciation Day
July 29, 2016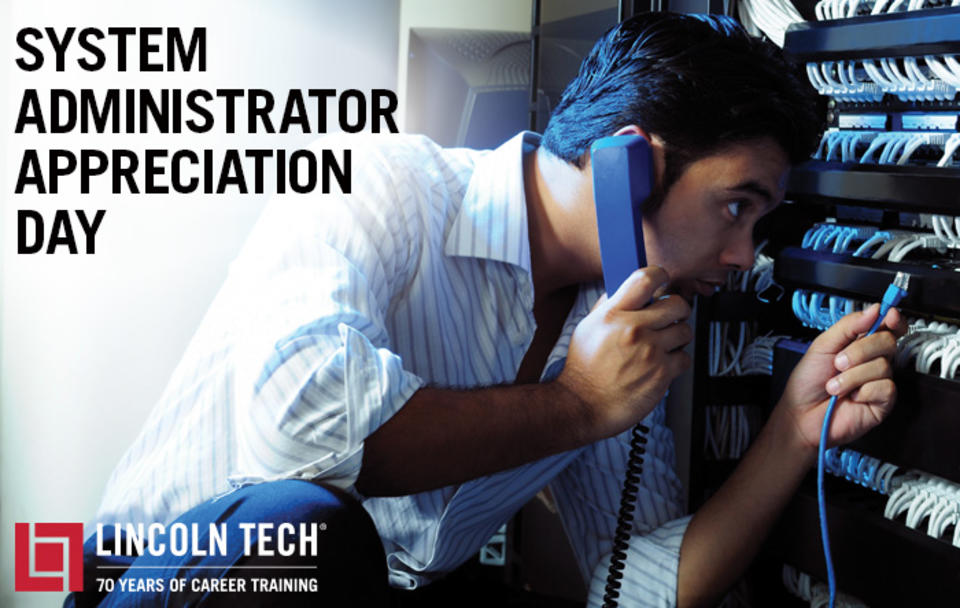 It's easy to take for granted the work System Administrators do for us each day, but without them, the rest of the company's work would suffer. It is the System Administrator, after all, who keeps your computer running smoothly, ensures the network is secure and performs data backups when necessary. So this year for System Administrator Appreciation Day on July 29th, show your support for IT professionals and acknowledge the important duties they're tasked with each week.
Try sending a thoughtful thank-you email or even taking your System Administrator out to lunch. A little gratitude goes a long way toward helping a colleague feel recognized and valued!
Get trained to become a System Administrator
System Administrator Appreciation Day is one day out of the year that's set aside to say thanks to our IT support teams, but any day is a great day to think about a career in Computer & Network Support Technology! If working in IT appeals to you, consider becoming a System Administrator yourself.
Lincoln Tech offers a Computer and Network Support Technician program that teaches students how to support and maintain IT systems. Here's a brief overview of what you'll learn during this training program:
The "layer by layer" approach to computer networking and advanced techniques of TCP/IP.
How to provide support to remote users in corporate settings using Outlook Web Access and Outlook Anywhere, Virtual Private Networks and Wireless Networks.
Time management and critical thinking skills related to System Administrator work.
How to document completed work requests.
During your training, you'll also receive a Lincoln-issued laptop to practice skills outside of the classroom, and you can keep the computer once your training is complete.
Where to enroll
Lincoln Tech offers Computer and Network Support Technician programs in these states:
It's important to understand the work your IT department does every day so that you fully appreciate their dedication. On System Administrator Appreciation Day, remember to say thank you to the administrators in your company, and consider enrolling in Lincoln Tech to become one yourself!